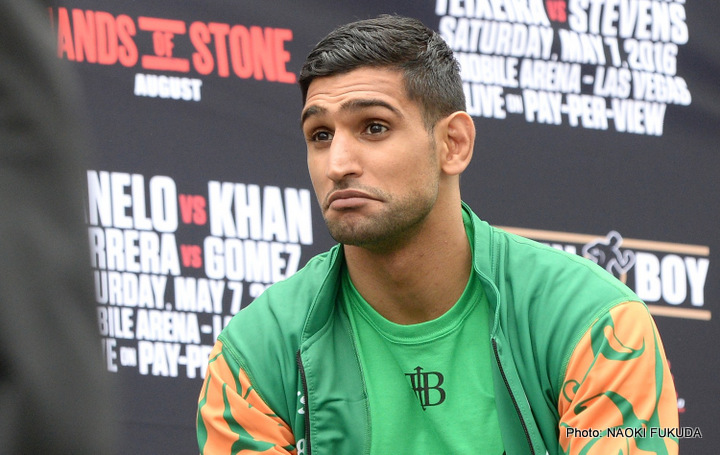 Amir Khan, last seen losing his big and brave gamble of a 155-pound fight with Mexican star Saul Canelo Alvarez, is not sounding at all like a fighter who is thinking about retirement. Far from it, Khan is searching – or, to use his exact words, chasing – another big fight; a return meeting with WBC welterweight ruler Danny Garcia. Khan is currently the WBC number-one contender and he wants the fight.
Khan was of course stopped by Garcia back in 2012, inside four-rounds. Can Khan do any better in a rematch? If Khan gets his way, we will find out.
"I'd like to fight Danny Garcia because he has the WBC world title," Khan said on the Saima Ajram show on BBC Asian Network. "I'm in the number one position for that title fight so I'd love to take that fight. If it happens, who knows? But that's something I'm going to be chasing."
Garcia has recently been called out by Adrien Broner and "Swift" also has an eye on facing the winner of the upcoming June 25 clash between Shawn Porter and Keith Thurman. Garcia seems to have options, more so than Khan, but will Garcia risk being stripped of his WBC belt by taking another fight and ignoring Khan? A rematch would prove interesting – Khan was after all wining the first fight, down at 140-pounds.
Also in the interview, Khan said – get this – that he would "take a rematch with Canelo Alvarez any day." Relax, it's not as crazy as it sounds, "If he came down to my weight," Khan added. "He would never come to my weight," Khan went on. "I don't think it will ever happen again."
Of course Alvarez will never try to make 147 for a rematch with a man he has already knocked out, he wouldn't try to make 147 for a second super-fight with Floyd Mayweather for $50 million! But 147 is where Khan belongs and his top priority is that Garcia return. What about Kell Brook, the IBF champ who could well add the WBO belt to his growing collection if he beats Jesse Vargas in their planned September fight? Khan, once again, says he has zero interest in a fight with his fellow Brit.
"The thing with Brook, I just think there's no point [in fighting him] because he's not fighting the A-list fighters," Khan said. "I'm taking tough punishment fighting the best fighters in the world and Kell Brook's fighting the easy guys. He wants to make easy money fighting me. So I'm not going to give him the opportunity. I just want him to prove himself and if he fights even half of the fighters I've fought then I'll take the fight."
Would Khan feel that Brook had proved himself with a win over Vargas? An all-British mega-fight that would contest not one, but two world titles just might entice Khan to finally agree to fight Brook. This fight is still there, maybe for a big stadium next year? How long Khan will continue to box on for is anyone's guess, though. Khan did once say he would retire by age 30. Khan turns 30 this December.