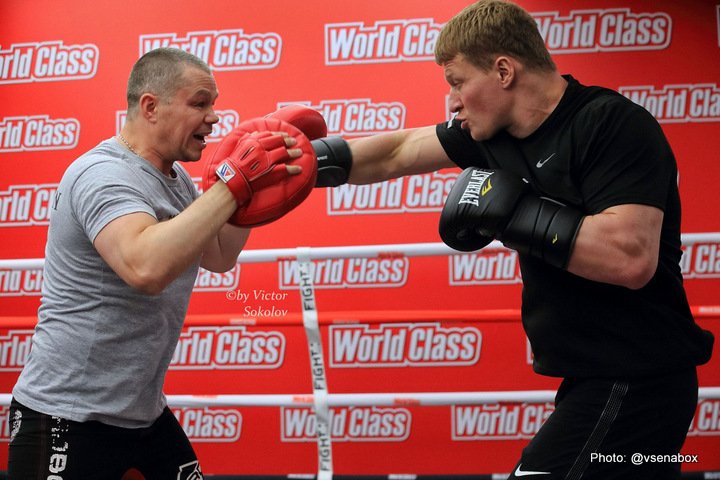 One of the bigger talking points surrounding the upcoming September 22 title defence by Anthony Joshua against Alexander Povetkin has been the Russian's two failed drugs tests. Many fans have spoken out loud how the former WBA heavyweight champ who twice tested positive for illegal substances in 2016 – this costing him a fight with Deontay Wilder in the summer and then one with Bermane Stiverne in December – does not deserve the shot he is getting.
But Povetkin, who has been cleared in court and has been allowed to fight on, and who is also the WBA mandatory challenger, insists he is fully worthy of his shot at the reigning WBA/IBF/WBO champion and that he is and always has been nothing but a clean fighter.
Speaking with reporters and quoted by ESPN.com, Povetkin argued his good name:
"First of all, I have been cleared of that suspension, I have been justified, and the court case that was ongoing with the team of Wilder has finished in our favour," Povetkin told reporters. "First I was caught on meldonium, and it was a nanogram quantity. And it happened right before the fight. I was clean a couple of tests before it, and I was cleaned when tested after that. For me it was very, very suspicious. I know that I am clean. I know that I was clean back then. I don't know what happened but at the end of the day, all I can say is that I was accused of wrongdoing when I wasn't.
"The second time, ostarine, I don't know what it is. When I read about it and they said it is for gaining muscle. I only weighed 100kg for that fight. A couple of tests before I was caught were clean. The tests after were clean. And the time they found it before the fight, was very, very minor in quantity. Doesn't it all sound a little suspicious? In my opinion there was something going on at that time? I have nothing to do with it. The amount they found doesn't give any affect so why would I ever want to do that. Whoever did that it's none of my business. I am clean and I know that I was clean then."
So now here is Povetkin in the biggest fight of his career, one that, should he win, would redeem his name in the eyes of almost everyone (both he and Joshua will be tested vigorously ahead of the September fight). As for AJ, he has never come out and called Povetkin a cheat, but he did say that he himself would rather lose a fight than get busted for doping.
"I would rather take a loss than be done for doping, being done for doping is far worse for your legacy than taking a loss," Joshua told reporters. "I don't see doping as a way of making yourself better, if a person is better than you then work harder, train harder, you don't need to dope. Weigh it up: doping, being banned, legacy damaged or someone is better than you on the night, give them the respect and bounce back."
All fight fans want each and every time is a good, clean and honest fight where the best man may win. It's not always been this way in boxing, with more issues relating to failed drugs tests, either before or after a fight surfacing recently, but with Joshua-Povetkin, with VADA testing, we will get a fair fight at Wembley on September 22.