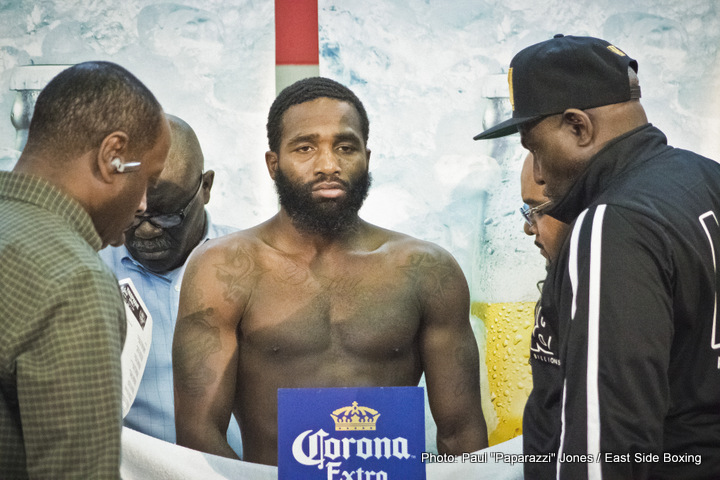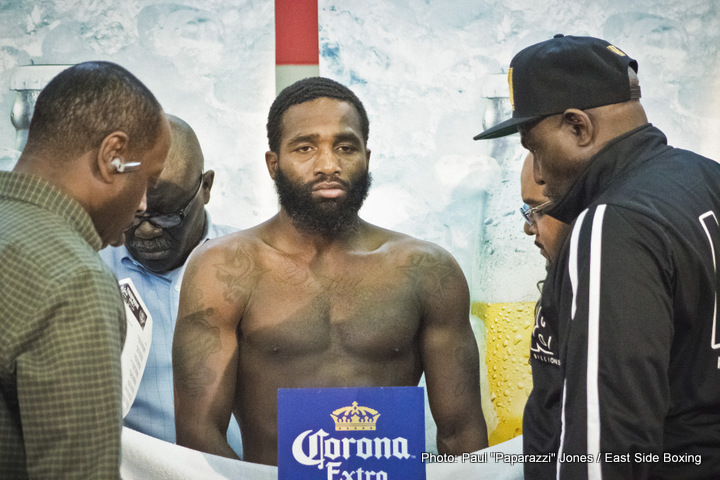 By Justin Jones and Paul "Paparazzi" Jones – Whenever WBA (Super) champion Adrien "The Problem" Broner (31-2-0, 1 NC, 23 KOs) is involved with a boxing promotion you can always expect a little more theatre than usual, today's weigh-in was no different.
Already dealing with legal issues – stemming from media reports of an alleged January, 2016 altercation involving Broner and arrest warrants issued thereafter – Broner added yet another distraction to the mix by weighing in above the Junior Welterweight limit of 140 lbs today in anticipation of his title defense tomorrow night against British contender Ashley "Treasure" Theophane (39-6-1, 11 KOs) in the main event of the Premier Boxing Champions card at the DC Armory (Washington, DC) on Spike TV.
After arriving late and stripping naked to step on the scales, the announcer read off Broner's official weight as 140.4.  Visibly upset, Broner left the stage abruptly after his failed attempt, making a bee line to the nearest exit without fielding any questions or providing an explanation for being over the contracted weight.
Despite being given ample time to make 140 lbs, he was unable to do so.
Official Weigh-In Results from the Bald Eagle Recreation Center in Washington, DC:
Adrien Broner — 140.4 vs. Ashley Theophane — 140 (Main Event)
Robert Easter Jr. (16-0-0) — 133 vs. Algenis Mendez (23-3-1) — 134.2 (Co-Feature)
J'Leon Love (21-1-0) — 169.8 vs. Michael Gbenga (23-3-1) — 169.6
Anthony Peterson (36-1-0) — 137.8 vs. Samuel Kotey Neequaye (22-1-0) — 138.6
Gervonta Davis (14-0-0) — 131.2 vs. Guillermo Avila (16-5-0)— 130.6
Patrick Harris (8-0-0) — 137 vs. Samuel Amoako (21-9-0) — Did not weigh-in
Kareem Martin (7-0-1) — 147 vs. Somner Martin(5-1-0) — 147.2
Fight predictions:
ADRIEN BRONER, WBA Jr. Welterweight Titleholder: No comment or prediction.
ASHLEY THEOPHANE, Jr. Welterweight Contender: "I'm just going to go out there and just attack. I've had a great camp, but we're going for the win."
Jones, ESB : Is the Broner's weight a concern at all?
ASHLEY THEOPHANE, Jr. Welterweight Contender: : "[His weight] is a concern for him, not for me because I put my work in. I made my weight. I don't really care what's going on with him in his life. His life is a mess. He didn't make weight. He always makes weight. This is the one time he hasn't made weight. [I've] just got to do it on fight night. He's got issues going on, but I still have a job to do."
Everyone's happy he didn't make weight. But, he's still going to fight. He's still "AB" [and] he still can fight. I still have to fight the fight of my life to win."
He's got his speed and I'm weary of his speed. That's why I've been working with young fast guys. But, his speed is the only thing that troubles me. But, I think I'll be cool. I'll be alright"
Austin "No Doubt" Trout's Prediction: "It's going to be a good fight. I'm hearing that Broner's having a little trouble making weight. That might play a factor in the fight tomorrow. Theophane is a stay-busy fighter and he's going to come and bring it. We'll see."
We'll see whether Broner's weight has any impact on his fight with Theophane on Friday night.
Be sure to tweet us who you would like to see the Broner–Theophane winner fight next @eastsideboxing | @boxingepicenter |@jusjones29
Contact "Paparazzi" Jones:
prjones1@hotmail.com |Twitter@boxingepicenter
More from "Paparazzi" Jones & Justin Jones:
The People's Court (of Public Opinion): Mayweather v. Pacquiao
OPEN MIC: A Candid Conversation with Lamont "Havoc" Peterson — García, Mayweather, Pacquiao, More!
OPEN 'MIKE': Rising Prospect Mike "Yes Indeed" Reed Vows to Bring Top Rank to DC
The Year in Review: Six Notable Fights in 2014 – Part I — Pacquiao, Hopkins, Froch, More!