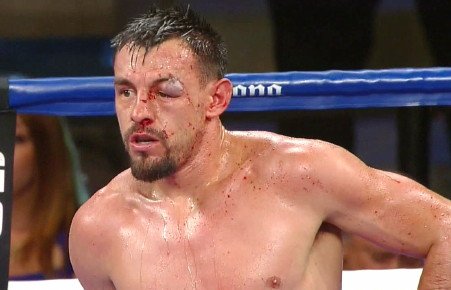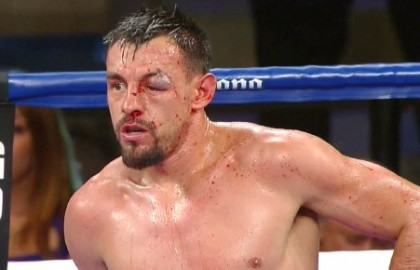 Former three division world champion Adrien Broner was present for Robert Guerrero's fight last Saturday night against Yoshihiro Kamegai (24-2-1, 21 KO's), and Broner saw enough weakness in Guerrero's game for him to want to fight him next.
Guerrero showed weakness in the Kamegai fight by absorbing a lot of punishment to the head and body, resulting in Guerrero suffering a swollen left eye that was nearly completely shut by the end of the fight. While Guerrero tried to make excuses afterwards about how he chose to go toe-to-toe with Kamegai, the fact remains that he didn't and he ended up getting hit a lot.
"Hopefully, we can make that fight [with Guerrero] happen," Broner said to Fighthype.com last Saturday night at the Guerrero-Kamegai fight.
Broner likely smells blood in the water after seeing Guerrero look very vulnerable against Kamegai, and he must feel that this is a winnable fight for him. In the past, Guerrero wanted to fight Broner, but the fight failed to take place due Broner's management choosing to go in another direction with him. But after his loss to Marcos Maidana last December, it's become imperative that Broner can a solid win that can put him back to where he was before.
In the eyes of a lot of boxing fans, Broner has lost a lot of the cache that he once had while fighting in the lightweight division. At 140 and 147, Broner doesn't look nearly as impressive as he did at lightweight. That's why he needs a big win over someone like Guerrero to help redeem himself partially.
Obviously a win over Guerrero won't bring Broner all the way back, because he'll still need to beat Maidana in a rematch to fully redeem himself, and it's doubtful that Broner has the game needed to accomplish that. He's not as fast as Floyd Mayweather Jr, and he doesn't move as well as him either. Without movement or hand speed, Broner will struggle when it comes time for him to fight Maidana for a second time if they ever do wind up facing each other again.