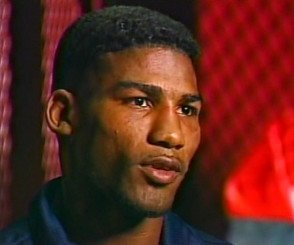 Go back a few years, to 2008 or 2009, and an unbeaten Cuban talent by the name of Yuriorkis Gamboa was on the lips of many a fight expert as a can't-miss prospect of the hottest variety. The Olympic gold medallist and sensational all-round amateur standout who had defected from his homeland and set up base in Miami appeared to have it all: speed, power, balance, elegance and a killer instinct to match a peak Mike Tyson.
Back then, the only negative aimed at Gamboa was his somewhat leaky defence and his tendency to go down as a result. This only made the featherweight all the more exciting, however, and Gamboa always got back up and upon doing so took care of business. World titles and superstardom looked inevitable but – though the man dubbed "El Ciclon de Guantanamo" picked up a not so shabby three "world" titles at different weights (the WBA and IBF belts at feather, the interim WBA strap at super-feather-weight and interim WBA belt at lightweight) – somewhere along the way Gamboa all but fell off the radar.
Up until his TD win over Daniel Ponce De Leon in late 2011, Gamboa looked to be on course. But then – maybe around the time a mouth-watering match-up between he and southpaw slugger Juan Manuel Lopez was left to marinate too long and ultimately collapsed due to "Juanma's" upset loss to Gamboa victim Orlando Salido – the Gamboa road show left town. Embroiled in lawsuits and forced to remain idle for far too long, Gamboa became yesterday's news in fighting only once in 2012 and just once the following year. Worse still, Gamboa appeared to have changed his style from reckless destroyer to patient boxer; winning his last two bouts via dull points decision.
But now, finally in the opinion of fans who chose not to forget Gamboa's considerable talents, the Cuban sensation is on the verge of realising his full potential. Should Gamboa, still sporting a perfect ledger at 23-0(16) defeat WBO 135-pound boss Terence Crawford this coming Saturday night in Omaha, Nebraska, the big, big fights should come rolling in. This is the biggest fight of Gamboa's career, and it is simply a must-win contest for him. Fights with Lopez, Brandon Rios and Mikey Garcia fell through, derailing Gamboa's progress, but now, with the fight against Crawford, Gamboa has his destiny in his own two wickedly fast hands.
But, some people ask, have Gamboa's peak years passed him by? At age 32 and after having gained so much ring-rust due to inactivity (Gamboa, with his style, his old style, anyway, needs to be as sharp as possible if he's to win and look good doing it), has the big fight with Crawford come too late for him?
Both men are reportedly training as hard as can be, both have displayed a little ill feeling towards one another and both gifted boxers crave superstardom and the huge purses that go along with it. With new promoter 50-Cent looking after him and aiming to take him into the stratosphere, Gamboa has it all to do on Saturday. It could be argued there is more pressure on the challenger than the champion in this one. Crawford, 23-0(16) hits with enough authority to be able to put dents in Gamboa's chin should the Cuban leave it hanging out to dry, and Crawford is the naturally bigger man. But Gamboa, when he's firing on all cylinders (as he will need to be to win), is faster of hand and he hits with more venom.
Both men will be massively motivated and pumped up when entering the ring, but I think the edge in this department will go to the man who has been forced to wait so long for his defining fight or fights. it's a tough one to pick (the sure sign of an excellent match-up), but I go with Gamboa by decision. And if I'm right, get ready for some sizzling match-ups involving the man who was once called a "mini Mike Tyson!"