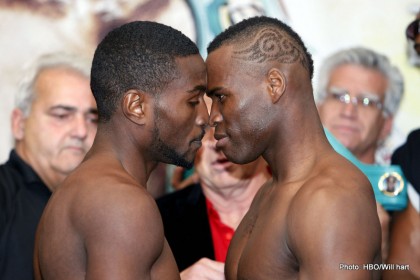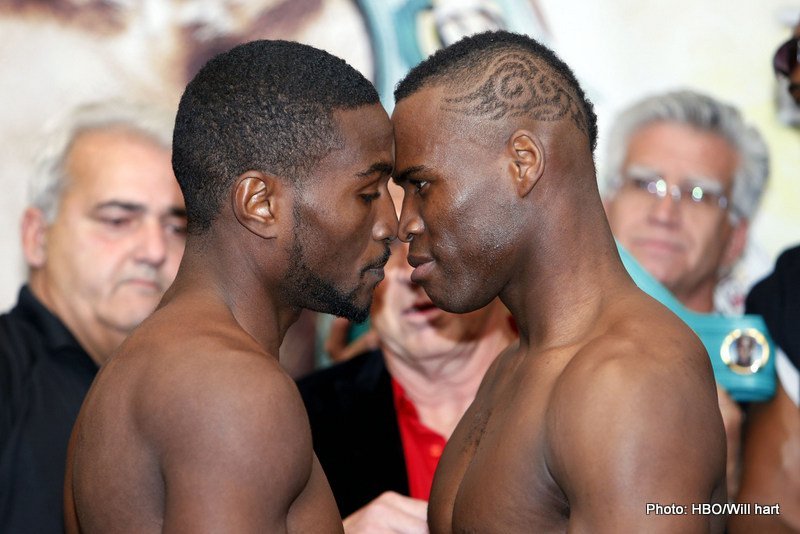 On Saturday, September 28th, from the Bell Centre in Montreal, Quebec, Canada, the lineal Light Heavyweight Champion, Adonis "Superman" Stevenson (21-1, 18 KOs) will defend his Ring Magazine and WBC belts against former IBF titlist Tavoris "Thunder" Cloud (24-1, 19 KOs) as part of a sure to be action filled "Double Header" on HBO Championship Boxing.
While many ringside observers are predicting the highly anticipated match-up to go the distance, due to the mental and physical durability of the title challenger, Stevenson's trainer, Javan "Sugar" Hill, warns everyone not to blink when the opening bell sounds.
"With Adonis, you just never know how long the fight will be," claims the Kronk Gym trainer. "Because of his massive power, you really don't know if the fight will go twelve rounds, six rounds, or just 76 seconds."
"The fight can drastically change at any time throughout the fight. That's how explosive my fighter is."
Although the incumbent champion is widely recognized for his devastating power, Sugar Hill claims that Stevenson has an exceptionally high "ring I.Q.".
"Since the Dawson fight, everyone has been talking about Adonis' power…justifiably so. But he is a very crafty fighter as well. Like Adonis has been saying recently, as soon as Cloud makes a mistake in the ring, that's when he will catch him. As everyone witnessed in our last fight, the contest can dramatically change with one mistake…that's all it takes when you're in the ring with Adonis Stevenson."
"From the time when Adonis first came to the Kronk Gym and started working with me and Emanuel, it's been amazing how quickly he's picked everything up and mentally pieced everything together. He is always learning in and out of the gym."
"Just the other day, we both watched the Mayweather/Alvarez fight together, and talked about everything Floyd did in the ring. After that fight, while we were in the gym training, I saw instant improvements from Adonis after watching Floyd's masterful performance against Canelo. That's how humble Adonis is as a perpetual student of the game. He's always improving with every fight."
While the Canadian resident learned much from watching the pound for pound king work in the ring on September 14th, the hard punching Light Heavyweight also learned the importance of a clean knock-out after listening to the controversial post fight verdict of judge CJ Ross.
"Emanuel and I have always loved knock-outs," proudly states the Hall of Fame trainer's nephew. "Because you never know how a ringside judge is going to view your fighter's performance."
"We were in shock, after watching such a masterful performance by Mayweather, that the judges didn't reward him with a unanimous decision victory. Every fight at this level is so crucial to a fighter's career. So why leave a fight in the hands of the judges when you have the tools not to?"
"Best way to solve the problem of subjective scoring in boxing is to knock your opponent out. That's what we always strive to accomplish every time Adonis steps foot in the ring, and it won't be any different on September 28th when he faces Tavoris Cloud!"