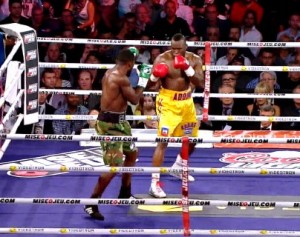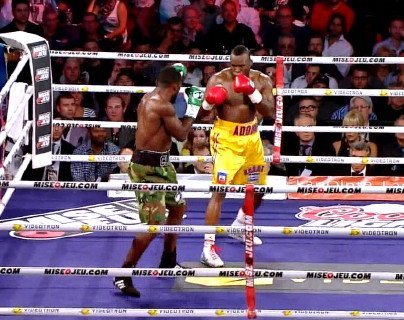 WBC light heavyweight champion Adonis Stevenson (22-1, 9 KO's) totally dominated former IBF light heavyweight Tavoris Cloud (24-2, 19 KO's) in stopping him after the 7th round on Saturday night at the Bell Centre in Montreal, Canada. The fight was halted after the 7th round because of a nasty cut over the right eye of Cloud. He was cut over both eyes, but the cut over his right eye was deep one.
It was a horribly one-sided fight from start to the bitter finish with the southpaw Stevenson hitting Cloud at will with lightning fast left hands and right hooks. Cloud was too slow of hand and foot to land anything more than an occasional shot. He did land some punches in the 5th through 7th rounds, but not enough of them to make the fight competitive.
The way to beat Stevenson is to get inside on him and stay there, because he's not a great inside fighter. But Cloud stayed on the outside all night long, and didn't do anything when he would get in close other than letting Stevenson tie him up.
After the fight, Stevenson was asked if he were interested in fighting WBO light heavyweight champion Sergey Kovalev, but he changed the subject by saying that he has a mandatory defense coming up next against Tony Bellew. Stevenson should be able to beat Bellew no problems unless he gets hit with something big. Stevenson doesn't have the best chin, and Bellew can punch. I give Stevenson a great chance of winning this fight, but Bellew definitely has a chance to win this one, because Stevenson didn't look good tonight in the few occasions he got hit hard. Stevenson's head snapped back hard each time he was nailed.
As good as Stevenson looked in this fight, I think he would lose to Andre Ward if the fight were to be put together. Ward would take away Stevenson's pot shot ability by trapping him on the inside and beating him up. Cloud just wasn't astute enough to try that tactic.
***
David Lemieux UD 8 Marcus Upshaw
Jean Pascal TKO 5 George Blades
Eleider Alvarez UD 10 Edison Miranda
Kevin Bizier UD 6 Giuseppe Lauri
Artur Beterbiev RTD 3 Rayco Saunders
Antonin Decarie UD 6 Salim Larbi