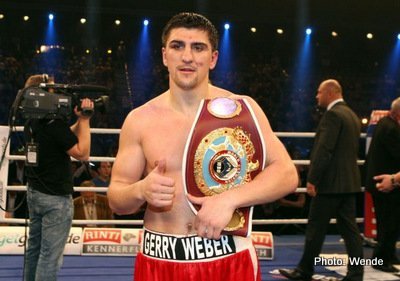 WBO Champion Marco Huck is looking forward to the action in Halle/Westphalia. His fight against former WBA Cruiserweight Champion Firat Arslan promises to be a real highlight. Ahead of the big fight, the 27-year-old spent some time in Mallorca, Spain as well as in Neuruppin, Germany and will present himself in great shape come November 3. And the team surrounding the prodigy of coach Ulli Wegner is convinced, that they did all they could to enable Huck to defend his title for the tenth time. Huck took some time out of his preparations for Arslan for a Q&A.
Marco Huck, your last fight was back in May. After the bout, it was announced that you would take a longer break, which you did. Was that the right move?
Marco Huck: It definitely was. I didn't really have a lot of time off ahead of the May 5 fight in Erfurt, which showed during the bout. Now my batteries are fully charged and I cannot wait to get back into the ring. I can feel the itch in my fists. The fight against Afolabi wasn't easy for me. In my opinion that was due to the fact that I fought for the heavyweight championship just a few months earlier which also was a tough fight. But at the end, I got through it and kept my cruiserweight title. Now my whole focus is on the tenth defence of the WBO Championship.
Your next opponent is Firat Arslan who you will face on November 3 who is a former world champion. How dangerous is he?
Marco Huck: First of all, I have to say, that I really like Firat. He got into boxing at a very late age but fought through all the odds. I have a lot of respect for his accomplishments. Added to that, he is a very nice person. This is a completely new situation for me. I didn't like many of my former opponents. But facing someone whom you appreciate for his success and his attitude is an unusual scenario for me. I am not underestimating him at all. I know for a fact that he would be a dangerous opposition for all the
cruiserweights out there. I actually believe that he would win against every single world champion in this division – except of me. I will make sure that
he won't. I'm not surprised that no one apart of me wanted to fight him in a
championship bout.
What did you pay special attention to during your preparations for Arslan?
Marco Huck: The training hasn't really changed that much. The only difference is that it is more intense which helped my ability to concentrate during a though battle. It is harder to focus on something when you start getting tired. I did quite well during training. Of course, it requires a lot of self-discipline.
Another new situation for you must have been that the attention of coach Ulli Wegner was pretty much just on you. Apart of Robert Helenius who joined you in Neuruppin, none of your teammates was present at the training camps in Mallorca and Brandenburg. How did you like that?
Marco Huck: To be honest I really enjoyed that and it shows how much the coach appreciates me. If it would be up to me, it would always be like that. That way you can focus more on the task at hand and the sessions are much more intense. Nevertheless, my training group needs him to in order to be as
successful as me. And they need a great coach like Ulli Wegner to guide them to the top. He even managed to get me to train when the lights at the gym are already turned off.
Would you say that you are in the best shape of your life?
Marco Huck: I don't really know at this point. I will be able to tell you come November 3. However, I am sure it will turn out to be a convincing victory for me. But I have to put on display what I have worked on during the preparations. That is why I am looking forward to be fighting Firat Arslan. The fans will be able to see for themselves if I have developed.
The fans can obviously expect a lot of you during the fight. But would you also say that you have developed on a personal level over the last few years?
Marco Huck: I let the people around me be the judge of that. I think that you develop through all your past challenges and the tasks at hand, not just on a professional but also a personal level. Nevertheless, I also believe that many people have a wrong opinion of me and don't see the person I really am. My image is one of a badass who always speaks his mind. Of course, there are other sides to me as well.
What will be the outcome of your fight against Firat Arslan?
Marco Huck: The fans will witness one hell of a fight. Many people might have written off Firat Arslan but I certainly have not. Just the way he is preparing himself for the fight against me is prove enough that he is going to be one tough cookie. I have to beat him – there is no way around it. I want to become the WBO Super Champion and in order to do so I need to be victorious.
Tickets for the show at the Gerry Weber Stadion in Halle/Westphalia are available at www.eventim.de and www.boxen.com.