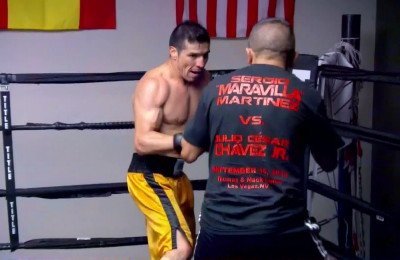 By Marcus Richardson: WBA World middleweight champion Gennady Golovkin (24-0, 21 KO's) will be watching the September 15th fight between WBC middleweight champion Julio Cesar Chavez Jr. (46-0-1, 32 KO's) and Sergio Martinez (49-2-2, 28 KO's) with great interest, as Golovkin wants to fight the winner of that bout. Golovkin, 30, fought for the first time in the United States last Saturday night in destroying #3 WBA Grzegorz Proksa in five rounds in a three knockdown performance from Golovkin. The win has suddenly made Golovkin one of the top fighters in the division in the minds of boxing fans, although the hardcore fans already knew how good Golovkin was going into this fight.
Golovkin said to RingTV "For the fight on September 15 between Chavez Jr. and Martinez, I think it's a 50-50 fight. Sergio has better skills, but Chavez Jr. is younger and seems to be getting stronger with each fight. I look forward to viewing the Chavez Jr-Martinez fight."
Golovkin would be a serious threat to either Chavez Jr. or Martinez due to his huge power, excellent inside fighting skills and pinpoint accuracy with his punches. Unlike most of the 180 pound Chavez Jr's opponents, Golovkin would be able to compete with Chavez Jr. on the inside despite giving away 15+ pounds in weight. Chavez Jr. is a dangerous to the body, but he doesn't have the power that Golovkin has when punching on the inside to the head and body. Chavez Jr. would have to deal with a lot of powerful head and body shots, and it would very tough for him to be able to take those kinds of shots for 12 rounds.