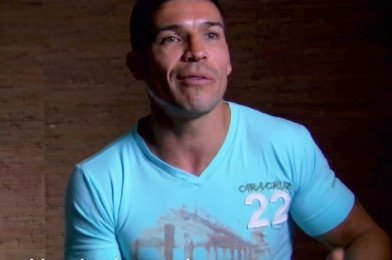 By Rob Smith: Former WBC middleweight champion Sergio Martinez (49-2-2, 28 KO's) says he can already seen the outcome of his September 15th fight against Julio Cesar Chavez Jr. (46-0-1, 32 KO's) and he doesn't see the fight ending well for the 26-year-old son of boxing legend Julio Cesar Chavez Jr. Martinez plans on getting the hulking 180 pound Chavez Jr. out of there early to make a nice clean win without any controversy.
Martinez said "I go over it in my mind and can see it. I can see him [Chavez Jr] on his knees right in front of me…I know the fight will end early. I know I'm going to knock him out."
With his power and speed, Martinez is going to make it difficult for Chavez Jr. to do the same kinds of things he's been doing in his recent bouts against more stationary fighters. Chavez Jr. has really had his way against guys with little ability to move like Andy Lee, Peter Manfredo Jr and Marco Antonio Rubio. Lee isn't that bad when it comes to getting around the ring, but in his case he was fighting Chavez Jr. in a small ring in El Paso, and he compounded it by choosing to slug with him instead of trying staying on the outside.
Martinez has a lot of examples of how not to fight the 26-year-old Chavez Jr. and he likely won't make the same kinds of mistakes as those guys did in fighting him. Movement plus speed could end up being the kryptonite that turns Chavez Jr. into a mere mortal on September 15th. It won't be easy for Martinez because of Chavez Jr's huge weight advantage, and it's quite possible that Martinez may get jobbed if the fight goes to the cards. But he realizes that he probably will need a knockout to beat a fighter as popular as Chavez Jr and that's why he's going to be looking to do just that in this fight.
Chavez Jr. has a great chin and he's going to need it for this fight. Martinez is going to be testing him every step of the way and Chavez Jr. is going to be taking a lot of head shots as he plods forward trying to land his own shots. No doubt, it's going to be difficult for Chavez Jr, because he's mostly just an inside body puncher for the most part. That's what he's really good at, but if he's not able to mug Martinez inside he could be in for a brutal beating.