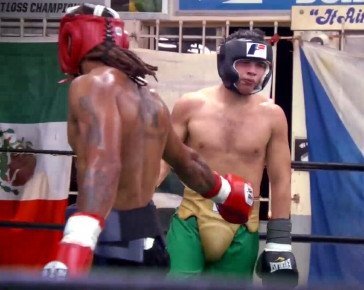 By Sean Ocampo – Undefeated WBC Middleweight Champion Julio Cesar Chavez, Jr. (46-0-1, 32 KO's) will put everything on the line against pound for pound great and former Middleweight title holder Sergio "Maravilla" Martinez (49-2-2, 29 KO's) at the Thomas and Mack Center in Las Vegas, Nevada.
Chavez is going into this fight as underdog because of Martinez's undeniable skills and his reputation as one of the very best in boxing. Chavez will have the toughest test of his career this coming September 15, 2012. Will he pass the test or will he flunk it?
These are the keys on how Chavez will succeed against Sergio Martinez.
PRESSURE
Chavez has to take away Martinez's footwork and footspeed. That's easier said than done, but it's pretty much doable in the fight game. Martinez is most dangerous when he's outside. We've seen him knockout or knockdown opponents when he's fighting outside, just like when he knocked out Paul Williams. With constant pressure from Chavez, he should be able to cut the ring and take away the breathing space of Martinez. Once he cuts the ring, he'll be able to land his hard combinations to the head and body. Perfect example for this would be Chavez's last fight with Andy Lee, who is coincidentally a southpaw. Lee started the fight on the outside, but abandoned it due to Julio's pressure. Chavez was on Lee's chest most of the fight. He was successful in cutting the ring and was able to pressure Lee with hard combinations. If he can't pressure Martinez, he'll definitely lose.
THE RIGHT HAND
The right hand is always a great weapon against a southpaw. Chavez has to utilize the right hand against the southpaw Martinez. This punch could be his key victory, if he lands against a very clever Martinez. Just like what Chavez did in his recent fight with southpaw Andy Lee, the right hand was the finishing blow. Southpaws are very susceptible to the right hand. With Martinez also dropping his hands most of time, the right hand will be perfect. This could be the money shot.
IMPOSE HIS SIZE
Chavez is the naturally bigger man. His size should play a big factor in this fight against Martinez. By imposing his size, he'll be able to bully his way to Sergio and take the fight on the ropes where he could land combinations to the head and body.
BODY PUNCHING
Body punching has always been key to victories. Chavez is known for his solid body punching. This is the fight to showcase the work at the body. If Chavez breaks down Martinez's body, he takes away the movement, speed and power; which eventually leads to a knockout victory.
This fight is Julio Cesar Chavez, Jr.'s ticket to legitimacy. He has been scrutinized by the boxing public because he's a son of legendary fighter. Many felt that everything was handed to him and he didn't deserve the position where stands right now. A victory over an elite fighter like Sergio "Maravilla" Martinez would erase any doubts about Chavez's rise to boxing.
Follow me on Twitter @seanocampo