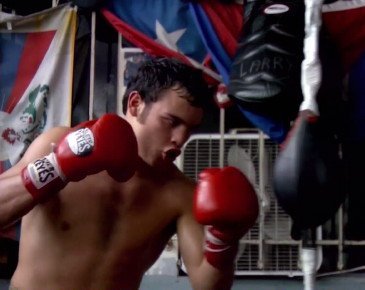 By Michael Collins: Bob Arum of Top Rank is predicting that the September 15th fight between WBC middleweight champion Julio Cesar Chavez Jr. (46-0-1, 32 KO's) and Sergio Martinez (49-2-2, 28 KO's) to have a sellout crowd of 19,000 when the two fighters go at it in the Thomas & Mack Center in Las Vegas, Nevada. The full capacity of the Thomas & Mack Center is 19,000, and Arum has reportedly opened up an additional 7000 seats at the Wynn in Las Vegas for a close circuit viewing of the fight, according to Fightnews.com.
This is a huge fight given that a lot of boxing fans don't see Chavez Jr. as a legitimate champion. He's definitely won over a lot his famous father's fans by beating up on the lackluster opposition that Arum has put him in with at middleweight. However, in looking at how huge Chavez Jr. has been in fights since 2010, you've got to make an argument that much of Chavez Jr's success at middleweight has stemmed from his uncanny ability to drain down from 180+ to make weight at 160 lbs for his fights.
Chavez Jr. then balloons back up to around 180 to fight and this gives him a big advantage over pretty much all of the middleweights in the division. There are obviously a small percentage of fighters that drain down from high weights to fight at middleweight, but not a lot of them because it's so difficult to cut that much water weight and not be left weakened in the process. Chavez Jr. is not only able to take off huge amounts of weight in short periods of time but he's not weakened for some reason. He's got an ability to do this and it's pretty incredible that he's still able to do this without failing to make weight or ending up too weak to fight.
In looking at the recent training photos of Chavez Jr. at fightnews.com, one is struck by how huge Chavez Jr. is looking. He doesn't look at all like a middleweight. As far as I can tell, Chavez Jr. looks like a full fledged cruiserweight. He's huge. Sergio Martinez is going to have major problems trying to beat Chavez Jr. on September 15th if Chavez Jr. walks into the ring looking as big as he is now. Without the WBC having any kind of rehydration rules in place, Chavez Jr. will be free to rehydrate up to whatever weight he wants and still fight. With Martinez likely weighing only 165 lbs at best, he's going to be dwarfed by the sheer weight of Chavez Jr. in this fight.