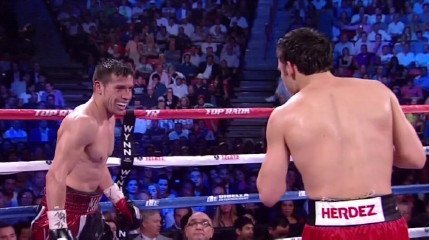 By Michael Collins: Lou Dibella, the promoter for WBC middleweight champion Sergio Martinez, feels that the sport of boxing needs a rematch between Martinez and former WBC middleweight champion Julio Cesar Chavez Jr. after last night's one-sided 12 round decision win by the 37-year-old Martinez over Chavez Jr. at the Thomas & Mack Center in Las, Nevada.
Dibella said to the LA Times "Boxing deserves a rematch. My philosophy is when you have lightning in a bottle, don't let it go. A rematch probably sells out Cowboy Stadium."
So let me get this straight. Chavez Jr. loses 11 rounds plus the fight, and then gets a rematch out of this? There's something wrong with this picture because that doesn't make sense at all. I don't care that Chavez Jr. knocked Martinez down in the 12th. The fact of the matter is he couldn't finish him off and it was Martinez who was pummeling Chavez Jr. at the time the 12th round ended.