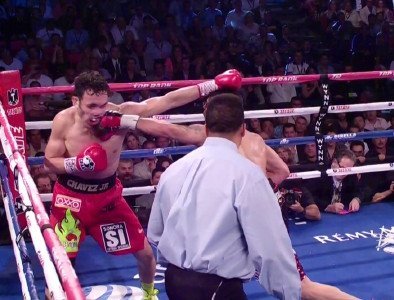 By Michael Collins: Top Rank promoter Bob Arum is considering a rematch between his popular fighter Julio Cesar Chavez Jr. (46-1-1, 32 KO's) and newly crowned WBC middleweight champion Sergio Martinez (50-2-2, 28 KO's) at the Cowboys Stadium in Arlington, Texas. However, if the rematch comes off it will likely have to wait until 2013, because Martinez suffered a cut over his left eye that required 8 stitches to close as well as possible torn ligaments in his right knee after falling to the canvas after getting knocked down by Chavez Jr. in the 12th. The torn ligaments may require surgery to heal. The rehabilitation will almost surely keep Martinez out of action for the remainder of 2013.
Martinez and his promoter Lou Dibella are both understandably eager to face Chavez Jr. again. Martinez received $1.4 million for the fight, and he'll likely get a nice extra chunk of cash on the pay per view upside. A rematch in Texas would likely mean another nice payday for Martinez, although it's hard to understand why boxing fans would want to pay to see Martinez add Chavez Jr. fight again after last night.
It was completely one-sided until the 12th round when Chavez Jr. was able to hurt Martinez with a right hand and then put him down with a left. Chavez Jr. couldn't finish the job, however, and actually ended up taking more shots than he was landing after he had Martinez hurt. That was the sad part. Even with Martinez hurt, he was still able to out-land Chavez Jr.