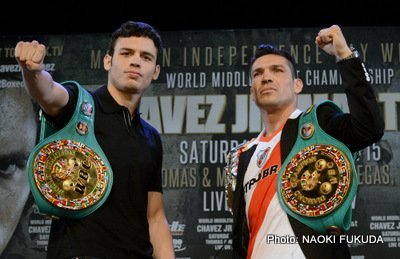 By Joseph Herron: Great trainers insist to every fighter who walks through their gym to leave all emotion at the door. The sport of pugilism is not about violence, but built on sportsmanship, discipline, and athleticism.
Most decisions a fighter makes in the ring based on emotion almost always leads to a disappointing result. Adversely, every logical and intellectual judgment made within the hostile confines of the squared circle usually results in a satisfying performance and a victory.
Leading up to this Saturday's main event at the Thomas & Mack Center in Las Vegas, Nevada, featuring Sergio Martinez and Julio Cesar Chavez Jr, the fighter most affectionately known as "Maravilla" has been uncharacteristically carrying around a sack full of emotion based largely on pride, vengeance, and anger.
Will the universally recognized Middleweight Champion decide to leave his emotions at the door of the Thomas & Mack Center this Saturday night? Team Chavez certainly hopes that he doesn't.
On July 14th, 2012, we witnessed a similar dramatic situation unfold in the ring.