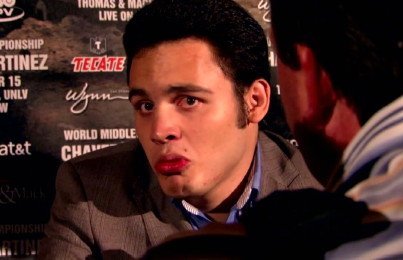 By Padraig Ivory: On Saturday night boxing enthusiasts should be presented with their answer, as one fighter ascends to the peak of the middleweight mountain. The unbiased majority can already envisage the green strap loosely aboard the torso of Argentinean sensation Sergio Martinez. However the silhouette of Mexican fighter Julio Chavez Jr, escaping from the shadow of his much celebrated father, is fast approaching the summit of the 160lb division. The Thomas and Mack Centre will be expecting a raucous atmosphere as the drama unfolds.
Numerically speaking Chavez Jr is the owner of the superior professional record boasting an immaculate 46-0-1, with 32 knockouts racked up to date. In contrast the resume of ' Maravilla' reveals the Oxnard resident has tasted defeat on two occasions since entering the paid ranks. Boxing purists will confirm that numbers are merely that, numbers. The quality of competitor to have bravely stood across the ring from the unorthodox power punching Martinez can lead to only one conclusion when the topic of comparing records is raised.
The build up to the main event has intensified as the latest installments of HBO's 24/7 series have rolled out. The employment of subtitles to traverse the language barrier is completely disregarded by the observer as the raw intensity and desire of Martinez enthrals all who tune in. At the advancing age of 37 Martinez is not lacking in experience, motivation and power as he seeks his 5th stoppage on the spin.
Chavez Jr. is adamant he will exit the Thomas and Mack with his '0' still firmly in place and more importantly with a new found recognition for his boxing ability. Martinez has repeatedly questioned the credibility of his Mexican foe's champion status to which Chavez Jr. has been insistent that Martinez's opinion of him will change come Saturday night when battle commences.
The middleweight supremacy question is perfectly poised as boxing fans eagerly await the verdict.
On the undercard middleweight contender Matthew Macklin faces former world champion Joachim Alcine over 10 rounds with one eye firmly on the winner of the headlining bout. Overturning an opponent of the calibre of the tough Haitian will prove no easy feat but Matthew has become acclimatised to life at the very top level of the sport having faced Martinez and Sturm in his two previous outings.
Mack the Knife may indeed be hoping Chavez Jr.'s hand is raised as a Martinez rematch may be scuppered by Sergio's pursuit of a pound for pound super fight with Mayweather Jr. or Manny Pacquiao. Irish fans will be hoping for an impressive victory.