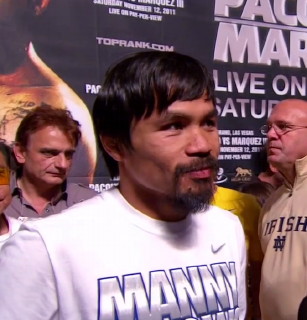 By JM Siasat: It's tough to say if it's been a good or bad year for Boxing because of robberies, fighters not meeting expectations and the long awaited Pacquiao-Mayweather showdown still not happening. Given all that, there were plenty of things to rejoice about. Here I provide you with my personal picks of Boxing's best of 2011.
Fighter of the Year: Nonito Donaire
People in the Boxing community has always questioned Donaire's place in the pound for pound rankings but Donaire put it all to rest when he fought Fernando Montiel for the WBC and WBO world bantamweight title. Donaire gauged his opponent in the first round while landing good shots along the way. In round two Montiel was more active and tried to press until Donaire landed a monstrous counter left hook that put the former champion down the canvass. It was a worrying sight as Montiel twitched on the floor as if he had a seizure in the ring. Being the warrior that he is, Montiel amazingly beat the count only to get the fight stopped a few seconds later. "I just came out there believing in this talent that God has given me" said Donaire in the post fight interview. "Actually I predicted this second round knockout like three months ago" added Donaire. Donaire would then defend his newly owned titles against the undefeated Omar Narvaez of Argentina. A fight Donaire dominated with ease winning each and every round as he cruised to an easy unanimous decision.
Special Mention: Andre Ward
Fight of the Year: Andre Berto-Victor Ortiz
This fight exceeded all expectations. Ortiz moved up to welterweight and was coming from a draw seemed to be ripe for picking against Andre Berto as they fought for the WBC world welterweight title. It was evident since the first bell that Ortiz came to fight and surprised fans, experts and critics including Berto himself when he got knocked down in the first round. After a back and forth action and four official knockdowns, Victor Ortiz was crowned the new WBC world welterweight champion.
Special mention: Hernan Marquez-Luis Concepcion
Knockout of the Year: Brandon Rios-Miguel Acosta
Acosta started strong as he boxed and moved effectively landing power shots on Rios. The unfazed Rios sticked to his game plan and continued to put pressure on Acosta which eventually took its toll on the champion in the middle rounds. There were 2 knockdowns scored by Rios prior to putting Acosta to sleep in round ten.
Round of the Year: Alfredo Angulo-James Kirkland round one
This may not be a surprise since the Boxing community knew it would be round of the year the moment they saw the first round. Both fighters started strong, early in the round Kirkland backed Angulo on the ropes only to catch a right hand making a trip to the canvass. Angulo tried to finish by throwing numerous power shots but most of it missed. Angulo eventually punched himself out and paid for it as he got dropped before the round ends.
Event of the Year: Manny Pacquiao-Juan Manuel Marquez 3
Set aside the controversial decision for a moment, the third meeting between Pacquiao and Marquez was the most anticipated boxing event of 2011. The fight attracted worldwide audience as they had promotional tours in the Philippines, Mexico, United States and four episodes of HBO's 24/7. With massive attendance in both the weigh ins and the fight, plus an estimated PPV buys of around 1.5M Pacquiao-Marquez 3 was definitely the biggest boxing event of the year.
Upset of the Year: Brian Viloria-Giovani Segura
Brian Viloria shocked the world when he beat former pound for pound fighter Giovani Segura by TKO in round eight to retain his WBO world flyweight title. Viloria known to tire in fights was predicted to get trampled by the hard hitting Segura who came in the Philippines to challenge for the world title. Viloria displayed excellent counterpunching abilities by landing hard counter left hooks that found its mark on Segura's head before ending the first round. Segura as expected came in putting pressure and thrown body punches but was getting caught with countless counter left hooks eventually building a huge hematoma on the challengers head. Referee Samuel Viruet stopped the fight after Segura took another hard left hook on the same spot in round eight.
Comeback of the Year: Erik Morales-Pablo Cesar Cano
Morales signed to fight Marcos Maidana earlier this year in what many people thought to be a walk in the park win for Maidana. To the surprise of many, Morales held his own by outboxing, and at times getting the best of trades with Maidana during the fight. Maidana was awarded a majority decision win in a fight many felt Morales should have won. Though the decision didn't go in Morales' way, it was evident that he is still a threat to anyone at the light welterweight division.
Morales was slated to fight next for the vacant WBC world light welterweight title against Lucas Matthysse on September 17. In an unexpected turn of events, Matthysse pulled out of the fight and was replaced by a young and undefeated Pablo Cano. Morales dominated the fight and drew a cut on the young fighter, it was vintage Morales as he displayed great boxing skills and amazing precision landing shots on the cut over and over again until the fight was stopped in round ten. The sweet victory made Erik Morales the first legitimate Mexican world champion in four divisions (122, 126, 130 and 140). The legend goes on.
Robbery of the Year: Paul Williams-Erislandy Lara
Paul Williams was coming from a brutal knockout loss in the hands of pound for pound fighter Sergio Martinez and was being groomed to look good in his comeback. Lara on the other hand didn't look good in his previous fight either when he went to a draw with Carlos Molina, probably the reason why he was chosen as William's next opponent. To cut the story short, Williams won 2 to 3 rounds at most getting outboxed in the entire fight. Lara landed repeated left hands again and again, exposing Williams' poor defence. Williams' corner realized he needed a knockout to win, something that Williams acknowledged. A hint that a robbery was coming when the 114-114 score was announced, 115-114 and 116-114 in favour of Williams was next.
For questions, suggestions and feedbacks you can email jm1boxing@ymail.com
Follow me on twitter @JMSiasat www.twitter.com/jmsiasat
You can also add me on facebook at www.facebook.com/jm1boxing