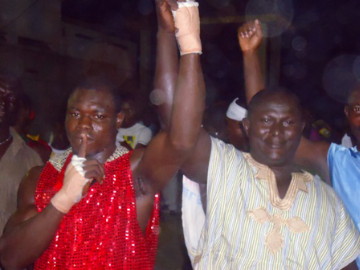 By Prince Dornu-Leiku: Emmanuel Omari Danso, the Ghanaian Light heavyweight boxer nicknamed Kwahu Mike Tyson claimed a first round stoppage win in his latest fight last Monday night in Accra and immediately declared the ambition to follow the footsteps of his American idol 'Iron' Mike Tyson.
Danso, whose victory over Cudjoe Darah was the 9th knock-out win in his 9 professional fights so far, wants to emulate the legendary Tyson. But most uniquely, it was his first win in the opening round and the Ghanaian is keen to establish his trademark as did Tyson early in his career. He brushes aside suggestions that the opponent was not a good one.
"Not at all, it's because of my training and determination was that he would not go beyond round 3. I really want to live up to the Mike Tyson name and win all my fights by knockout. I have always admired Mike Tyson and he's my motivation to become a boxer so I want to be like him," Danso toldwww.sportsinghana.com after last Monday's fight.
The boxer who turned professional only back in June this year, has already promised to deliver Ghana a world title but is modest with expectations now.
"Ghanaians should expect a title from me soon, the target is by middle of next year I want to hold a title, either Ghana or Africa, so that I start defending it. All Ghanaians especially my native Kwahu people must continue to support me with their prayers," Omari Danso said.
He added: "I'm also grateful to my coach Asare, my own uncle and manager Kwame Acheampong as well as Agya Omari and staff for all their support."
Certainly up for the boxer's world title dreams is Ofori Asare, his very experienced coach who is also the Technical Director of Ghana's amateur boxing national team. "I like the idea that he has within him to be world champion. I am also a coach who is determined to take my boxers far and make world champions so our two ambitions meeting is very good and one which I will offer him all the support to achieve," Coach Asare stated.
Also backing the boxer for glory is Kwame Acheampong, his uncle who also doubles as his manager. Popularly called To Be A Man in the Kantamanto business hub of Accra, Mr. Acheampong has reposed a massive dose of confidence in Kwahu Tyson.
"I believe in him because I've watched him grow saying he will be like Mike Tyson and I know he will do it. I am strongly behind him and I believe in him. I urge kwahu people all over the world to support him because for once we have a boxer from home trying to bring glory to us," Kwame Acheampong said.