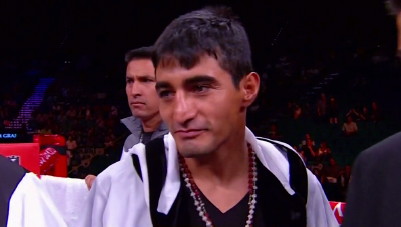 LOS ANGELES, December 29 – As a result of having undergone emergency gall bladder surgery the week before Christmas, World Boxing Council (WBC) Super Lightweight World Champion Erik "Terrible" Morales' originally scheduled January 28 HBO World Championship Boxing televised world title defense against undefeated top contender Danny "Swift" Garcia has been rescheduled for March 24, but will still take place at Reliant Arena in Houston, Texas.
Also rescheduled for the new march 24 date is the highly anticipated clash of junior middleweights James "Mandingo Warrior" Kirkland and "King" Carlos Molina.
All tickets for the January 28 event will be honored for the new date. If fans are unable to attend the March 24 event, refunds will be available by returning their full, un-torn ticket to the original point of purchase starting on Friday, January 6, at 10:00 a.m. CT. For phone and internet purchasers, Ticketmaster Customer Service will be contacting customers by email. Phone and internet customers just need to reply to the email sent by Ticketmaster Customer Service. Phone and internet customers may also contact Ticketmaster Customer Service directly at (800) 653-8000. All refund requests must be completed by Friday March 23 at 5:00 p.m. CT.
Tickets, priced at $250, $125, $75, $50 and $25, may be purchased at all Ticketmaster outlets, by calling (800) 745-3000 or online at www.ticketmaster.com. Tickets are also be available for purchase at the Reliant Stadium box office south ticket windows.
Morales vs. Garcia is a 12-round bout for Morales' WBC Super Lightweight World Title and will take place on Saturday, March 24 at Reliant Arena in Houston, Tex. The co-featured bout will be between James Kirkland and Carlos Molina in a junior middleweight showdown. The evening of boxing is presented by Golden Boy Promotions and Box Latino with Kirkland vs. Molina being presented in association with Warrior's Boxing and Promotions. The HBO World Championship Boxing broadcast begins at 10:15 p.m. ET / 7:15 p.m. PT.
January 21 Sports Network Fight Night Under Card
The card for the opening night of the NBC Sport Network Fight Night series will prove to be just what the boxing fans ordered. Truly great fights that match styles – not records. Tune in for a great night of boxing on NBC Sports Network Fight Night!
Matchmaker, Russell Peltz, shares his insight into the undercard bouts
MAIN EVENT
10 Rounds – Heavyweights
Eddie Chambers vs. Sergei Liakhovich
Philadelphia, PA Scottsdale, Arizona
36-2, 18 KO's 25-4, 16 KO's
UNDERCARD
______________________________________________________________
10 Rounds – Junior Middleweights
Jesus Soto Karass vs. Gabriel Rosado
Los Mochis, Mexico Philadelphia, PA
24-6-3, 16 KO's 18-5, 10 KO's
Soto Karass Rosado
Jesus Soto-Karass has a solid chin and only knows one way to fight–straight ahead, throwing punches to the body and head.
Gabriel Rosado, a hometown boy, needs a win and will put it all on the line on January 21st. He's bigger than Soto-Karass and he should use his size and strength in this match.
Both men have fought tough opposition. Karass has fought Mike Jones, Alfonso Gomez, Carson Jones, David Estrada, Vince Phillips, Michel Rosales, Yuri Foreman, and Freddy Hernandez. Rosado has fought Saul Roman, Kassim Ouma, Alfredo Angulo, Derek Ennis, Fernando Guerrero.
_______________________________________________________________
8 Rounds – Welterweights
Joel Julio vs. Chris Fernandez
Miami, FL Salt Lake City, UT
37-4, 31 KO's 19-14-1, 11 KO's
27 year old Joel Julio, one of the best in the world at 147 to 154 pounds, compiled his record of 37-4, (31 KO's)against some of the best. He has beaten current IBF junior middlweight champ Cornelius Bundrage as well as Ishe Smith, Anges Adjaho and Jamaal Davis. He fought for the WBO world junior middleweight title in 2008, losing a 12-round decision to Serhiy Kzinziruk in Germany. Julio currently is campaigning at welterweight.
Chris Fernandez, 35, of Salt Lake City, UT, has fought the best from coast to coast. His
record (12 KO's) was built against top guys like Devon Alexander, Paul Malignaggi, Danny Garcia and Gabriel Bracero. He has fought 13 men who were undefeated at fight time and never is in a bad fight.
________________________________________________________________
8 Rounds – Welterweights
Doel Carrasquillo vs. Ray Robinson
Frederica, DE Philadelphia, PA
16-18-1, 14 KO's 12-2, 5 KO's
The New Ray Robinson is a talented lefty who will celebrate his 26th on fight night. His record includes close decision losses at 8 and 10 rounds, respectively, to two of the best prospects at welterweight, Brad Solomon and Shawn Porter, both undefeated. After switching promoters in 2011, Robinson ended a 14-month layoff Sept. 30 when he KO'd Manuel Guzman, of Lancaster, PA, in seven rounds in Philadelphia. He is managed by Roger Levitt and trained by Howard Mosley.
Doel Carrasquillo, 38, is capable of beating any welterweight on any given night, despite his deceiving record. In his last fight Oct. 22 in Atlantic City, he shocked lefty Shamone Alavarez by stopping him in five rounds. Earlier in 2011, Carrasquillo knocked out then-unbeaten prospect Denis Douglin in Salisbury, MD. He also KO'd tough Jorge Melendez in 2010 in Puerto Rico.
__________________________________________________________
6 Rounds – Light Heavyweights
Damar Singleton vs. Sullivan Barrera
Toledo, OH Miami, FL
7-0, 3 KO's 8-0, 6 KO's
Someone's 0 must go in this match. Both guys are putting their unblemished records on the line. Sullivan Barrera is in the top 15 in the WBC and WBA after only 8 fights. The light heavyweight Cuban has stopped 6 of his last 8 opponents. He is promoted by Ahmet Oner.
He is managed by Yuriorkis Gamboa.
Damar Singleton has had over 90 amateur fights, competed in the USA men's national tournament, national Silver Gloves tournament, semi-finals of the national PAL tournament, and won his division in the Jr. Olympics 2 years in a row.
___________________________________________________________________
6 Rounds – Welterweights
Jose Peralta Alejo vs. TBA
Jersey City, NJ
6-1, 4 KO's
Jose Peralta Alejo, 21, is originally from the Dominican Republic but now lives in Jersey City, NJ. He is managed by Pat Lynch, former manager of Arturo Gatti. Coming to the USA with a 3-1 record in 2010, he was tossed in as an opponent for the highly touted Christian Martinez on Oct. 30, 2010 at Ballys, and shocked everyone by earning a six-round decision. He followed in 2011 with two more wins and was recently signed to a promotional contract by Main Events.
________________________________________________________________________
4 Rounds – Junior Welterweights
David Gonzalez vs. Korey Pritchett
Philadelphia, PA Camden, NJ
Pro Debut 1-1
Korey Pritchett, 24, of Camden, NJ, is 1-1 since turning pro Sept. 30 when he beat Korey Sloane, in his hometown of Philadelphia, by decision. In his next fight Oct. 28 at Ballys, he fought the much-bigger Kevin Womack, Jr., of Baltimore, and lst a four-round decision. He is managed by Doc Nowicki and trained by Martin Diaz.
David Gonzalez, 21, of Philadelphia, was set to box Korey Pritchett last Sept. 30 in Philly, but a training injury forced him to back out. This is his pro debut and he is managed by Moz Gonzalez and Eddie Woods.
_______________________________________________________________________
4 Rounds – Junior Welterweights
Naim Nelson vs. Pedro Andres
Phildelphia, PA Bridgeton, NJ
3-0 Pro Debut
Naim Nelson, 21, of Philly, has won all three of his pro fights by decision, each going four rounds. He turned pro last June at Harrahs Chester (PA), and also fought twice at Ballys Atlantic City. He is managed by Doc Nowicki and trained by Rory Bussey.
He is managed by Doc Nowicki and trained by Rory Bussey.
Pedro Andres, 26, is originally from Mexico but now lives in Bridgeton, NJ. This is his pro debut.
Promoted by Main Events, Peltz Boxing Promotions and Goossen Tutor, the non-televised undercard fights will begin at 7 p.m. Televised fights will begin at 9 p.m.Tickets are priced at $45 and $65 can be purchased by calling Peltz Boxing, (215) 765-0922 or online at www.peltzboxing.com
NBC SPORTS NETWORK FIGHT NIGHT SCHEDULE (All Times ET)
Saturday, January 21, 9-11 p.m. – Philadelphia
Saturday, March 24, 10 p.m.-Midnight – Site TBA
Saturday, June 16, 9-11 p.m. – Site TBA
Harry Joe Yorgey and Zain Shah to Clash February 11
Fairfax, Va. (January 4, 2012) –Jimmy Lange Boxing officials announced today that highly-rated junior middleweight contender "Lightning" Harry Joe Yorgey (23-1-1, 11 KOs) of Bridgeport, Pa., will square off with undefeated local power puncher Zain "Tiger" Shah (5-0, 3 KOs) of Chantilly, Va., in a six-round contest on Saturday, February 11, 2012 at the Patriot Center. The action-packed card, presented by Valcourt Building Services, features three world title bouts headlined by Jimmy Lange's defense of his World Boxing Union 154-lb. belt (opponent TBA).
Yorgey, coming off a fifth-round KO win against Donovan Castaneda last February, has suffered only one loss – a third-round KO to Alfredo Angulo for the World Boxing Organization Junior Middleweight Championship – during his ten-year career. The Philadelphia-area fighter has captured a pair of 154-lb. championships. He defeated Jason LeHoullier via majority decision for the International Boxing Federal International title on August 22, 2008 and won the International Boxing Association Intercontinental belt with a ninth-round KO over Ronald Hearns on March 28, 2009. This fight marks his debut in the Capital area.
Shah, a Northern Virginia native who trains at LA Boxing's Reston gym, last fought on September 10, 2011 at the Patriot Center where he scored a controversial second-round KO over Baltimore's Julius "Vicious" Kennedy. Midway through the second round after knocking his opponent down once, Shah dropped Kennedy again with a solid right. However, his quick follow-up strike appeared to hit Kennedy while he was still down with one hand touching the mat. The Virginia Department of Professional and Occupational Regulation officially changed the decision to 'no contest' on December 20, 2011. This will be Shah's fourth appearance at the Patriot Center.
Officials also announced that Upper Marlboro, Md. heavyweight Duane Mobley will make his professional debut against undefeated Dennis Benson (1-0, 1 KO) of Norfolk, Va. in a four-round tilt. Mobley fights out of Sugar Ray Leonard's gym in Palmer Park, Md., and compiled an amateur record of 27-2. Benson's victory came against another Beltway boxer and teammate of Mobley's, Abodurin Akinyanju, via a third-round KO last November at the nearby Showplace Arena.
In the Co-Main Event, top veterans Michael "No Joke" Stewart and Joe Wyatt will challenge for the vacant WBU welterweight championship, while Tori "Sho Nuff" Nelson of Ashburn, Va., will face Vashon "Lady V" Living for the vacant Women's International Boxing Association (WIBA) middleweight championship belt. Also on the card is undefeated local prospect Todd "White Lightning" Wilson taking on Fernando "El Latigo" Basora.
Doors will open at 6:00 pm, with the first fight scheduled to begin at 7:00 pm. All bouts are subject to change.
Tickets, priced at $35, $50, $75, $125, $200, $300 and $500 (plus applicable service charges), can be purchased through all Ticketmaster outlets including the Patriot Center box office, online at www.ticketmaster.com/ and via Phonecharge at 703-573-SEAT, 202-397-SEAT and 410-547-SEAT. Accessible seating is available for patrons with disabilities by calling 703-993-3035.