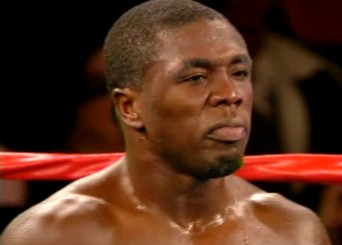 NEW YORK, March 31- With training camp coming to a close Andre Berto (25-0, 19 KO's) and Carlos Quintana (27-2-0,21 KO's) took time to discuss their training camps as they prepared to meet for the WBC World Championship, The card is being billed as "Fighting For Haiti" which is being promoted by DiBella Entertainment and sponsored by Champs Sports, Where Sport Lives, will be televised "LIVE" on HBO World Championship Boxing beginning at 10:30pm (ET) / 7:30pm (PT). The telecast will be available in HD-TV for those viewers who can receive HD on Saturday, April 10th at the BankAtlantic Center in Sunrise, Fla.
ANDRE BERTO – STAYING FOCUS & TRAINING WITH A PURPOSE:
With the recent earthquake devastation in Haiti, the loss of family members and the efforts of Berto Dynasty Foundation, which was founded to help raise money for earthquake victims, Andre Berto has manage to keep his focus on Carlos Quintana and is training with a special purpose..
"I've had a tremendous training camp and everything has gone as planned. I'm ready for my return to the ring on April 10," said Berto. "My weight is good and I have been putting in a lot of hard work in the gym. I have some really strong sparring partners that are helping me prepare for what Quintana is going to bring to the table. This fight means a lot to me and has a special purpose. I'm fully focused on Carlos Quintana and want to make a statement with my performance.
Berto said he is not changing his style and has not watched any films of Quintana.
"I'm very good at making adjustments during a fight and I have seen just about every style," said Berto. "Throughout my career as both a top amateur and now as a professional, I have seen just about everything in the ring. If they're boxers or bangers, it doesn't matter. I don't watch films of my opponents, I let my trainer focus on that aspect.
CONDITIONING:
No one has ever questioned Andre conditioning and preparation for a fight, he's always in shape. Andre has a very extensive conditioning program, which includes, swimming, cycling, track work, sprints and plyometrics when he's preparing himself for any upcoming fight.
"My brother Cleveland, who is my strength and conditioning coach, and my trainer Tony Morgan have set up a strong strength and conditioning program for me," Berto said. "I do everything from track work, sprints, and plyometrics to swimming three days a week and cycling classes. The swimming and cycling are new additions to my regimen but they really help me work my body in a different way than a typical boxing workout."
FIGHT STRATEGY:
Carlos Quintana is a very slick southpaw and capable of being an excellent offensive fighter. He's got good skills and very tricky. Andre feels he has the perfect game plan to come away with a victory.
"I don't want to give away my game plan for the fight, but I have been focusing on recognizing a southpaw's style, speed, power and agility," said Berto. "You have to stay on your toes against Quintana, because he's going to keep you uncomfortable. He doesn't care if the win is ugly, he just wants to get the win."
Tony Morgan, Andre's long time trainer has a lot of respect for Quintana and knows this will be a very tough fight, but very confident about victory.
"Carlos Quintana is one of the hardest fights, if not the hardest fight we have yet to come across. He is a very talented fighter," Morgan said. "Our game plan is going to consist of a high pressure, high volume, punch strategy that breaks Quintana down and leads Berto to a decisive victory. I am completely aware of the talent of Carlos Quintana and we have our work cut out for us. In layman's terms, my strategy is to seek and destroy."
CARLOS QUINTANA
TRAINING AND EXPERIENCE:
Although Carlos Quintana has only two more professional fights than Andre, he feels his training and experience will make the difference.
"I have so much confidence in my training and conditioning for this fight with Berto," said Quintana. "I'm always in shape, but I started training in January of this year before I even knew I would be fighting Andre on April 10th. I have a weight/conditioning coach and a licensed nutritionist that have prepared me well. Everything is on schedule, I'm focus physically and mentally for this fight with Berto."
Carlos feels his experience against better opposition will be to his advantage.
"Andre is a very good fighter, but he has not been in the ring with the same opposition I have," Quintana said. "I've been in the ring with Joel Julio, Miquel Cotto and Paul Williams twice, that's experience you can't teach and will be a huge advantage for me on April 10th."
SPARRING SESSIONS:
Quintana has been using several sparring partners, but his main sparring sessions have been with Hector Sanchez and Kenny Galarza.
"I'm very pleased with my sparring sessions. I have really been pushed to the limit by Hector Sanchez and Kenny Galarza," said Quintana. "They are top professionals and they both have speed and power. Their perfect for this fight with Berto. I will be ready for Berto's speed and power.
Jose Bonilla, manager and trainer for Carlos Quintana also likes the sparring work Hector Sanchez and Kenny Galarza have proivided in training camp.
"Hector Sanchez and Kenny Galarza have given us the work we need, they both have speed, power and quick hands," said Jose. " Carlos sparrs three times a week and he's is very sharp and focus with his technique right now."
BASKETBALL:
Carlos Qunitana is a huge basketball fan and at one time basketball was part of his conditioning program while preparing for some of his fights early in his career.
"I'm a huge basketball fan and at one time was a very good point guard myself," said Quintana. "Early in my career I would make basketball a part of my conditioning program while in training. In 2001 I hurt my elbow and since then I have not been able to particpate in basketball like I use too. It's no longer a part of my conditioning program, but I love the game and watch basketball all the time on TV. Watching basketball
during training is very relaxing for me."
And who is Quintana favorite basketball player.
"The King, LeBron James," said Quintana. "I love the NBA, it's FANTASTIC."
Tickets for the special "Spring Ticket Sale" are now available. Buy 2 Tickets At $250 And Get 1 Ticket Free Or Buy 2 Tickets At $100 And Get 1 Ticket Free."Fighting For Haiti" through Ticketmaster (1.800.745.3000) or by visiting, www.ticketmaster.com and BankAtlantic Center Box Office (1.954.835-7000) www.bankatlanticcenter.com Tickets are also priced at $65 and $35. VIP Ringside tickets are available for private sale for $500 by calling DiBella Entertainment (1.212.947.2577) www.dbe1.com . A portion of all ticket sales proceeds will go to the Berto Dynasty Foundation benefiting Project Medishare www.andreberto.com to help aide those affected by the recent earthquake in Haiti and are tax deductible.