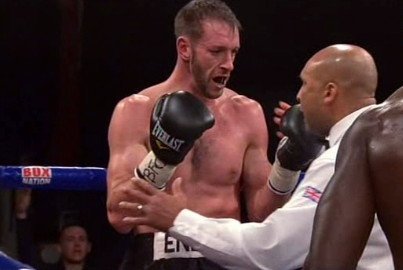 By James Slater: Tonight in Liverpool, fans were settling into a fight that might well have developed into a most memorable slugfest. Instead, after the wholly unsatisfactory stoppage that took place in the 2nd-round, fans were left with an unforgettable TKO – one of the most shockingly premature you could wish to name.
Big-hitting Welshman Enzo Maccarinelli, he of the notoriously shaky chin, the recent failed drugs test and the run of bad luck as far as impressive performances go, was "saved from further punishment" by the usually more than capable Ian John-Lewis when he was pulled out in the 2nd of his battle with reigning Commonwealth light-heavy champ Ovill McKenzie. Stuck on the ropes "Big Macc" may have been at the time of the most controversial stoppage you will likely see all year, yet the former WBO cruiser king had just landed a right uppercut, was anticipating the blows coming from "The Upsetter," and was, as he later stated in no uncertain terms, "riding the storm."
McKenzie, the same age at 32, had got through with a notable right hand upstairs, followed by an even more noticeable left hand to the head, but John-Lewis' decision to dive in was immediately judged to have been a result of "panic" (commentator John Rawling's apt description). The fans instantly booed, Maccarinelli was outraged and the potential cracker was reduced to another black eye for boxing.