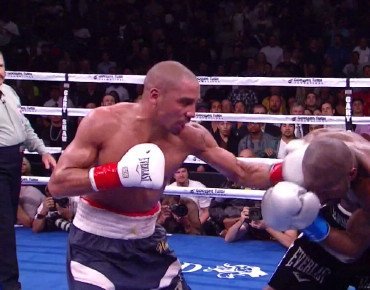 By James Slater – "Chad Dawson is a monster in there," Andre Ward
Last night, in taming "monster" Chad Dawson, the reigning light-heavyweight ruler, unbeaten master (yes, master) Andre Ward put on his best display so far in his naturally blessed career. Okay, Dawson had to shed eight-pounds in dropping down to super-middleweight, possibly weakening himself and affecting his punch resistance, but it really is tough to find any other fault with "S.O.G's", well, faultless performance.
The dominant force at the in-fighting, at the long range stuff and the harder, more accurate, more spiteful puncher, the 28-year-old from Oakland delighted both his hometown fans and the boxing purists. Indeed, fellow masters such as Bernard Hopkins and Floyd Mayweather Junior (two greats Ward has surely studied on tape and has learnt a trick or two from) will have enjoyed, even marvelled over Ward's 10th-round TKO master class.