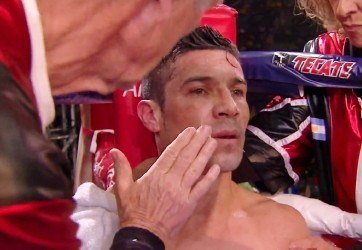 Fighting with an injured left hand from the 8th round, WBC middleweight champion Sergio Martinez (51-2-2, 28 KO's) had to battle a lot harder than many boxing fans expected him to in beating Martin Murray (25-1-1, 11 KOs) by a 12 round unanimous decision tonight in front of a huge crowd of 50,000 at the Club Atlético Vélez Sarsfield in Buenos Aires, Argentina.
Murray might have won the fight if he had come out of his defensive shell more often in the fight, as he seemed to adopt the same approach that Saul "Canelo" Alvarez used in his recent fight with Austin Trout in not throwing many punches but counting on his cleaner landing shots to make up the difference for him getting hit a lot more.
Murray could have won but he wasn't throwing enough and he kept getting nailed by jabs and straight left hands over and over again. Murray was able to block a lot of the shots because he was keeping his gloves high protecting his head, but when one fighter is seen hitting the other all night long on the gloves, it doesn't matter that a lot of the shots were blocked. Martinez was the busier guy and he deserved the victory. The judges scored it 115-112, 115-112 and 115-112.
Murray scored a flash knockdown in the 8th round from a right hand while Martinez was backing away. The fight had the World Boxing Council's open scoring, which took a lot of fun out of watching the fight. Martinez was ahead on the scorecards after four rounds with the scores: 40-36, 39-37, 39-37. I had Martinez up 40-36 because Murray was fighting completely defensive and looking too scared to throw anything. After 8 rounds, the judges had Martinez up by the scores: 77-74, 76-75, 76-75.
Murray was able to land some big shots in the last five rounds of the fight, but there wasn't enough of them. He was landing shots, but then going back in his turtle shell and just looking to block punches and wait while Martinez teed off on him. Murray had a big size advantage in the fight and looked to be at least 15 pounds heavier than Martinez. He reminded me of Arthur Abraham with the way that he would just cover up and then look to win the fight off of three or four punches landed.
It wasn't enough, and he wasted too much time with his non-crowd pleasing style of fighting. When you're the challenger like Murray, you can't afford to just go into a turtle shell and think you're going to win the fight by landing a tiny handful of punches. It doesn't work like that. You have to be aggressive and take the fight to the champion, and Murray failed to do that tonight.
In the last two rounds, Martinez came on strong in dominating the action with his left hands and jabs. In both rounds, Martinez backed Murray up and repeatedly nailed him with left hand after left hand while Murray just stood there covering up like a sparring partner.
Other boxing results:
Kiko Martinez TKO 2 Damian David Marchiano
Diego Luis Pichardo Liriano UD 6 Ivan Ruiz
Magomed Abdusalamov TKO 1 Sebastian Ignacio Ceballos