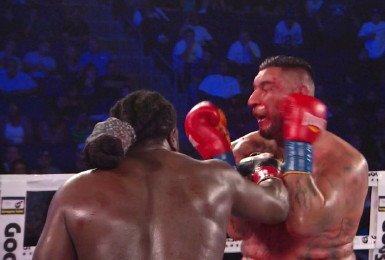 A rowdy crowd rocked the house at the Citizens Business Bank Arena in Ontario, California tonight; as local heavyweight Chris Arreola faced Haitian born Canadian Bermane Stiverne in front of a partisan crowd. Things started quickly and developed into one of the best heavyweight scraps we've seen in a while.
Neither man wasted time as both men threw big shots in the first round. The difference was Arreola's pressure; he never stopped coming forward and backed his opponent into the ropes several times. Stiverne attempted to counter and was moderately successful, but let himself get trapped in the corner and ate a few combos. Arreola continued the pressure in the second and worked both downstairs and upstairs. However, Stiverne showed better movement and landed some nice counters. Things appeared to be evening out.
"B-Ware" started with more confidence in the third, made Arreola miss more and used an effective jab at times. But the man they call "Nightmare" moved Stiverne several times with fluid combinations. Halfway through, Stiverne landed two flush shots to Arreola's chin that definitely got his attention. Then at the end of the third, just when it seemed Arreola was gaining his momentum back, Stiverne landed a monster right hand that immediately dropped the Mexican-American and shocked his partisan crowd.
As the bell rang for the fourth, the crowd erupted in support for Arreola, as a bad cut opened over his right eye. Chris came out fast with a renewed intensity, but was backed off with from counters from Stiverne, who was beaming with more confidence than we've ever seen from him. Both men got tangled up and slipped to the canvas at different points of the round; as they were still throwing bombs. Things slowed a bit after all after all the chaos and the fifth round fell back into the pattern of Arreola's pressure and Stiverne's counters. Arreola's face was showing more damage, evidence that talk of the Canadian's power is indeed warranted. Both men had their moments, seemingly throwing every punch with nasty intentions. This was turning into one of those classic heavyweight slugfests that your father told you about as a kid.
About a minute into the sixth round Arreola landed two flush right hands that caught Stiverne's attention, inciting frenzy from the crowd. Bermane responded well, moved away and landed some counter punches to back Arreola off. But there was enough damage done to win Arreola the round, at least on this writer's scorecard. The seventh frame started more technical, but Stiverne seemed to control the action. Arreola was blocking Stiverne's overhand right, but the left hook was still finding a home. The main difference was the jab; it seemed that the local fighter had abandoned his while Stiverne continued to flick his out to set up big shots.
There was a nervous energy in the crowd as the bell sounded for the eighth. Arreola was still pressuring, but he wasn't getting off like he had earlier and Stiverne was doing more damage. Arreola's output had dropped significantly and he even began to back up at times (something we've almost never see from him). Toward the end of the round, the Mexican-American did land a few hard shots that backed Stiverne off, but was it enough to seal the round? Again in the ninth Stiverne seemed to control things, but Arreola landed a beautiful left hook-straight right combo that stunned his opponent. The crowd went crazy every time Arreola landed something flush, but Stiverne showed a tremendous chin (both fighters did throughout).
Both men entered the tenth round clearly tired, clearly hurting, yet clearly there to win. Each fighter stuck to their game plan, Arreola's pressure versus Stiverne's counter punching. Both men had their moments, with Arreola landing a nice combo in the closing seconds to try to steal the round. Stiverne started the eleventh with a nice left hook to Arreola's body. He was again circling, using movement and flicking the jab. The crowd began chanting Arreola's name in attempts to rejuvenate him, but blood was streaming down his face and he couldn't seem to get off. A body shot from Stiverne seemed to stray low, drawing a warning from the referee. Arreola again closed the round strong, but Stiverne had clearly controlled it. Through eleven rounds, Stiverne had landed 86 power punches to only 41 for Arreola. He was clearly in control of the fight.
Arreola entered the final round knowing he needed a knock out and the crowd seemed to know it as well, with most of them standing. Both men swung for the fences and landed some monster shots. About halfway through, they were standing in the middle of the ring, leaning on each other and trading shoots like a Rocky movie. Great stuff! A bad cut had opened over Arreola's left eye now and he was hurt by beautiful body-head work from Stiverne, but he never kept trying. The heart and determination displayed by both men tonight showed what boxing is all about. Late in the twelfth, Stiverne landed a couple murderous left hooks to the body that had Arreola reeling back into the ropes. The Haitian native was not playing it safe; he was going for the kill. He put a stamp on the fight by landing one last power shot just as the final bell sounded.
The three judges scored it for Stiverne, 118-109 and 117-110 twice. The differences in the punch stats were telling. Stiverne threw more than twice as many total punches as his opponent and had a 47-4 body connect advantage. His dedication to his jab and especially the jab is what saw him through.
Where does each man go from here? Bermane Stiverne is now the WBC interim titlist and mandated to face "full" titlist Vitali Klitschko. But rumors have been flying about Vitali's retirement since late last year. Whether we see Klitschko-Stiverne or not, this writer wouldn't mind seeing a second act of tonight's action any time, any place. This was heavyweight boxing folks. Tell your friends about this one.
Questions, comments, hate mail? You know what to do.
Twitter.com/BigMikeyMontero
Other boxing results on the card:
Eric Molina UD 12 Tony Grano
Charles Huerta TKO 1 Jonathan Alcantara
Oscar Molina KO 1 Jose Martell
Juan Funez TKO 2 Christian Cartier
Jose Garcia TKO 3 Vladimir Gavrilov