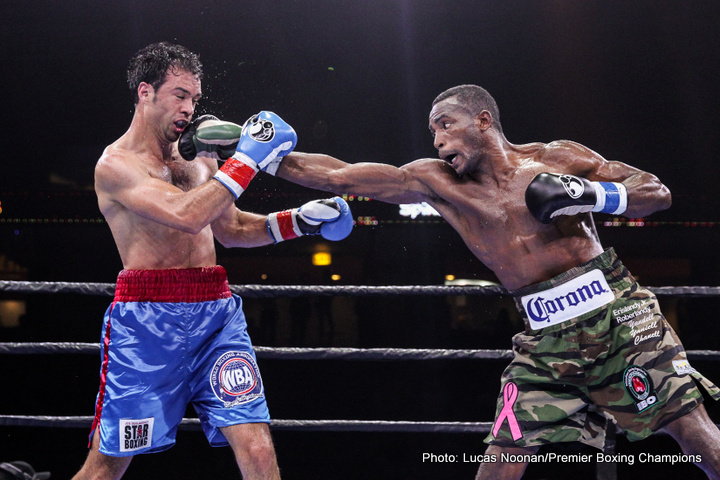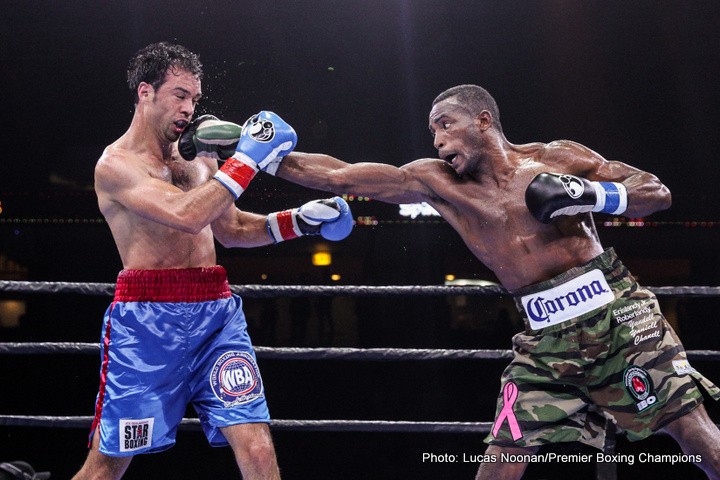 It was a one sided fight. Not that anyone was really surprised by that, Delvin Rodriguez has had a long career and has been in more than his share of ring wars. After having been brutalized by a reinvigorated Miguel Cotto in 2013, few would have imagined him getting another shot at a title belt. Yet there he was, matched up with the slick Cuban fighter Erislandy Lara, for Lara's WBA Super welterweight belt, in the headlining card on Spike TVs latest edition of Fright Night Lights Out. Al Haymon's Premier Boxing Championship series was ready to showcase Lara's talents to a national audience, and they believed that Delvin was the tough, gritty type of fighter who would provide just enough of a challenge to allow their charge to shine. They just forgot one thing: Erislandy Lara don't care.
For twelve monotonous, one sided rounds, Lara peppered Rodriguez with accurate punches; economically, efficiently, and sporadically. The combinations, when thrown, were crisp and effective, and Delvin's head would snap back from their impact. He even managed to score a legitimate knockdown in the 6th round, and for a moment it almost looked like Erislandy might be willing to kick into the next gear and finish the job. But the moment it became clear that Devlin was still intent on firing back, Lara reverted to his safety first stance. In between rounds, Lara's trainer Ronnie Shields was instructing his charge to stay the course, seemingly oblivious to the crowds dissatisfaction with what was transpiring in the ring. Those in attendance were becoming restless due to the lack of sustained action, and voicing their displeasure. I thought back to the days when the late Emmanuel Steward was training heavyweight champion Wladamir Klistchko. In the corner between rounds he would often implore his fighter to finish the job. "If you don't knock this guy out, it's going to be bad". Emanuel understood something that Shields apparently does not; sometimes it is not enough simply to win.
Perhaps a change of trainers would do Lara some good. Not that Shields doesn't have the ability to sharpen Lara's game, clearly he has done that. Not that Lara hasn't put on some good performances, he has. Lara's fight with Alfredo Angulo showed that he could dig deep and prevail in a firefight. But that was more a factor of Angulo's relentless pressure rather than any real passion on the part of Lara, who was forced into the trenches and had to fight his way out. Left to their own accord, Lara and his team are quite happy to leave it to the judges. However, as both he and Ronnie found out in their fight against Saul "Canelo" Alvarez, sometimes the judges don't reward a fighter who spends more time backing away and circling than throwing punches. To this day Ronnie Shields insists that they were robbed in that fight, instead of facing the reality that they simply did not do enough to win. They had the wrong strategy on the biggest of stages, and it was clear from the way the fight against Rodriguez unfolded that they had learned nothing from that experience.
The PBC is looking to make Lara a star, or at least to build up his name to the point where there will be some public demand to see him in against a marquee opponent. The excellent Spike broadcast team, struggling to bring some excitement to their dull main event, even went so far as to suggest Lara as being the man who could possibly take away Floyd Mayweather's zero. While that may be true, what is undeniable is that if there was little interest in that fight before last night's performance, there is even less now. Haymon and his team have taken their best shot to raise Lara's profile by giving him a showcase fight, unfortunately Lara did not feel compelled to put on a show. So the real question is, if Erislandy Lara don't care, why should we?