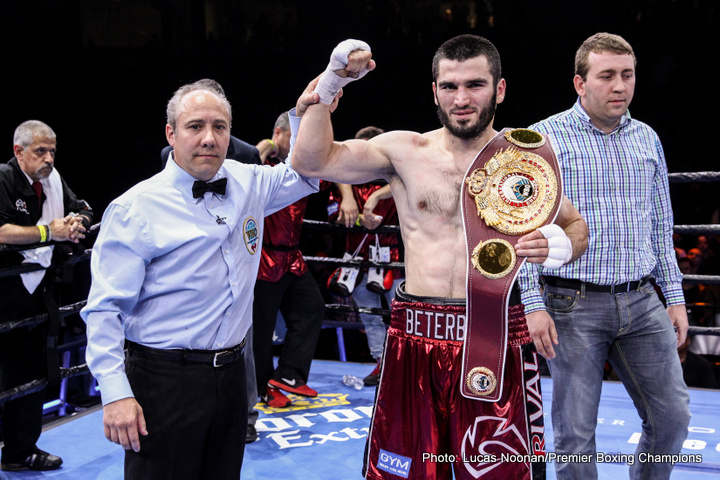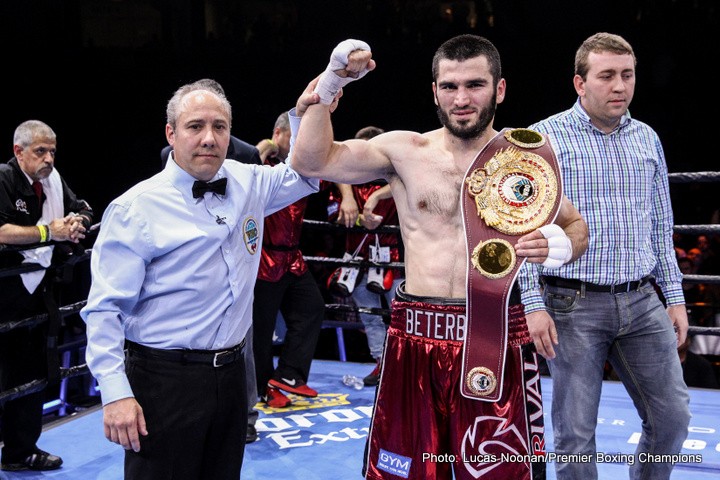 Beterbiev fought Alexander Johnson (16-3) and scored his 9th KO in as many fights on Friday night at the UCI Pavilion in Chicago. Johnson, a southpaw with agreeable boxing skills, had a height and a reach advantage over the Russian icebreaker and lasted longer than the previous victims. The American was never really in contention but he gave it a try. Beterbiev's total boxing made Johnson look as if he was in a different sport. The southpaw stance did not help him; in fact it facilitated Beterbiev's lead right hands.
A solid southpaw stylist should be the orthodox puncher's ultimate test. If the puncher has good boxing skills, his right hand and stance become an asset instead of a liability. On top of that, if the puncher's left hand transfers his weight as well, the southpaw stylist is in deep trouble from the start.
Beterbiev's technique is of premium quality, courtesy of his amateur boxing apprenticeship. Perhaps I am being unfair to the amateur/Olympic ranks as the real talent and quality grows there and even the dropouts arrive and wreak havoc at the pro ranks. Examples of amateur dropouts who were forced by the circumstances to become pros: Vitali Klitschko, Sergey Kovalev, Gennady Golovkin, Artur Beterbiev, etc.
Beterbiev is an excellent example of the new trend of KO artists who use their fundamental skills and hardcore habits to out-box and outclass the opponent until the KO which comes as a logical conclusion of their consistent effort. He started applying the power from the first second but he used adept defense and smooth footwork to get into position. The chances he took were commensurate with the danger and well exceeded by the reward. His short concussive bombs took the southpaw's feet away very early, the psychological effect was there shortly and Johnson's priorities changed within minutes. Taking your opponent into deep waters requires you to make it as far as well with at least a minimal amount of fighting reserves. Johnson was preoccupied with survival and had scant opportunities to show his skills.
Beterbiev worked from a wide stance and his style differed little from his amateur days except the tempo was obviously calmer. Composed and focused, he hammered in every punch in the book and most notably he connected with picture perfect straight rights to the body. Precise body shots can be extremely demoralizing; they take away the recipient's joy from the game. After he knocked on every door and burglarized certain vital spots, the Russian national team dropout finally came to the high point of his professional career so far; he showed his prime quality with a clinical intervention.
The culmination of the fight came in the 5th round when Artur Beterbiev knocked Johnson down with a jab. Welcome to the club of the select few and congratulations to a genuine world class pugilist, an authentic article. A single punch knock down with a jab is an accomplishment beyond simple description, boxers and coaches know what it means but few fans would truly appreciate it. Snap kills. It can not be trained and it's a rare gift.
This jab trumps the power punches of most top level light heavies. It was the reason for this article. Beterbiev is not the real thing, he is not a cliché, Beterbiev is solid gold. He is 30 and he wont' be around for too long, his style is not age-friendly but he will go far for as long as it lasts.
The Russian knocked down his battered opponent once more in the 5th and finished him in the 7th round to extend his KO streak.
Betrbiev's style needs no embellishments and he is naturally marketable with his tough guy appearance and predatory efficiency. GGG for example has to go to great lengths to appeal to the fans – he deliberately takes shots and allows the opponents freebies. He does not always mercifully deliver the "coup de grace" but makes it look like the opponent is back in the fight, he is playacting sometimes. Beterbiev cares little for such pleasantries; he is strictly in the hurt business and extends his courtesies within the house of pain. He has come to the light heavyweight division to take it by storm.