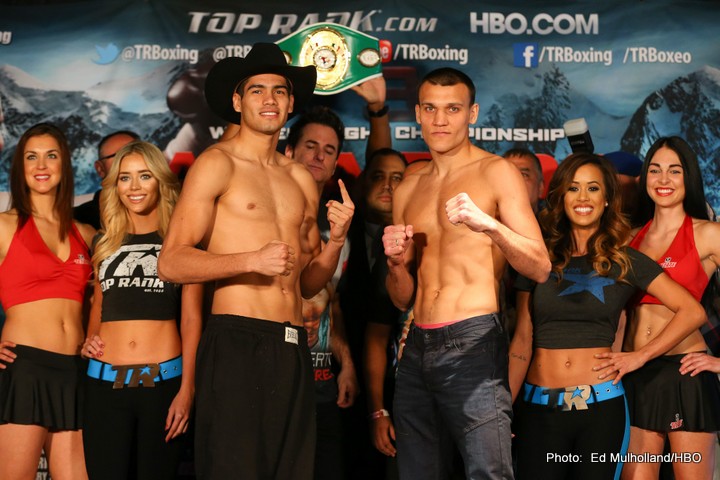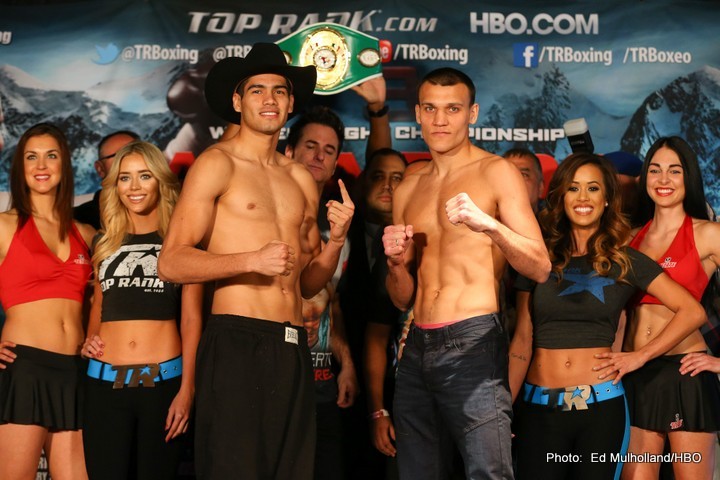 Mexico's unbeaten super-middleweight contender, Gilberto Ramirez (32-0, 24ko) takes on Dutch-based Armenian, Gevorg Khatchikian (23-1, 11ko) Friday night in Las Vegas, hoping to move one step closer to his world title ambitions.
The 24 year old Top Rank star is the mandatory challenger to the WBO super-middleweight title held by Germany's Arthur Abraham, who defends against Britain's Martin Murray on Saturday night in Hannover, and says he wanted to stay active as he awaits the opportunity, which will likely come in the first few months of 2016, assuming he is victorious against the tough Khatchikian.
"I took this fight against Khatchikian because I think it is important to fight the best, get the experience, get prepared for a world-title fight," he said.
"I am not just trying to be better, but working in the ring to be the best. That's the importance of my fight Friday night and the reason we started our training camp so early."
Khatchikian may be remembered by Brits for his fight last year with James DeGale, who has since gone on to claim the IBF 168 lb title. In that fight a brave Khatchikian was outclassed and stopped in 11 rounds, though not before cutting DeGale early and enjoying his own spirited moments of success.
He won't come in to roll over against 'Zurdo,' who struggled to look good in June against experienced American, Derek Edwards, though Ramirez isn't envisioning any upsets, provided he stays focused.
"I learn every time we train, when we go into the ring, when we prepare for the next fight," he said. "We never stop. I know my opponent is hungry and wants to show what he can do, but I will be prepared too, so there will be no surprises on Friday night in Las Vegas."
"When I go into the ring Friday night I need to be the best that I can be. I have a lot to lose, but is also very important to show everyone that I am ready for the title fight and that is what I will demonstrate," he added.
"I am working very hard to not only become a world champion but to become one of the best fighters in the world.
"I know I can be as good [as] anyone out there and I just have to keep working hard and show improvement every time I step into the ring.
"My dream ever since I started in boxing is to fight for and become a world champion and that opportunity is right around the corner, but first I have to win Friday and keep my place in the world ranking and hopefully get the chance early next year."
Ramirez headlines the "MetroPCS Friday Night Knockout" series on truTV (US only) (10 p.m. ET/PT) from the Cosmopolitan in Las Vegas.
Twitter @undilutedpoison