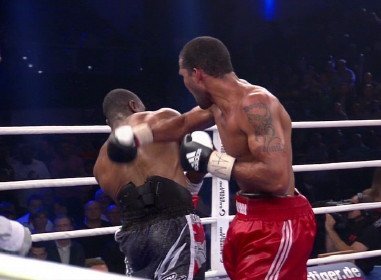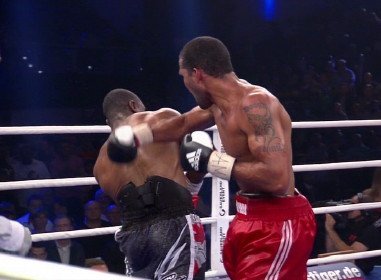 IBF cruiserweight champion Yoan Pablo Hernandez (28-1, 14 KO's) will be back in action on March 8th against an opponent still to be determined in Stuttgart, Germany, according to Fightnews. Hernandez, 29, is coming off of a 10th round knockout win over Alexander Alekseev last month in Bamberg, Germany. Hernandez knocked Alekseev down three times in the fight before the bout was eventually halted in the 3rd.
The fight showed pretty clearly that the 6'4″ southpaw Hernandez needs to start facing better opposition he's defended his title three times in beating Steve Cunningham, Troy Ross and now Alekseev, but he's not been in with anyone really good that could challenge him. It would be nice to see Hernandez against his first quality challenger like Ola Afolabi or Rakhim Chakhkiev, as both of them are worlds better than the guys Hernandez has been fighting.
Cunningham was a decent fighter in his prime, but he still was never as good as Afolabi or Chakhkiev. Those guys are on another level, and it's kind of disappointing that Hernandez's promoters aren't matching him tough against some truly good contenders instead of guys that have already beaten and exposed.
Since Hernandez just beat Alekseev in his last fight, a predicable opponent for Hernandez's next fight will be a fringe contender like Enad Licina, or Dymtro Kucher.
The International Boxing Federation's rankings seems to be out of sorts, as they have fighters with arguably lesser talent near the top and some of the best guys near the bottom for some reason. For example, the IBF has Pawel Kolodziej at #2, Grigory Drozd #3, Mirko Larghetti #4, and yet they put easily the best fighter of their top 15, Thabiso Mchunu at #10 and Chakhkiev at #6. I like Yoan Pablo Hernandez as a fighter, but he's no as good as Mchunu, Chakhkiev or Afolabi. And the IBF ranking of Kolodziej, Drozd and Larghetti ahead of those guys is just silly and it makes the IBF look bad and out of touch with boxing.