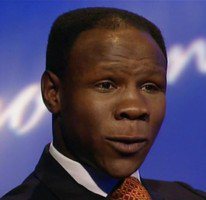 A quarter of a century ago today a boxing match took place in London. It was a fight that will always cause any fight fan who witnessed it to have an uneasy, disturbing feeling. Michael Watson and Chris Eubank, two men who seemed to have a very real dislike for one another, met in a much anticipated, publicly demanded rematch. At the conclusion of just over 11-rounds of warfare neither man would ever be the same again.
Three months earlier, down at middleweight, Watson and Eubank had contested the WBO title, with the already controversial and unbeaten Eubank walking away with a debatable 12-round majority decision victory. The boos that met the announced decision ensured the two would have to fight again. When they did, as super, super-middleweights, an entire nation was watching. The incredibly determined Watson, a no-nonsense fighter who had worked his way up the hard way throughout his career, was utterly relentless, winning round after round after round.
Eubank was never so close to losing his unbeaten record, Watson was never so close to winning his first world title; the vacant WBO 168-pound belt being on the line. Miles ahead on the cards going into the championship rounds, Watson was to make one mistake and allow Eubank to snatch a seemingly impossible win from nowhere. In round-11, Watson was all but pummelling Eubank and he decked him with a right to the head. Watson, thinking the fight was over with, was then caught by a nasty Eubank uppercut thrown by a desperate but dangerous fighting man.
The punch landed flush and as Watson crashed to the mat, the back of his head hit the ropes. As astonishingly as Eubank had risen from his knock down and then reached into the depths of his reserves and delivered that punch, Watson too beat the count. The bell rang, Watson, with assistance, made it back to his corner, and the fight was allowed to continue. Watson, his feet practically rooted to the canvas, stumbled to the centre of the ring to touch gloves and try, through sheer instinct, to fight for a further three minutes. The fight should have been stopped in the corner, yet all these years later there can be no recriminations.
Watson was in a terrible state and Eubank, himself on the verge of exhaustion, launched a barrage of shots and the fight was finally stopped. Watson collapsed in the ring and the real drama began. No ambulance was present, nor were there any ringside paramedics. It would be almost 30 minutes before Watson was in hospital receiving the treatment that saved his life. As a result of the near-tragedy of September 21, 1991, medical protocol would be forever changed at ringside in British boxing.
Watson would spend 40 days in a coma, the British public following any news with hope. Amazingly, and thankfully, Watson, after years of gruelling therapy and treatment, made a partial recovery. Defying the doctors who had feared the worst, Watson, with his enormous heart and his almost unimaginable inner strength, regained his speech, his hearing and the ability to walk – to the extent that Michael completed The London Marathon in 2003.
Today, Michael Watson MBE is an inspiration to millions and he and Eubank share a bond that cannot be described in words.