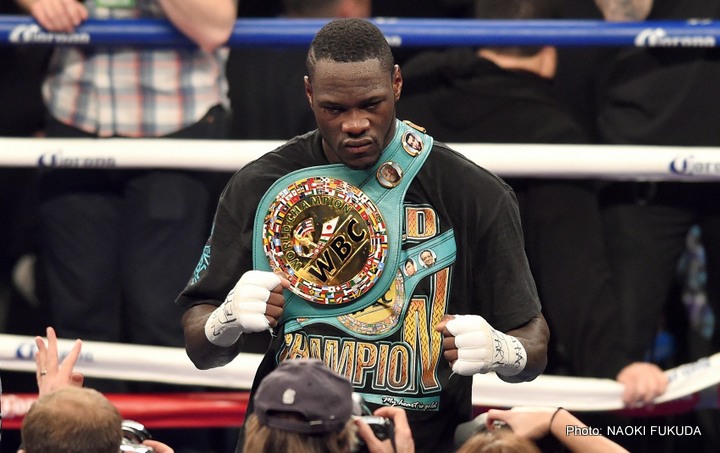 As fight fans have probably ready, WBC heavyweight ruler Deontay Wilder is currently in the search for a new opponent for his scheduled February 25 return bout. Original foe Andrej Wawrzyk failed a pre-fight drugs test and now, with just under a month to go, a new challenger is needed.
According to a piece on RingTV.com, the short-list of possible Wilder opponents is down to three; with unbeaten Gerald Washington currently the frontrunner to get the big fight opportunity. No deal has been reached at time of writing, so it could be either fighter 2 or fighter 3 on the short-list that gets the big fight.
Washington, 18-0-1(12) is big at 6'6", strong and hungry. Also, as the Ring article points out, Washington is already in training for a fight on the Wilder under-card. But if it's not Washington – whose biggest fights have been against Eddie Chambers, a useful points win for the 34-year-old, and Amir Mansour, a draw – who would make a good opponent for Wilder instead?
Let's be honest, coming back as he is from hand and biceps surgery, Wilder is not going to risk his crown against a killer, or even anyone too dangerous. There are massive fights out there for Wilder, against the likes of Anthony Joshua and maybe even Tyson Fury, so the February opponent is going to be a "safe" one; as Wawrzyk would have been.
But would Wilder look at facing any of these guys, just maybe?
Dillian Whyte.
Whyte wants a shot at Wilder and his promoter Eddie Hearn said recently that Whyte deserves it. Hearn also said it's time Wilder took some "real fights." Whyte, if he is on that short-list (don't bet on it) will be training like mad right now; his passport at the ready.
Tony Thompson.
Yes, "The Tiger" is more of a dinosaur these days, but he is experienced, powerful (still) and he has pulled off the odd shock when taking a short-notice fight in the past. Southpaw Thompson would also match Wilder in size.
Bermane Stiverne.
A rematch against the man Wilder took the title from, this one would be intriguing. Was Stiverne ill when he lost a decision to Wilder a couple of years ago? Having seen his big fight with Alexander Povetkin fall through, Stiverne deserves another big fight/decent payday. Is the former champ on Wilder's short-list, or is he deemed too dangerous?
Wilder has to fight someone; who will it be?