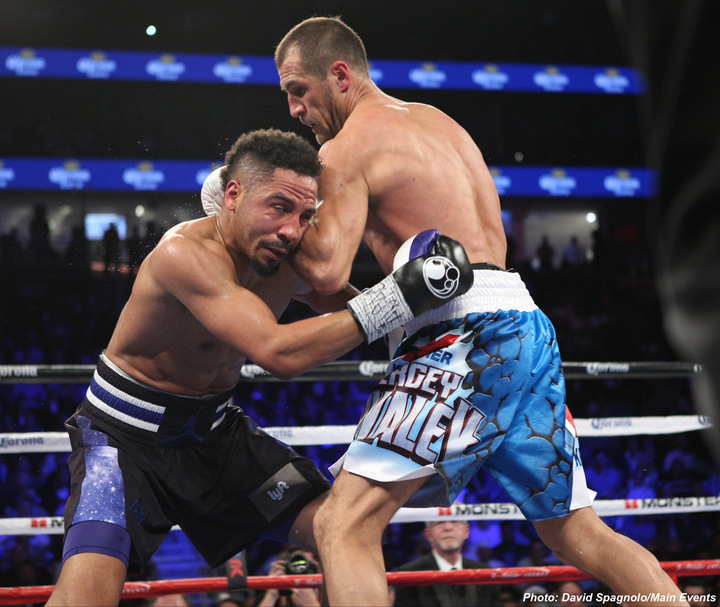 Throughout his great, Hall of Fame-worthy ring career, Carl Froch met just one man he could not defeat: Andre Ward. Meeting in the long awaited final to "The Super Six" super-middleweight tournament back in December of 2011, Ward and Froch battled for 12 less than thrilling rounds with Ward winning via clear decision.
One may feel the reason Froch – in speaking with FightHype.com – is so unkind to Ward is the defeat. But "The Cobra," who works as a pundit for Sky Sports these days, insists he finds it "difficult" giving praise and credit to the unbeaten Ward even though he was defeated by him. Froch says Ward is "ugly" in fights and uses illegal tactics.
"I don't know, we've got a couple of good fighters. I mean [Vasyl] Lomachenko seems to be one of the top, top fighters that's on a tear. I mean Andre Ward keeps winning, albeit very ugly," Froch said when asked who the best P-4-P fighter is right now. "It's difficult for me to give any credit [to Ward], not just because he beat me – he beat me fair and square but he ducks below the waist, that's illegal. He holds, that's illegal. He uses his head, that's also illegal. But he doesn't get any points deducted, he doesn't get disqualified. So I don't class that kind of fighting style as pound-for-pound."
It's true there are far more exciting fighters out there in comparison to Ward, but winning is all that matters, and, ugly style or not, Ward has never lost a fight. So is Froch wrong, is Ward the best pound-for-pound today? With talk of possible retirement, meaning no rematch with Sergey Kovalev, Ward may not stay at the top for long (if he is there now in your view) – but "S.O.G" has achieved plenty during his career.
He may not be the best or the most thrilling boxer to watch, but so far no-one has managed to find a way to fully figure Ward out and defeat him. Surely that fact alone earns Ward respect – even if Froch is unable, or unwilling, to give him any.