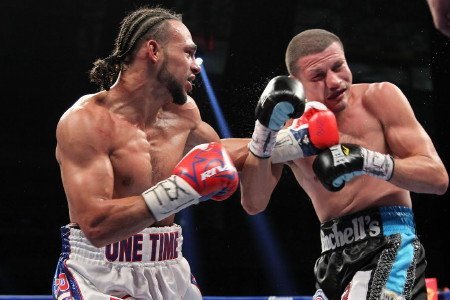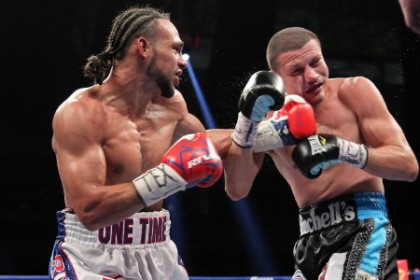 (Photo credit: Tom Casino/Showtime) In a very entertaining scrap, WBA interim Welterweight title holder Keith "One Time" Thurman slugged it out with hard-nosed fight veteran Jesus Soto Karass en route to stopping his fearless challenger in the ninth round of the scheduled twelve round championship contest.
Despite getting the hard earned victory, the heavily favored title holder was rocked and almost floored with a hard right hook from mid-range that caught Thurman flush on the jaw in the opening moments of the fight.
Although the defending champ regained his composure midway through the first stanza, Keith was forced to use lateral movement and show the underrated Mexican volume puncher some angles at a much earlier point in the fight than most had ever anticipated.
In round number two, Soto Karass forced the action and did his best impersonation of Antonio Margarito, effectively cutting off the ring and landing hard combinations from mid to short range. Despite getting hit with some clean shots while marching in, it was obvious to those in attendance that the challenger had come to fight.
In the third round, Keith starting using more effective movement and set up hard, explosive shots on the outside. While Soto Karass was still aggressively pursuing the champ, Thurman did a much better job of dictating the pace of the fight with his side to side motion.
In the final minute of the round four, "One Time" finally hurt the gallant challenger with a hard left hook to the jaw that floored Soto Karass. Although Jesus beat the referee's count, the momentum of the contest shifted drastically in the champ's favor with one stunning shot.
During the next several rounds of action, Thurman became the crafty ring general, moving from side to side while setting traps for his aggressive minded opponent. Despite having sporadic moments of success, Thurman began to slowly but surely distance himself from his challenger. The heavy hands of Keith Thurman began to take its toll on the appearance of Jesus Soto Karass.
In the ninth and final round of action, Soto Karass appeared to merely follow around one of the hardest punchers in the 147 pound division and stepped into a powerful left hook that staggered the brave fighter. Keith immediately followed it up with two overhand rights, and a stout left hook that put his challenger out on his feet.
The third man in the ring, Jon Schorle, mercifully stepped in and called a halt to the action with 39 seconds left in the stanza.
By fighting through adversity, Keith Thurman once again showed the fight fans in attendance why he is quickly becoming a star of the sweet science.