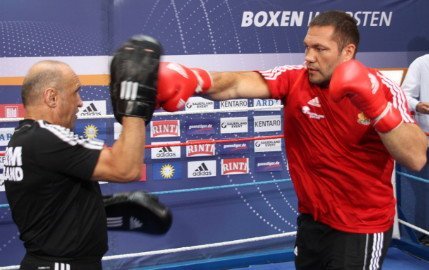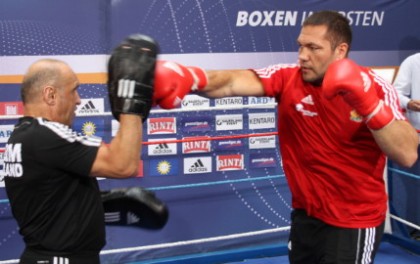 Joey Abell filled in for injured Sherman Williams on a week's notice and faced undefeated Pulev in Neubrandenburg, Germany on Dec. 14. The IBF intercontinental title and Pulev's hard-gained number 1 IBF ranking were at stake.
Abell weighed in at 248.5, Pulev at 252.8 and both appeared to be fit full-sized heavyweights. Abell's southpaw stance was expected to give Pulev some trouble. Pulev is a notorious slow starter and this fight was no exception, his initial passive game allowed the over-matched Abell to score some decent power points in the first round.
The difference in class was obvious and Kubrat Pulev had an overwhelming technical and tactical advantage over his opponent. What he lacked was the speed and power to dispose of this "stay busy" sparring partner in a convincing fashion. Abell ran out of ideas in the first round, he ran out of steam in the second and came out fighting in survival mode in the third. Pulev connected with several big right hands but they had little effect on his opponent, in fact his jab seemed to do more damage. It seemed that even if he had a free shot at Abell' jaw he still would not put him down. This is Pulev's tragic flaw, he simply can't punch. Abell was so badly winded that Pulev put him down with a single straight right to the stomach..
Pulev continued targeting the body in the fourth and Abell went down every time he was touched to the torso, a total of three times. Curiously, Abell was credited with a flash knock down over Pulev as well when he caught him off balance with a hook the head and Pulev sat down. The referee started the 8 count and "The Cobra" protested standing on one leg and showing he was in no way affected by what he thought was a push. Pulev's chin is not very reliable anyway. This had no effect on the outcome as Joey Abell barely made it to the bell and did not come out for round 5.
A fight with 5 knock downs within 4 rounds could hardly be described as a snoozer but it wasn't exactly a thriller either. Kubrat "The Cobra" Pulev is still a mandatory challenger for Wladimir Klitschko's IBF title and Wlad is in no hurry to fight "The Cobra". I don't think he is worried one bit about Pulev's chances; it's the financial variable of the equation that doesn't add up. To put it mildly, this a hard fight to sell. I don't think that pay-per-view circuits would even take it for free.
Wladimir Klitscko may not need another quickie KO on his record, he needs credible rivals with a dedicated fan following that would ignite industrial –scale proceedings to a climax. Kubrat Pulev has absolutely no chance against Klitschko and he knows it. All his experience and routine will be meaningless against the faster, taller, technically and athletically superior Ukranian titan. It would be Pulev's biggest payday though and his management is pushing for this fight as hard as they can.