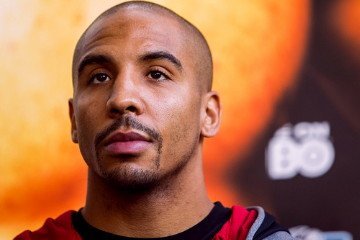 ( Photo credit: Alexis Cuarezma/Goossen Tutor) By Dwight Chittenden: WBA/WBC super middleweight champion Andre Ward (25-0, 13 KO's) will easily be taking on the toughest opponent of his career tonight against 30-year-old Chad Dawson (31-1, 17 KO's) at the Oracle Arena, in Oakland, California. This is a fight that can either turn the 28-year-old Ward into a star or it can send him hurtling downwards into the contender ranks.
Dawson has the talent to expose the gaps in Ward's game, such as his lack of outside fighting skills. At one time, Ward was a good fighter on the outside, but he seems to have slowed down a step in the past three years and he's now inside brawler 100 percent of the time. That's all well and good because it's worked out for him against the likes of Allan Green, Arthur Abraham, Mikkel Kessler and Carl Froch in the Super Six tournament. However, tonight will be Ward's first fight against a fighter with superb boxing skills on the outside in Dawson and we could see Ward struggle to find his way in this fight.
Ward will likely do what he's been doing in the past three years by getting his shots off first and then collapsing on Dawson to take the fight to the inside. Ward is awfully good at that, but Dawson isn't someone that just stands there and let's his opponents charge him the way that Ward does.
The problem that Dawson has in his game is that he's too indecisive at reacts way too late to openings. He doesn't take advantage of situations like he used to when he was younger, because he's more of reactionary fighter that tries to pay you back rather than someone that takes the initiative. Dawson looks lazy at times and seems to go to sleep mentally during crucial parts of his fights. He's been able to get away with this for the most part just on his superior athletic ability but it may not work for him tonight against if he doesn't change all that by fighting with more aggression.