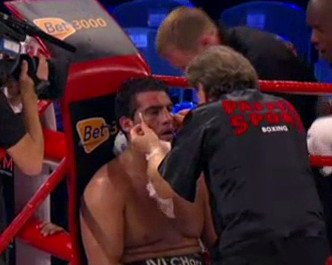 By Michael Collins: If you're interested in seeing a sick mismatch then in tune in to watch WBC heavyweight champion Vitali Klitschko (44-2, 40 KO's) deconstruct a badly over-matched opponent with a pumped up resume in 27-year-old Manuel Charr (21-0, 11 KO's) in their fight in Moscow, Russia. The fight will be televised on HBO tonight as part of a split site telecast with WBA/WBC super middleweight champion Andre Ward facing Chad Dawson.
Vitali must have closed his eyes and picked an opponent randomly in selecting Charr, because I can't imagine a worse opponent than this for Vitali. To say that the slow as molasses Charr is tailor made for Vitali is putting it lightly. This guy was created to be knocked out by Vitali. Charr has no hand speed, average power and is so easy to hit. He's not really even proven that he can dominate the 2nd tier fighters that he's built up his unbeaten record on. Charr's win over Zack Page was highly controversial.
I had Page winning that fight by four rounds, but I was surprised that the German based Charr got the decision. Charr also looked awful against Danny Williams, Owen Back, Sharman Williams, Robert Hawkins and Taras Bydenko. Those should have been one-sided fights but they turned out to be life and death matches for Charr, and it was not impressive stuff from the 6'4 1/2″ fighter.
Vitali will probably toy with Charr, and we could see him carry him late into the fight like Vitali appeared to do with Albert Sosnowski. Initially, Vitali will probably pour it on but once he sees that Charr is no threat to him, you can look for Vitali to take it easy on him and just slowly bludgeon him into submission.
The 6'7″ Vitali is coming off a left shoulder injury that he suffered early on in his last fight against Dereck Chisora last February. Vitali won the fight by a 12 round unanimous decision but he was forced to fight with only his right arm from the 2nd round on. In training video of Vitali getting ready for the Charr fight, you can see Vitali having to stop the action to have his left shoulder stretched out by his trainer. It's possible that the shoulder is still giving him problems months later. However, it won't matter if Vitali re-injures the shoulder during tonight's fight because he can still whip Charr with just his right hand like he did with Chisora. This is actually a big step down from Chisora for Vitali, as Chisora is clearly a much better fighter than Charr.
Look for Vitali to work Charr over like a punching bag tonight. Charr doesn't belong in the same ring with him and should have been weeded out long before he got a title shot had Charr fought someone that's actually any good. I blame the World Boxing Council for giving Charr an inflated ranking of #7, because there's no way this guy should be ranked that high with that kind of opposition he's faced and looking as bad as he has in those fights.