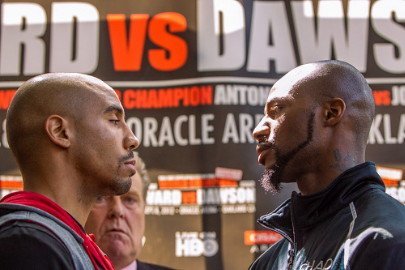 (photo credit: Alexis Cuarezma/Goossen Tutor) By Joseph Herron: Tonight at the Oracle Arena in Oakland, California, universally recognized Super Middleweight Champion Andre "S.O.G." Ward will defend his Super WBA and WBC titles against Ring recognized and WBC Light Heavyweight Champion "Bad" Chad Dawson in one of the most highly anticipated match-ups of the boxing year 2012.
Beginning at 9:45PM EST, HBO World Championship Boxing will broadcast a superb triple header which will be capped off with the best 168 pound fighter in the world fighting the best 175 pound pugilist on the planet. For fight fans, this pairing is a very intriguing one which should prove to be a strategic chess match with the occasional violent explosion.
In Vegas, the hometown fighter and pound for pound technician, Andre Ward, is an unusually escalated favorite at four to one odds. While the Bay area native should be considered the favored pugilist going into the bout, the odds are staggeringly high for a contest featuring an elite level talent like Dawson.
With a combined record of 56-1 with 30 knock-outs, the two combatants should provide a much more evenly matched bout than the odds makers are indicating. Most fight scribes and boxing experts have provided a mixed bag of predictions, citing Wards inactivity and Dawson's weight loss a crucial factors.
Whoever wins this critically acclaimed coupling could make a case for the top pound for pound fighter in boxing. Will Andre Ward continue to prove his dominance in the Super Middleweight division or will "Bad" Chad establish his position among the elite in boxing once again?
Let's take a look at the "Tale of the Tape"!!
Tale of the Tape
Andre "S.O.G." Ward (25-0, 13 KOs) – The 6'0" boxer/puncher from Oakland, CA, fights out of an orthodox stance and utilizes a 71" reach. The California native is 28 years of age and comes into the ring as an undefeated champion. He has an impressive amateur pedigree with a record of 110-5, and is an Olympic Gold Medalist from the 2004 Summer Olympics in Athens, Greece.
Like his championship opponent, Andre's primary weapon is his iron will, intense focus, and superb ring intelligence. He is one of the most physically gifted fighters in boxing, but often uses his defensive guile to dominate his opposition. While Ward doesn't fight in the most aesthetically pleasing style to control the action, the undefeated champion can counter effectively and also take the lead with his outstanding natural athleticism. Andre will often use a rangy jab at different angles to keep his opposition at a safe distance. He can fight on the outside, but can also use his size and strength to be effective on the inside as well.
Ward has the edge in speed and footwork, so S.O.G. must use it to control tonight's bout effectively. The undefeated champion is a thinking man's fighter and is one of most proficient men in the business at making effective adjustments throughout the fight to counteract an opponent's game plan.
Ward poses a series of problems for any opponent, especially when he uses his superior hand speed on the inside and throws brilliant combinations to the body and head. Ward can time and opponent effectively as he's coming in and can lead with the jab and straight ride hand to keep a defender on his heels.
Andre can use the entire ring along with an effective stiff jab to the body to slow his opponents considerably. But with a significant reach disadvantage, the defending 168 pound champion should choose to close the distance and take the fight to Dawson on the inside.
But will the natural Super Middleweight fighter prove to be the stronger and quicker pugilist underneath?
"Bad" Chad Dawson (31-1, 17 KOs) – This talented American technician fights out of a southpaw stance and stands 6'2", while utilizing a 76 ½" reach to near perfection. The Light Heavyweight champion was born in Hartsville, South Carolina, but currently resides in New Haven, Connecticut.
Because of his incredibly cool demeanor in the ring, "Bad" Chad possesses deceptive power and ferocity in the heat of battle. Since fighting under the tutelage of former contender "Ice Man" John Scully once again, the tall, rangy southpaw has tapped into his inner demon and has fought with uncharacteristic intensity and focus in recapturing the Light Heavyweight Championship from the ageless wonder and future Hall of Famer, Bernard Hopkins.
Chad is an elite level talent with incredible reflexes and natural hand-eye coordination. While most fight scribes and boxing pundits have criticized the 30 year old pugilist for not competing with a greater sense of urgency and tenacity throughout many previous outings, the two time world champion insists that he has rectified any mental deficiencies in the ring and is currently in his fighting prime.
Dawson throws crisp, compact shots when he decides to let his hands go and can land effectively in five or six punch combinations. He can counter effectively and can also take the lead when necessary. The talented pugilist also possesses brilliant foot-work, which has become the foundation for his defense.
Chad can fight at angles, while setting traps for his opposition, and is a very intelligent fighter. His versatility in the ring could be his best asset in this fight, due to Ward's ability to stifle a fighter's offense. Dawson is proficient at using the entire ring while controlling the action with multiple jabs at various distances, but the athletic fighter can also throw short, compact punches on the inside when pressed against the ropes.
Dawson is a stylistic nightmare for most of his opposition because of his athletic gifts and patient nature in the ring. Unfortunately for the Light Heavyweight Champion, his opponent also shares these same qualities and attributes.
Keys to Victory
For Andre Ward to be successful in this terrific match-up, he has to use disjunct lateral movement, while exploding and closing the distance with sudden offensive explosions. When on the inside, "S.O.G." has to make this an uncomfortable and physical battle underneath the long arms of Dawson.
Because of Chad's southpaw stance and tendency to lean to his left side, Ward would be wise to lead with the right hook and follow up with short combinations to the body and head while inside of "Bad" Chad's defense.
Ward should not expect to win this fight on the outside because of Chad's brilliant footwork and jab. Also, Andre must beware of Chad's awesome left uppercut as he's lunging in with his offensive attacks. If Andre gets tagged with a short, crisp uppercut as he's attempting to land something of his own, he could get seriously hurt with Dawson's deceptive power and speed.
If Ward can close the distance in a hurry while letting his hands go on the inside, the reigning Super Middleweight Champion should be able to come away with another impressive victory over an elite level fighter.
For Chad Dawson to be victorious tonight, the 30 year old fighter must attack the incumbent 168 pound champion. He cannot sit back and wait for the smaller fighter to get off first while dictating the pace of the action, because Ward has the speed advantage and doesn't usually offer a wide enough sample to time and counter effectively.
Chad has to launch his straight left hand and follow it up with his wicked right hook. If Ward attempts to use a touch jab at angles, Chad should use his height and reach advantage to counter over top of it with his hard right hook. When he sees his man attempting to use the entire ring, Chad must cut off the ring effectively and throw in combination when deciding to let his hands go. He cannot defeat the current Super Middleweight Champion by throwing one punch at a time.
If Chad can consistently be the aggressor while letting his hands go in combination, he can come away with his most impressive victory to date and prove that he belongs on every fight scribe's pound for pound list.
Prediction
While most ring experts are anticipating a strategic chess match, this fight will surprise most observers with its amount of offensive explosions. There will be high drama tonight on HBO and we will see the coronation of a new Super Middleweight Champion.
Expect "Bad" Chad to take advantage of Andre's ring rust and inactivity throughout most of the bout. Dawson should appear to be the stronger and more aggressive fighter for the majority of contest. This should prove to be enough to hand Ward his first professional loss and capture the 168 pound title with an impressive unanimous decision!!