WBO-Champion Aleksandr Usyk and WBC-Champion Mairis Briedis entertained the masses at an open training before their Ali Trophy semi-final clash on Saturday at the Arena Riga, Latvia.
"People can look forward to a great fight between two world champions," said Aleksandr Usyk.
Usyk plowed through an ocean of Latvian and Ukrainian fans, who wanted autographs and selfies when his training was over.
"It is great to see so many people for an open training. I am looking forward to the atmosphere at the Arena Riga, and I know that many have traveled from Ukraine to support me. I'm not going to disappoint them!"
An estimated 2,000 fans showed up during the training at Domina Shopping in the Latvian capital to see the combatants in training before they clash on Saturday in a semi-final in the cruiserweight edition of the World Boxing Super Series.
And the hometown hero Briedis got a roaring reception when he entered the ring.
"I'm happy to see so many people here at an open workout. This proves the magnitude of Saturday's fight," said Briedis.
"We did a really good work in the training camp and we have prepared for 12 rounds. We are ready for whatever Usyk brings. I can't wait for the fight to begin!"
Tickets for the Usyk vs. Briedis, a semi-final in the cruiserweight division of the World Boxing Super Series, are on sale via bilesuserviss.lv.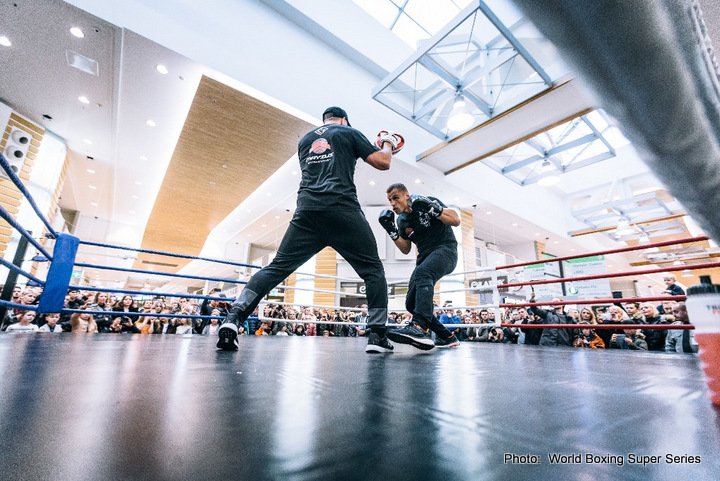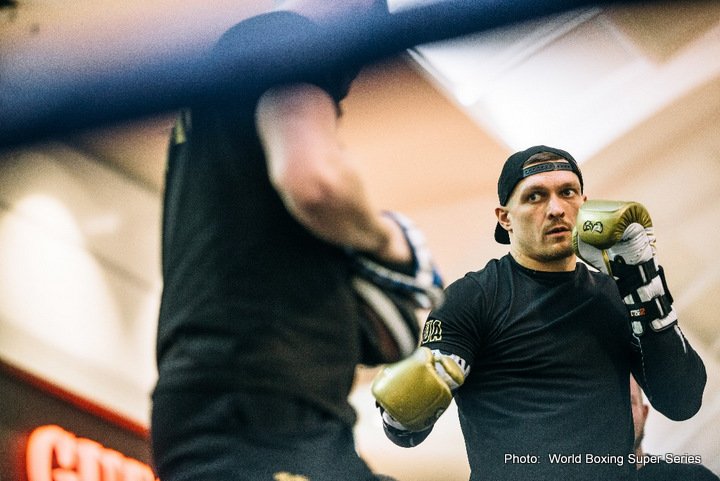 WBO World Champion Aleksandr Usyk (13-0, 11 KOs) talks about his upcoming semi-final against WBC World Champion Mairis Briedis (23-0, 18 KOs) at the Arena Riga on January 27.
The Ukrainian superstar went to Berlin in September last year and opened the first season of the World Boxing Super Series by producing a spectacular display at the Max-Schmeling-Arena to stop former world champion Marco Huck in the 10th round.
Usyk's training camp before the biggest unification fight in years in the cruiserweight division took place in Bukovel, on the ridge-lines of the Carpathian Mountains under the guidance of his trainer Sergey Vatamanyuk.
Now the 2012 Olympic gold medallist is traveling to Riga – to the backyard of the Latvian hero Mairis Briedis.
How are you looking forward to fighting in Riga?
"Let Briedis think about that, not me. All I know is that there will be a lot of my countrymen coming to Riga to support me."
How big is the fight against Briedis when you look at your career?
"It is a big fight and it is going to be a big day in my career. It's a unification fight. The fight for the Muhammad Ali Trophy is about the best fighting the best. I have the WBO belt and he has WBC – I like the colour green and the WBC belt is green so I can't wait to get that belt."
What do you think of your opponent?
"I have nothing bad to say about Briedis. His style is a bit boring, but I respect him. Briedis is a world champion so he has to be good."
Why do you respect him?
"In principle, I respect all of my opponents. I even respect Marco Huck who spoke bad about me and pushed me at a press conference. I know what fighters are going through in order to be able to enter the ring. It takes a lot of training, a lot of work and I will always respect that."