Things got heated at the final press conference with WBO World Champion Aleksandr Usyk and Marco Huck before their Ali Trophy quarter-final on Saturday at the Max-Schmeling-Halle in Berlin, Germany. During the classic head to head photo after the press conference, Huck pushed his Ukrainian opponent who managed to stay calm.
"I wanted to show Usyk that he is my hometown and that he should be prepared for the battle of his life on Saturday," said Huck.
After the press conference, a furious Usyk hurried out of the building saying: "I will bury him on Saturday."
At the press conference there were no signs of hostility:
"If you want to be a great champion, you have to beat the best and Huck is one of the best," said Aleksandr Usyk. "I chose to enter this tournament because it is a path to achieve my dream of unifying all the belts."
"There's a prestigious trophy at stake too, the Muhammad Ali Trophy. We were born on the same day and I admire Ali because he is the biggest role model in boxing and I will thank God if I win a trophy with his name on it."
"I'm glad to here in Berlin," said Marco Huck. "I have been giving many victory interviews in Berlin. It is an important fight. For me, it is about the fight against Aleksandr. I have been more tested in my battles than he has. Usyk should prepare for a war on Saturday."
"My performance is the most important, I have no fear stepping up against Aleksandr. When I am at my best I can beat anybody."
"It is lovely to be in Berlin," said Kalle Sauerland, Comosa's Chief Boxing Officer. "It is lovely to have the premiere of the World Boxing Super Series here. It is great to be sitting on the stage with two amazing athletes. Usyk, an Olympic champion a world champion and Huck, the joined record holder of most title defences in boxing. For boxing fan, it doesn't get much better than this."
"Huck has something in common with Usyk – he wants to fight the best," said Huck's trainer Conny Mittermeier. "I don't see Usyk as the favourite in this fight. The winner of this fight will be the last man standing."
Tickets for the Ali Trophy quarter-final clash in the cruiserweight division between Aleksandr Usyk and Marco Huck are available at www.eventim.de and www.StubHub.de.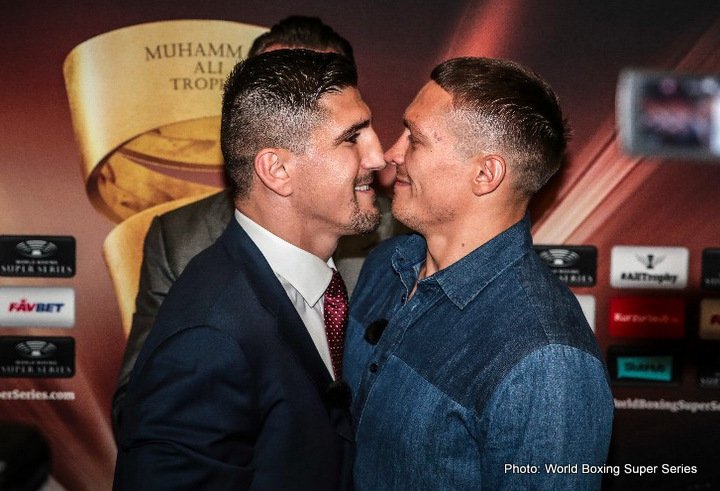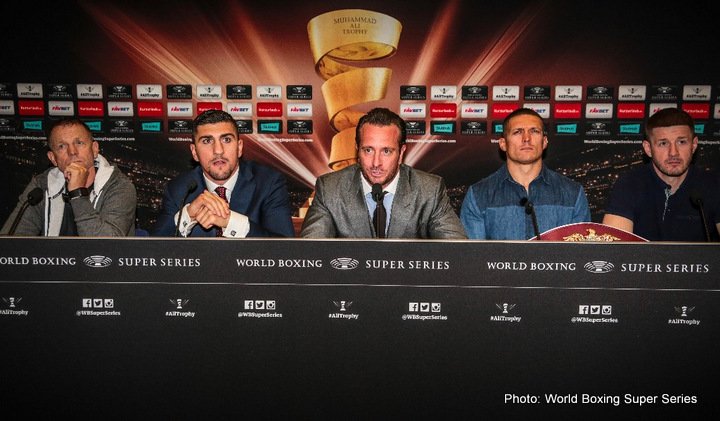 Usyk vs. Huck launches World Boxing Super Series
The much-anticipated World Boxing Super Series (WBSS) launches this week and Canadian boxing fans will be able to watch all the tournament action live on Super Channel.
Super Channel acquired the rights in Canada to broadcast the World Boxing Super Series from MP & Silva, a leading international media company that provides media rights, digital, technology and sponsorship services.
Planned to take place on an annual basis, the WBSS tournament will commence this Saturday (Sept. 9) in Berlin, starting at 2 p.m. ET / 11 a.m. PT, with the first quarter-final match as World Boxing Organization (WBO) Cruiserweight World Champion Oleksandr "The Cat" Usyk (12-0, 10 KOs) defends his world title against former world cruiserweight champion Marco "Kapt'n" Huck (40-4-1, 27 KOs) in the 12-round main event.
The inaugural season of the World Boxing Super Series will feature two weight classes (cruiserweight & super middleweight), 16 fighters, and a total of 14 main events. An expert panel invited the world's best boxers to compete, namely the top 15-ranked fighters of the four major federations: WBA, WBC, IBF and WBO. In each weight class, eight boxers will battle it out in a bracket-style elimination tournament, with four quarterfinals (September & October 2017), two semifinals (January & February 2018) and one championship final (May 2018).
World Boxing Super Series is a new revolutionary bracket-style elimination tournament featuring the world`s best boxers and a total of $50 million in prize money. The knockout format of the competition will see the best boxers ultimately compete for the Muhammad Ali Trophy, the greatest prize in boxing. The tournament is organized by newly-founded Comosa AG, a Swiss-registered company with principal owners Highlight Event & Entertainment, Modern Times Group and Team Sauerland. Comosa AG is working in partnership with boxers, promoters and managers around the world, and in alignment with the four major world boxing federations, to create a new global platform for the sport.
Five exciting fights on the "Usyk vs, Huck" card, promoted by Sauerland Event, will air exclusively in Canada on Super Channel.
Usyk, 30, is the No. 1 WSBB seed and consensus pre-tournament favorite. The Ukrainian is a two-time Olympian who struck gold at the 2012 Olympics in London. The powerful southpaw captured the WBO cruiserweight world title September 17, 2016, taking a 12-round unanimous decision in Poland from the previously undefeated, defending champion Krzystof Glowacki (26-0). Usyk has made two successful world title defenses, stopping challenger Thabiso Mchunu (17-2) last December in the ninth round, and winning a 12-round unanimous decision this past April from Michael Hunter (12-0).
"Marco Huck is the most famous and prestigious opponent I could have chosen," Usyk said. "He has accomplished most title defenses in the history of the cruiserweight division, an extremely experienced man. Huck does not fear anything or anyone and goes for the victory through the fire. He marches constantly forward and tries to determine his fights by all means.
"I have a tactic specifically aimed at Huck. This is necessary because in my opinion he is one of my toughest competitors in this tournament. But why should I talk about it now and give Huck an advantage that he does not deserve? The surprising moment is on my side now, and I will take this advantage with me in the ring. Huck, by the way, has an advantage because he is at home in front of his audience in Berlin. This definitely makes him stronger but I love this challenge!
"I can fulfill my dream of unifying all the cruiserweight belts! I had previously thought about how it would be possible to achieve this goal. Fortunately, the door is now open for the road to glory. In this tournament with all the world champions participating and the winner can rightly be described as the best cruiserweight in the world. On top of that the winner gets the Muhammad Ali Trophy. I admire Ali, because he is the biggest role model in boxing. I will thank God if I win a trophy with his name on it."
Serbia-born Huck has two distinct advantages over Usyk: fighting at home in Berlin as well as being much more experienced against world-class opponents. The 32-year-old Huck is 13-4-1 (6 KOs) in world title fights and he has five victories against former or present world champions.
One of Huck's four career losses as a professional, however, is to Glowacki, who lost the WBO title he won in 2015, by knocking out Huck in the 11th round, to Usyk a year ago.
"It is going to be very nice to fight in Berlin, but I would also fight Usyk on the moon," Huck noted. "Usyk is a well-schooled boxer and I cannot wait to step into the ring with him.
"When I fight, there's always something going on, it's never boring but spectacular. Huck fans around the world know that a Huck fight means entertainment. When I reach my potential on fight night, I can beat everyone. I am optimistic and confident that I will beat Usyk."
In the 10-round co-featured event, former WBO International and World Youth cruiserweight champion Noel Gevor (22-1, 10 KOs), fighting out of Germany by way of Armenia, takes on American Isiah Thomas (15-1, 6 KOs) in the WBSS Cruiserweight Substitution Fight.
Undefeated German middleweight prospect Patrick Wojcicki (9-0, 4 KOs) faces Frenchman Fouard El Massoudi (14-9, 1 KO) in an eight-round bout, while German super middleweight Denis Radovan (5-0, 2 KOs) meets Yasnn Binanga Abogho (6-1-1,) and German light heavyweight Leon Bunn (5-0, 5 KOs) squares off with Tomasz "Temera" Gargula (18-7-1, 5 KOs), of Poland, in a pair of six-round matches, all scheduled to air live on Super Channel.
All fights and fighters are subject to change.
UPCOMING WBSS EVENTS AIRING LIVE ON SUPER CHANNEL
Sept. 9 – Cruiserweight Quarter-Final in Berlin, Germany
WBO Cruiserweight World Championship
Oleksandr Usyk (12-0, 10 KOs), Champion, Kiev, Ukraine
vs.
Marco Huck (40-4-1, 27 KOs), Challenger, Berlin, Germany
Sept. 16 – Super Middleweight Quarter-Final in Liverpool, UK
WBC Super Middleweight Diamond Championship
Callum Smith (22-0, 17 KOs), Liverpool, Merseyside, UK
vs.
Erik Skoglund (26-0, 12 KOs), Nykoping, Sweden
Sept. 23 – Cruiserweight Quarter-Final in San Antonio, Texas, USA
WBA Cruiserweight World Championship
Yunier Dorticos (21-0, 20 KOs), Champion, Miami, Florida, USA by way of Cuba
vs.
Dmitry Kudryashov (21-1, 21 KOs), Challenger, Volgodonsk, Russia
Sept. 30 – Cruiserweight Quarter-Final in Riga, Latvia
WBC Cruiserweight World Championship
Mairis Briedis (22-0, 18 KOs), Champion, Riga, Latvia
vs.
Mike Perez (22-2-1, 14 KOs), Challenger, Cork, Ireland by way of Cuba
All WSBB fights will also be available on Super Channel On Demand.
Super Channel has recently aired major boxing events live like Brook vs. Spence Jr., Pacquiao-Horn, Eubank, Jr. vs. Abraham, Lomachenko vs.Marriaga and Crawford vs. Indongo.
To watch all the World Boxing Super Series action live, as well as more exciting boxing to come, fight fans in Canada can contact their local cable provider to subscribe to Super Channel and all that it offers, including premium series, movies and much more, for as low as $9.95 per month.
About Super Channel
Super Channelis a national premium pay television network, consisting of four HD channels, four SD channels, and Super Channel On Demand.
Super Channel's mission is to entertain and engage Canadian audiences by providing a unique and exclusive entertainment experience. With a core foundation of integrity and accountability, we dedicate ourselves to implementing innovative programming strategies and unparalleled team work that provides viewers with exceptional value and variety.
Super Channel is owned by Allarco Entertainment 2008 Inc., an Edmonton-based media company.
Super Channel is currently available on Bell TV, Shaw Direct, Rogers Anyplace TV, Shaw Cable, Cogeco Cable, Access Communications, Bell Alliant TV, Source Cable, SaskTel, MTS, Novus, EastLink, TELUS, Videotron, Westman Communications and other regional providers.