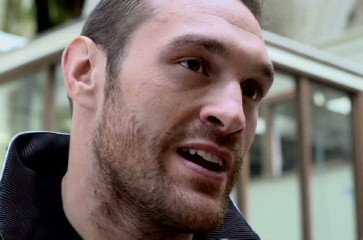 On October 24th in Dusseldorf, Germany, mandatory challenger Tyson Fury attempts to dethrone long-dominant heavyweight champion Wladimir Klitschko and take the Ukrainian's belts back to the UK.
Now, little over a month out from the contest, he has taken to mocking countryman David Haye, whom he confidently asserts is Wladimir's 'best win.'
The "Hayemaker" came up woefully short in his 2011 challenge to Klitschko – a challenge that resulted in the now-infamous 'toe-gate' saga, and after later twice signing to fight Fury, and then twice pulling out, the self proclaimed 'Gypsy Warrior' was in no mood to mince his words.
"Klitschko's best win was against a man called David Haye," Fury said to Sky Sports. "I don't know if you've heard of him but we do know he's a bottle job and he's a Mr Toe Breaker."
Klitschko was able to implement his jab-and-grab, safety first style to great effect against Haye, who gave away 3 inches in height and simply didn't get off on the night, utterly failing to live up to all his lofty pre-fight boasts.
"So if that's his [Wladimir's] greatest win – over a man of 6ft 3in who's not really that good anyway, what's he going to be like when he's got a 6ft 9in Gypsy King in front of him?," Fury opined, referencing the size advantages he will enjoy over the champion.
"If that's the best win of his career so far then he's in trouble, because that man [Haye] wouldn't even face me twice, never mind get in there and fight."
Fury is going to enter the taller man by 3 inches, something of a rarity in a Klitschko fight, and many believe his awkward, switch-hitting style will potentially pose Wladimir more problems than he has experienced in a good while, especially when coupled with the Brit's mobility – which is stand out for a 6′ 9″ man.
The problem for the Fury camp is evidently going to be Wladimir's explosive right hand, which should it detonate on Fury's chin – as one suspects it will at some stage – logic dictates it will be goodnight, especially given Fury has been down previously in his career [against Neven Pajkic and Steve Cunningham].
Although he rose to get the W on both occasions, those two fighters together don't pack the punch Klitschko does, so when one mixes up all the stats and ingredients, including a 55k capacity stadium crowd, it all adds up for one hell of an intriguing contest and potentially the most exciting Wladimir fight – Kubrat Pulev aside – in a good long time.
Wladimir Klitschko/Tyson Fury will be screened as a TV split with Kell Brook/Diego Chaves, Oct 24th on Sky Sports Box Office in the UK.
HBO will screen the fight in the US, as per Wladimir's deal with the broadcaster.
Twitter @undilutedpoison