Teofimo Lopez (19-1, 13 KOs) pulled off a massive upset on Saturday night, giving previously unbeaten WBO light welterweight champion Josh Taylor (19-1, 13 KOs) a boxing lesson, winning an easy twelve round unanimous decision at the Hula Theater at Madison Square Garden in New York.
The former unified lightweight champion Teofimo, 25, was pot-shotting Taylor all night and embarrassed him in the championship rounds with his domination.
Judge's scores: 115-113, 115-113, and 117-111. This writer had Teofimo winning 118-110.
Junior middleweight contender Xander Zayas (16-0, 10 KOs) dominated Ronald Cruz (18-3-1, 12 KOs), knocking him down in the first and cruising to an eight round unanimous decision. Theescors were 80-71,  80-71 and 80-71.
2016 Olympic gold medalist and current lightweight contender Robson Conceição (17-2, 8 KOs) banged heads with his opponent Nicolas Polanco (20-4-1, 11 KOs) in round two, resulting in the contest being stopped and ruled a no contest. Polanco was too hurt to continue fighting.
Before the injury,  Conceicao had his way with Polanco and looked like a much better fighter. The injury may have saved Polanco from losing.
In an entertaining fight, undefeated light welterweight Omar Rosario (11-0, 3 KOs) edged Jan Carlos Rivera (8-2, 6 KOs) by an eight round unanimous decision. The judges' scores were 77-75, 77-75, and 77-75.
Talented unbeaten heavyweight prospect Damian Knyba (12-0, 7 KOs) easily outboxed the tough veteran Helaman Olguin (9-6-1, 4 KOs), winning an eight round unanimous decision in a fight that was more competitive than the scores handed in by the judges. The scores were 79-73, 79-73, and 79-73.
Undefeated featherweight phenom Bruce "Shu Shu" Carrington (8-0, 5 KOs) put on a masterclass performance, battering Luis Porozo (16-7, 9 KOs) until the fight was stopped in the eighth The time was at 2:17.
Undefeated lightweight Henry Lebron (18-0, 10 KOs) beat Carlos Ramos (17-3, 10 KOs) by a 10 round unanimous decision. Lebron flattened Ramos in rounds eight and ten to cement his victory by the scores 97-91, 98-90, and 98-90.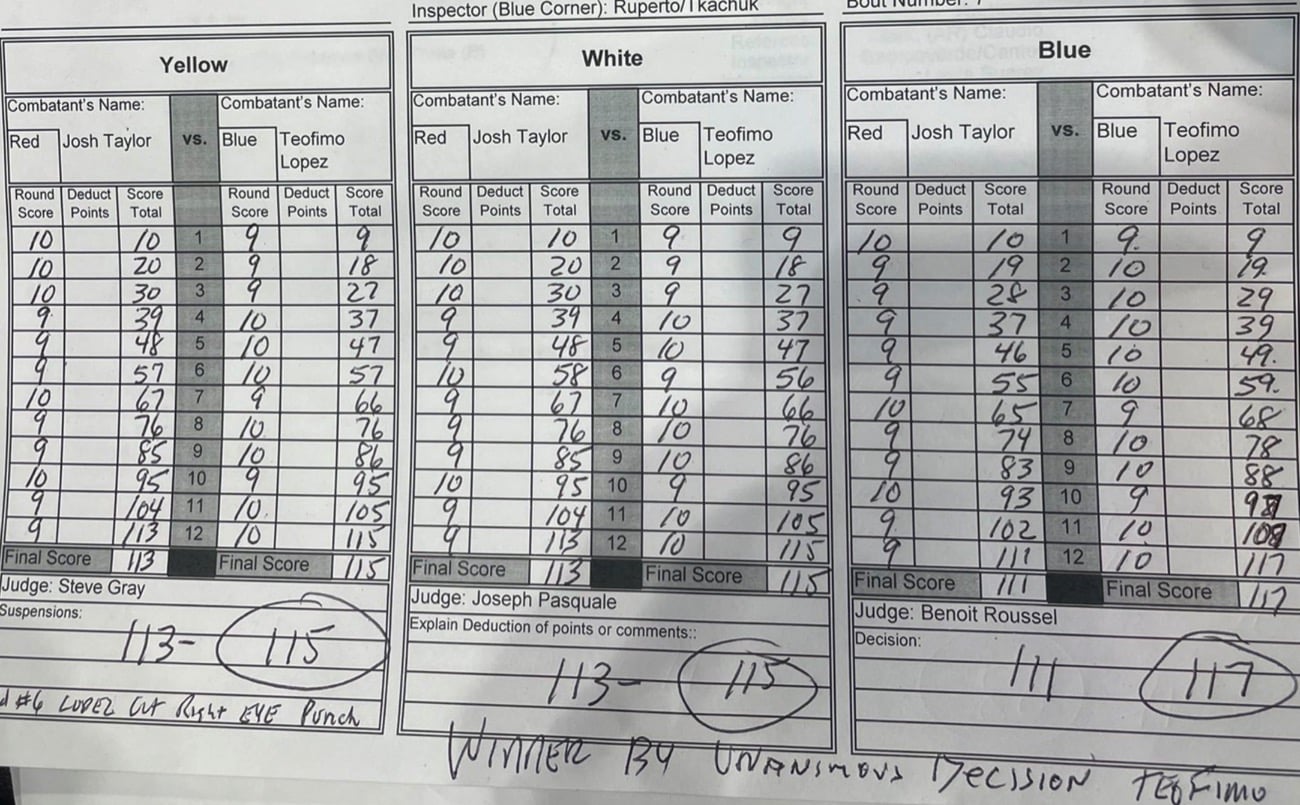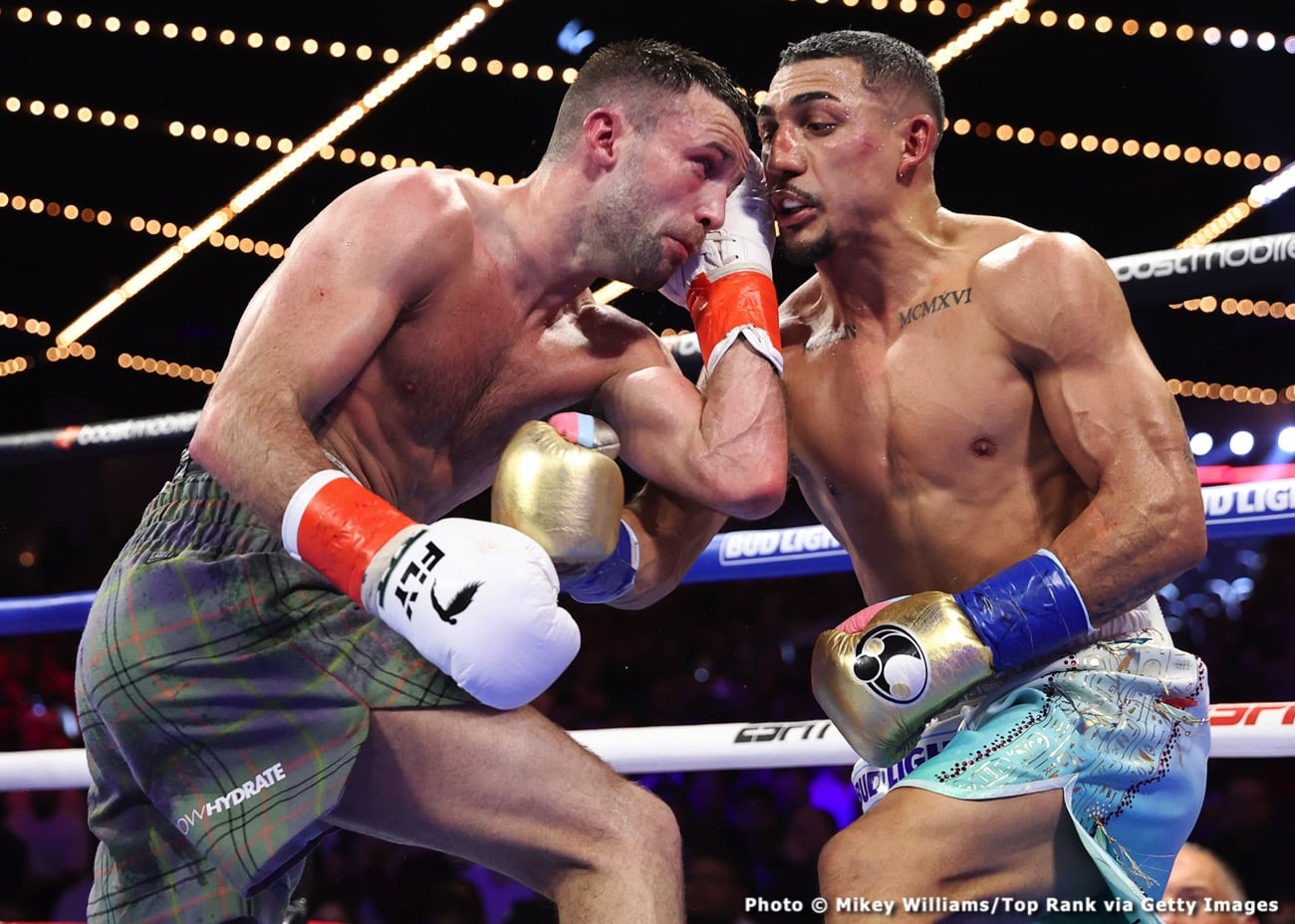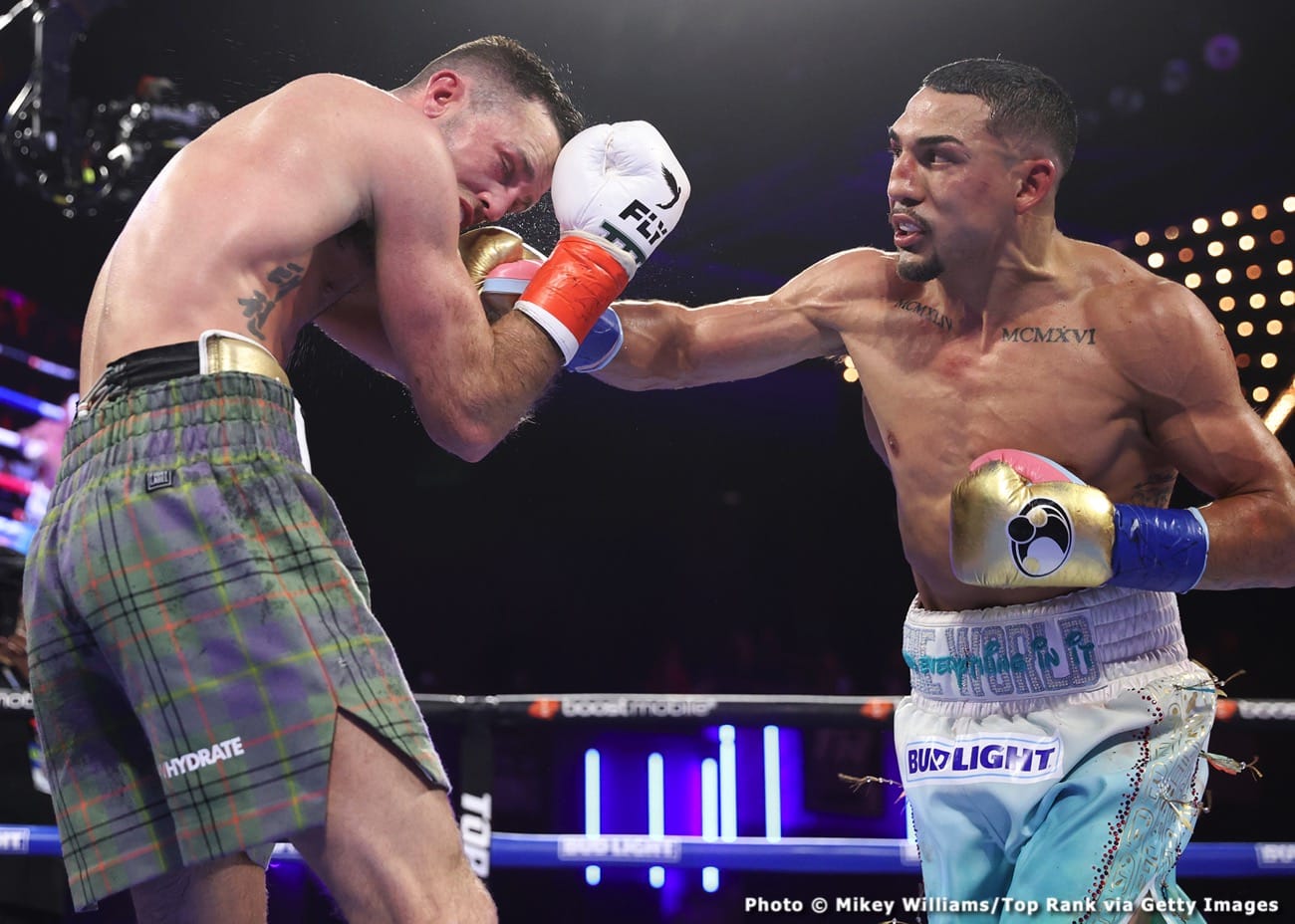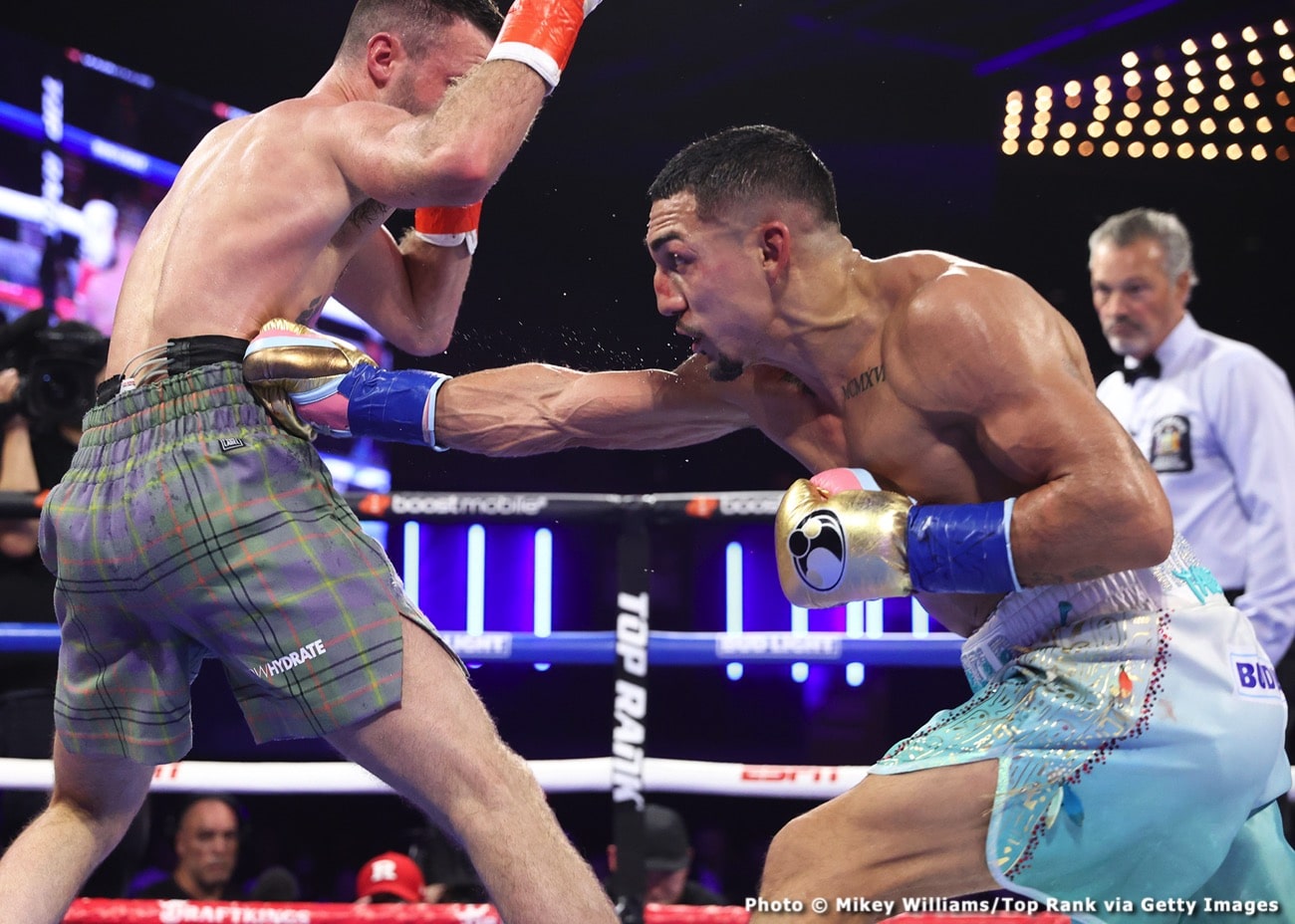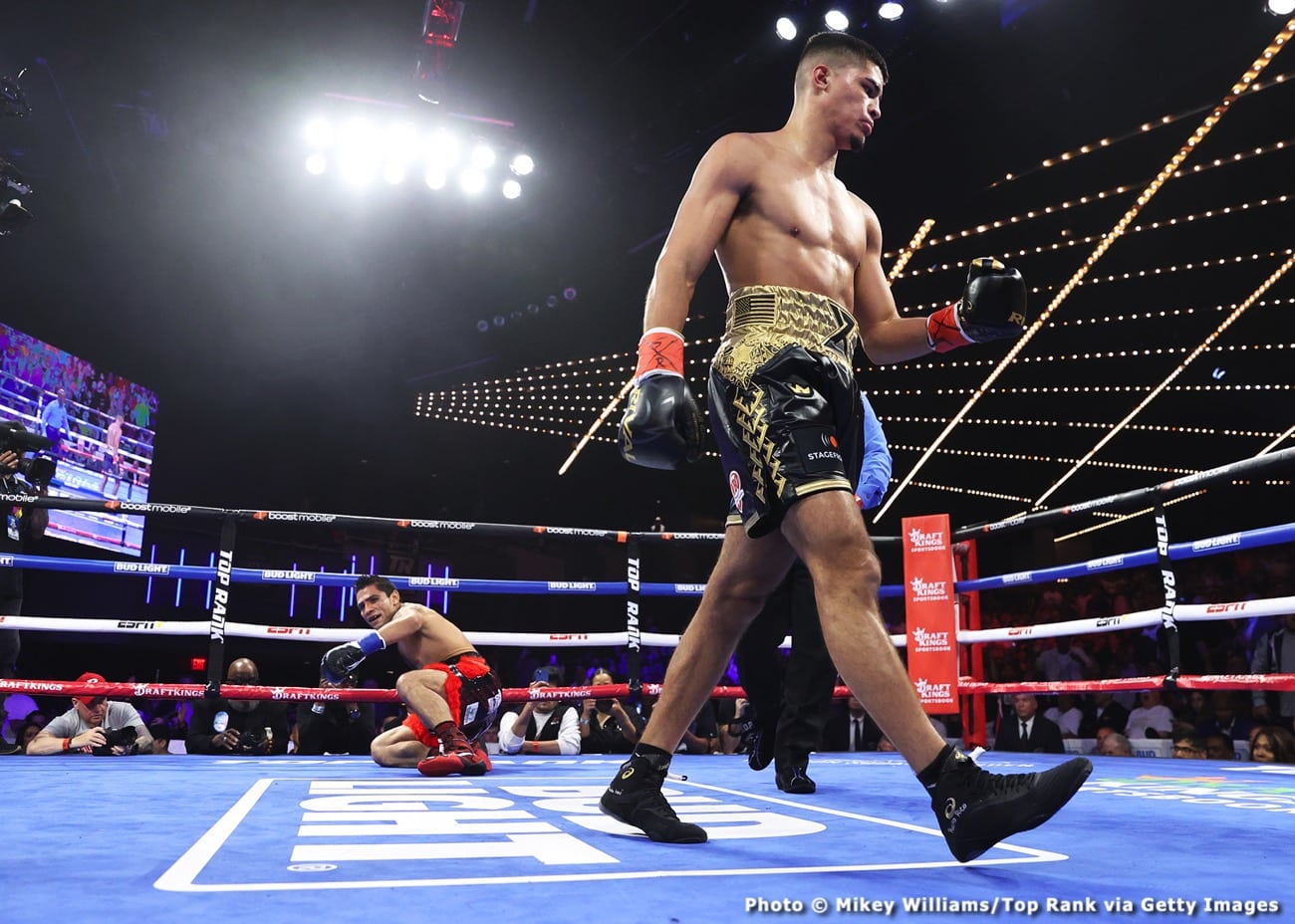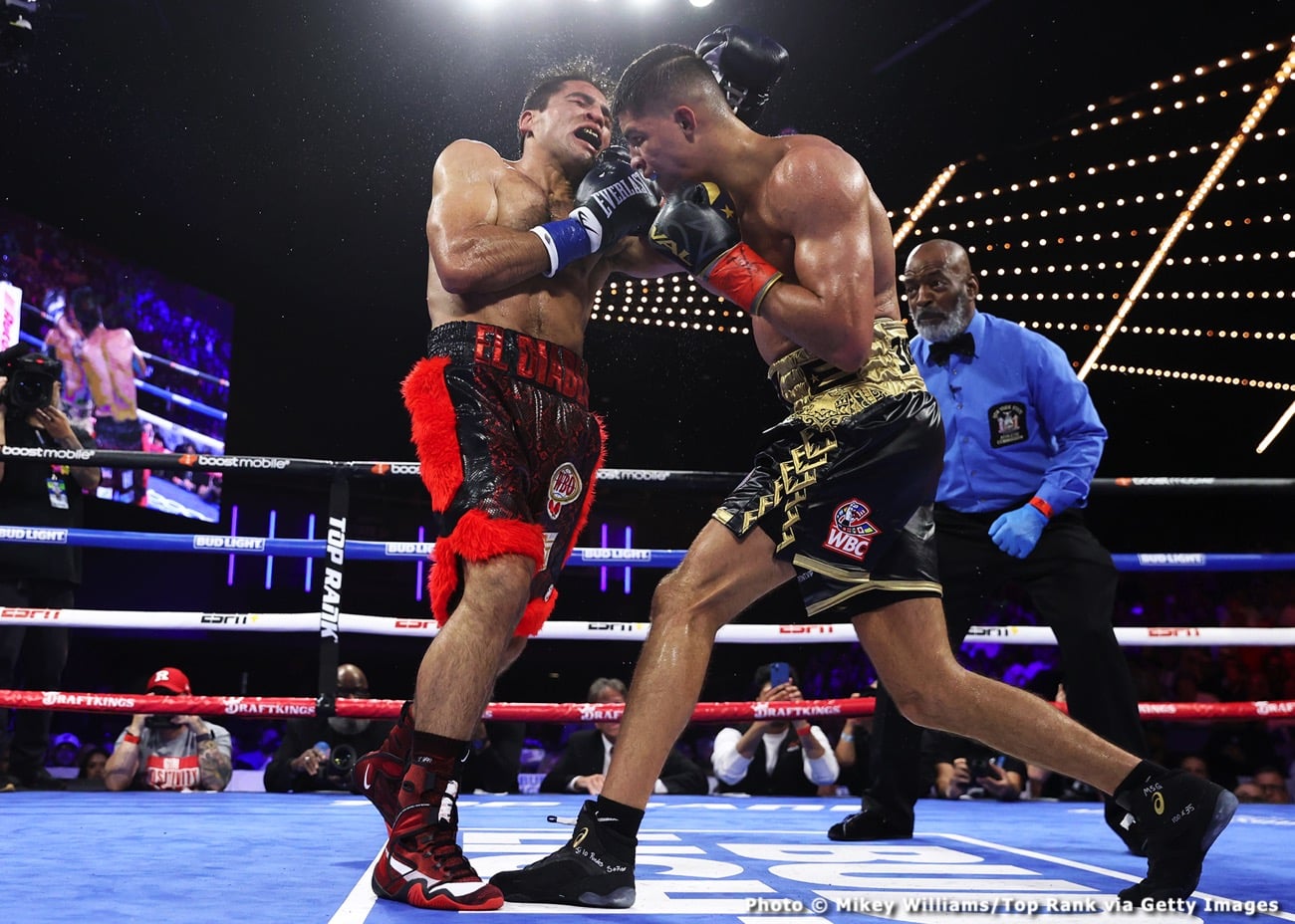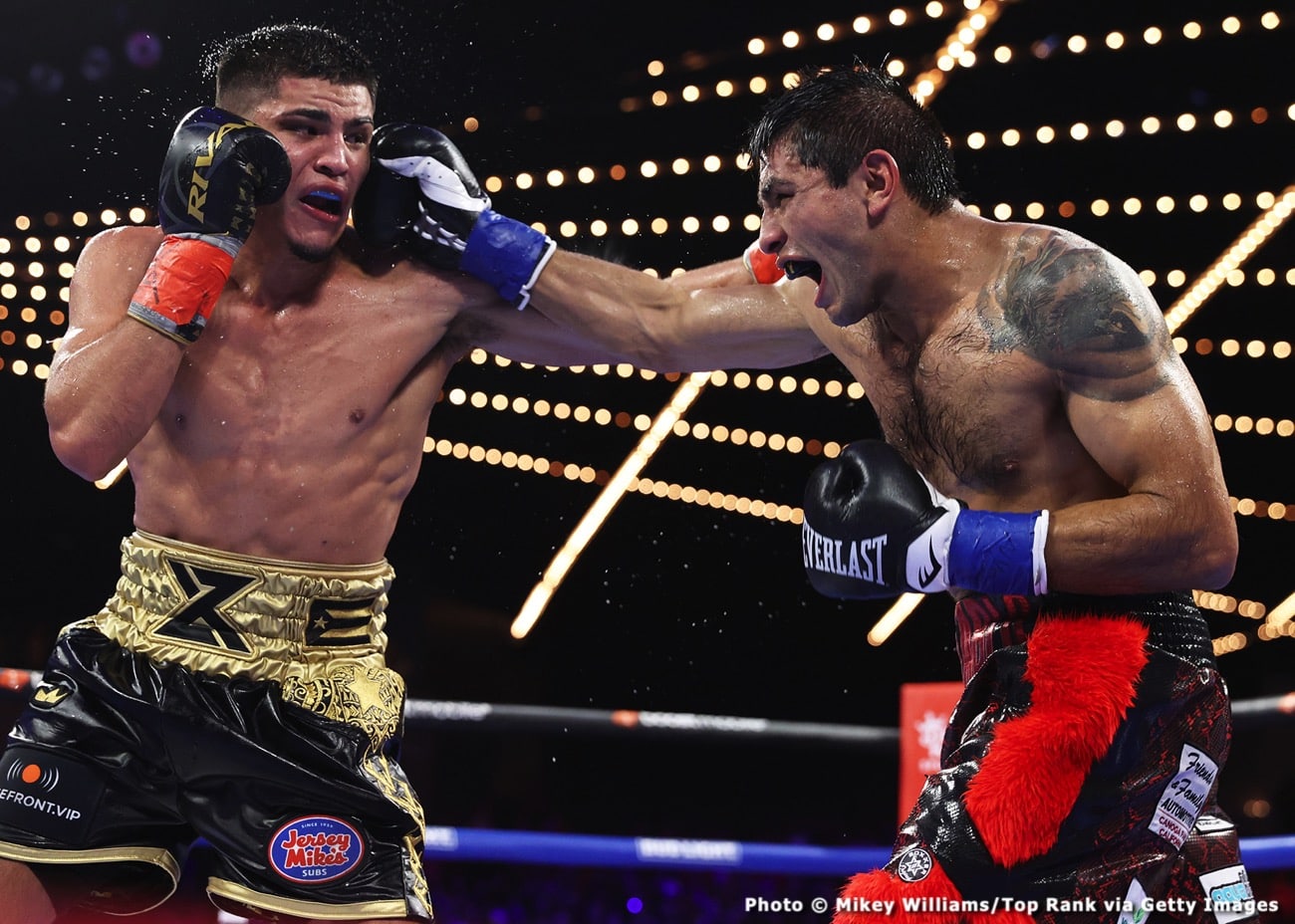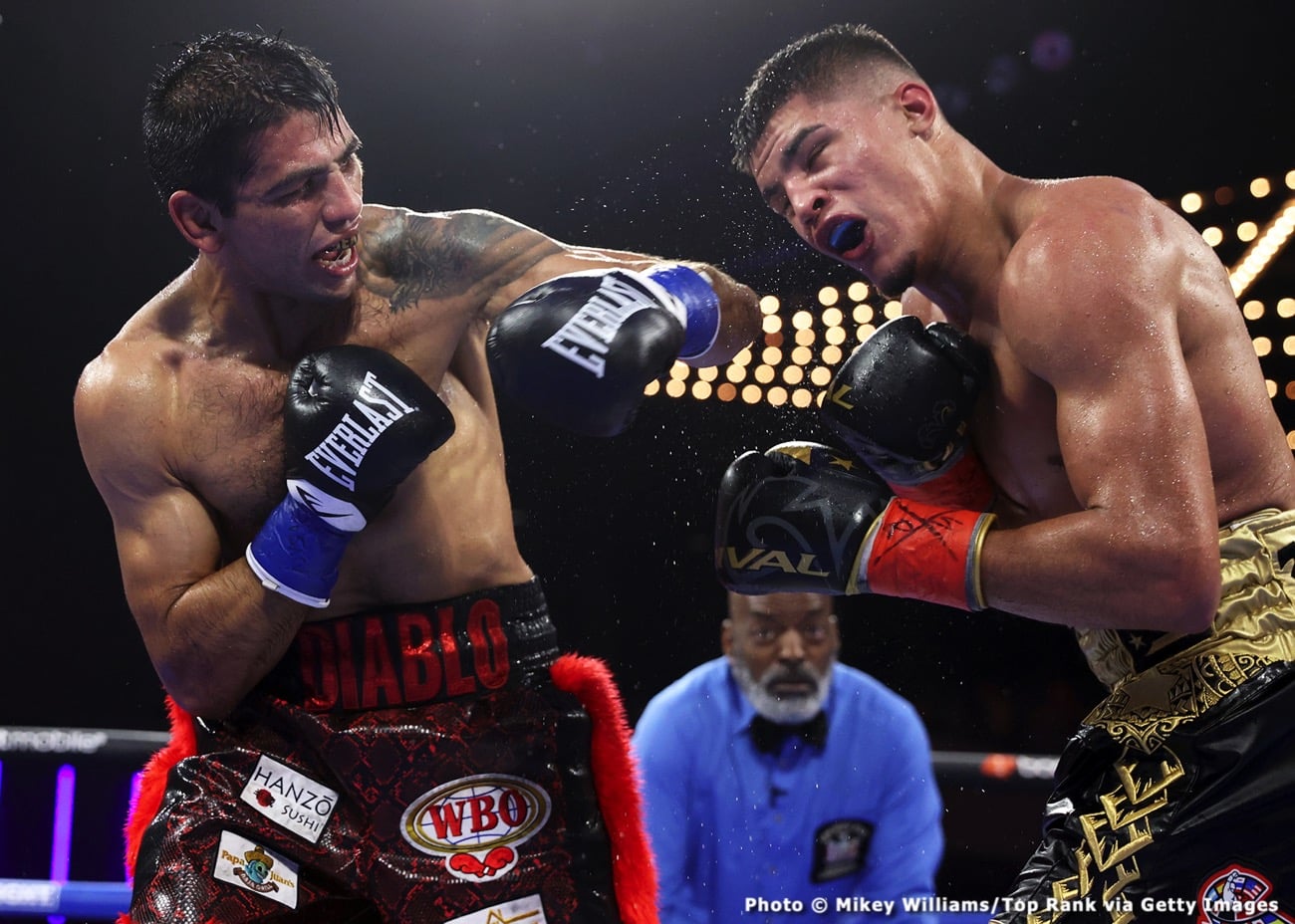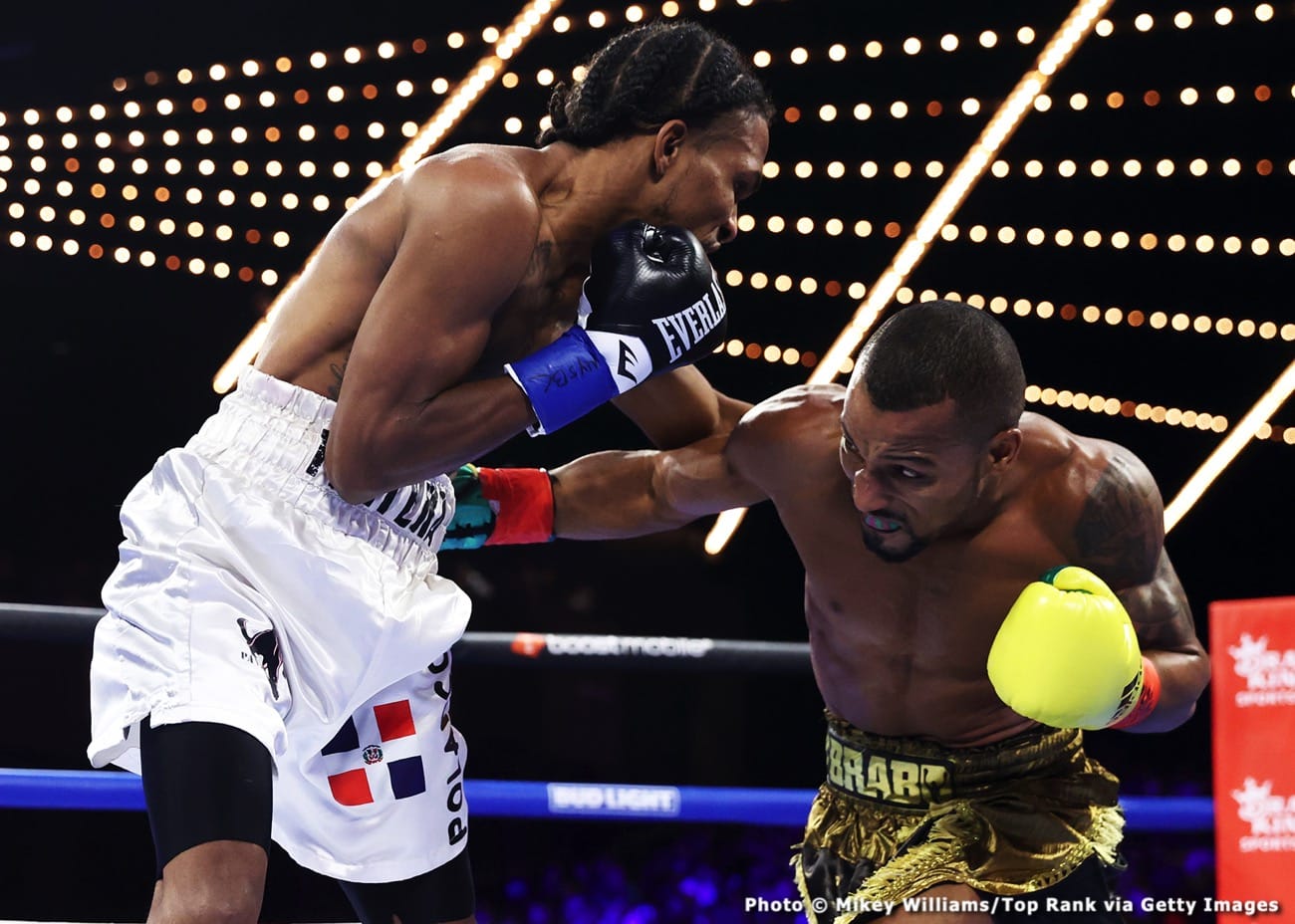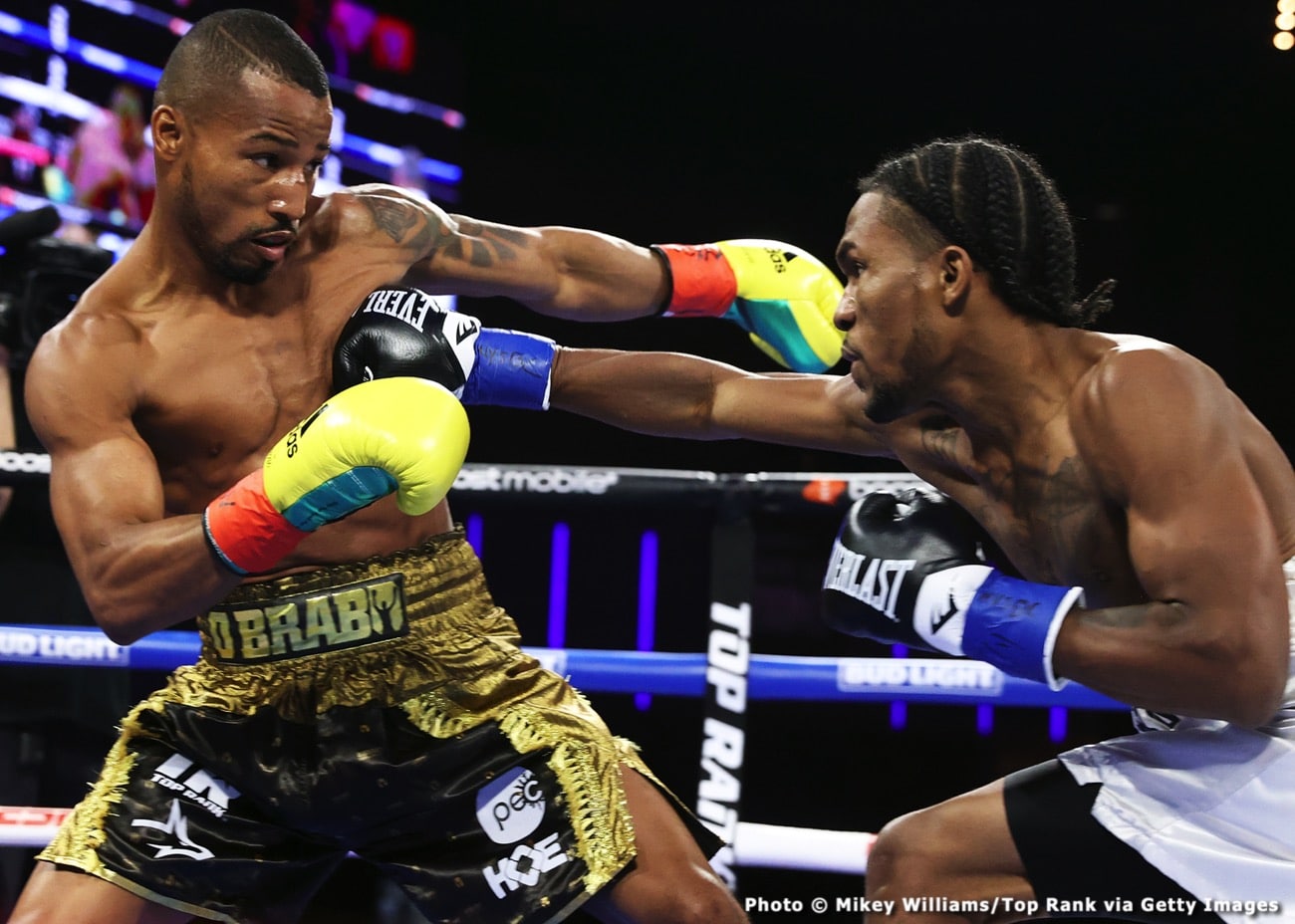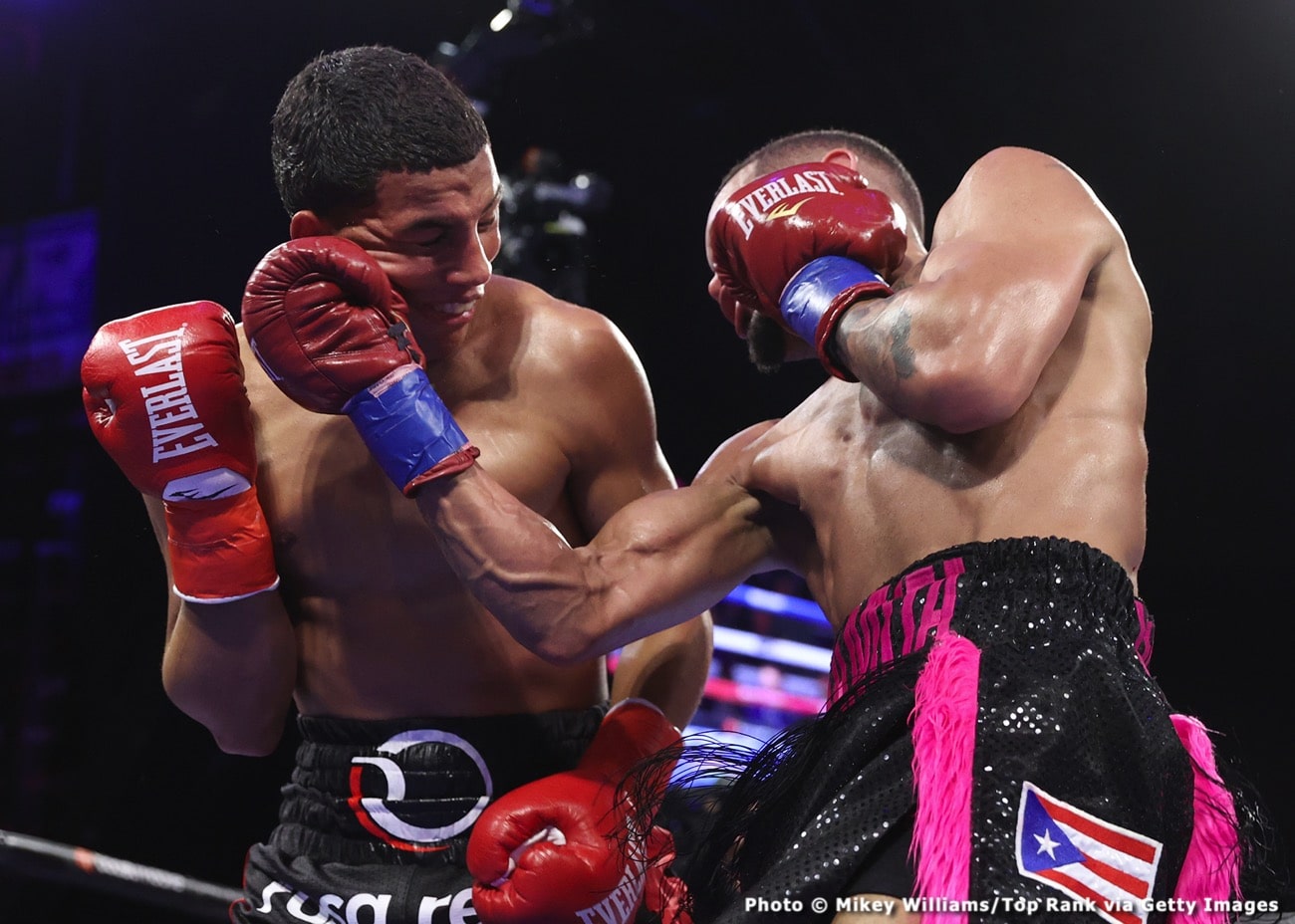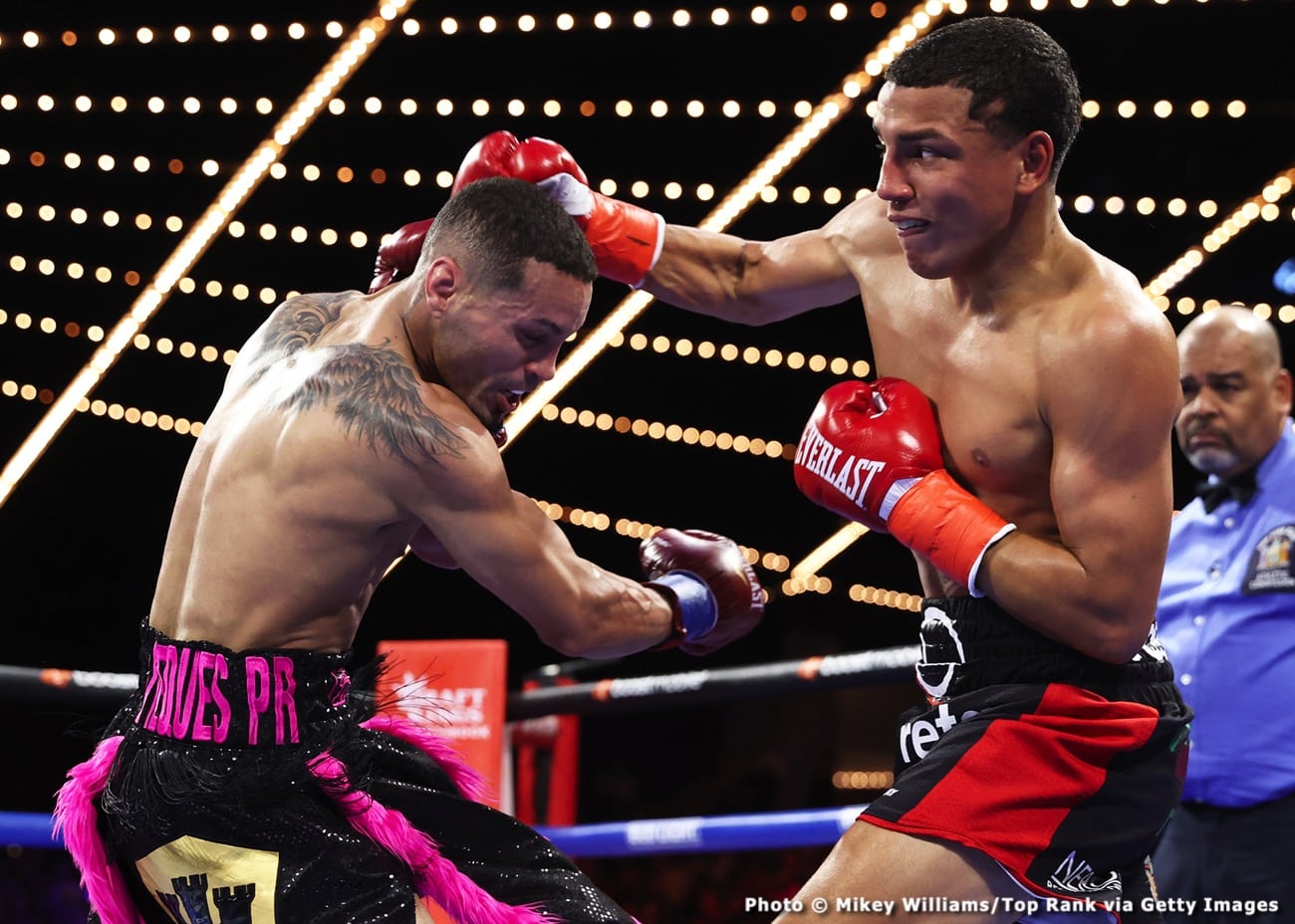 Preview: WBO light welterweight champion Josh Taylor and hometown fighter Teofimo Lopez will fight it out tonight. The time of the fight card is at 10:00 p.m. ET, watch the entire event LIVE on ESPN+ from the Hula Theater at Madison Square Garden in New York. This fight will show whether the former unified lightweight champion Teofimo (18-1, 13 KOs) is cut out for the 140-lb division.
"Taylor thinks I'm in a mentally fragile state right now. So he wants to capitalize on it now. That's good, very good,"  said Teofimo Lopez to Behind The Gloves about Josh Taylor.
"I'm very happy [that Taylor didn't move up to 147]. This guy beat everyone in the 140-lb division. So beating him is another addition to my accolades. So this guy, in my eyes, is still undisputed. He only relinquished his belts, but no one has taken it from him.
"So beating this guy. No, no vulnerability here. I think I wanted to show you guys a bit of my inside. That's who I am. I usually do it in the locker rooms, but this time around, I wanted to express what I wanted to express.
"I knew thee camera was on me. Of course, I'm going to express what I feel. I have no filter in that.
"Good for him," said Teofimo when told that Taylor said he didn't study him. "Most definitely. He's talking about decapitating. I don't think he can do that with a punch. Killing a guy, you most likely can.
"I think mine is a bit more vulgar. It's great. It's two guys that don't like each other who are going to go out there and put on a show for the fans and for everyone that loves the sport of boxing still
"I can't beat everybody in the industry of the sport of boxing, but I sure as hell can beat the guy they put in front of me. That's really what I'm looking forward to.
"It's going to be hard for us to be friends when I say I'm going to kill the man," said Teofimo.