Former WBO junior middleweight champion Jaime Munguia (42-0, 33 KOs) stayed unbeaten with a questionable twelve round unanimous decision over Sergiy Derevyanchenko (14-5, 10 KOs) on Saturday night in a contest in the super middleweight division at the Toyota Arena in Ontario, California.
The judges scores:
Munguia got a fight-winning body shot knockdown in round twelve. Derevyanchenko barely survived the round by holding & moving.
Earlier in the contest, Munguia had been hurt in rounds three and five by Derevyanchenko.
Undercard results
Shane Mosley Jr (20-4, 11 KOs) defeated D'Mitrius Ballard (21-2-1, 13 KOs) by a seventh round referee stoppage. Mosley Jr hurt Ballard with a series of right hands and then unloaded a barrage of punches that caused the referee Thomas Taylor to step in and wave it off. The time of the stoppage was at 1:42 of round seven.
In the fifth, Mosley Jr knocked Ballard down with a hard right hand to the head. He tried to finish him, but couldn't do it in that round. The win for Mosley Jr was his third straight since losing to Jason Quigley.
Super bantamweight Mayeli Flores (10-1-1, 3 KOs) went toe-to-toe with Mariana 'Barbie' Juarez (55-13-4, 19 KOs) for ten exciting action-packed rounds to win a unanimous decision. Juarez, 43, took a lot of hard shots to the head in a fight that looked close to being stopped many times.
The 4'11" Flores was a like a punching machine, throwing nonstop shots with excellent power to pound out a one-sided decision. The judges' scores were 79-73, 79-73, and 80-72.
In a one-sided contest featherweight, Jorge Chavez (7-0, 5 KOs) had his way with Christian Lorenzo (3-5, 1 KO), hitting him at will with an avalanche of shots in each drama-filled round in winning a one-sided six round unanimous decision by the scores 60-54 x 3.
In another interesting fight on the undercard, junior middleweight prospect Anthony Saldivar (4-0, 2 KO) looked like a one-man wrecking crew, dropping the hapless Jerome Clayton (2-2-1, 2 KOs) three times en route to a second-round knockout.
The referee Jerry Reiss decided he'd seen enough after the third knockdown and stopped the fight at 2:01 of round two.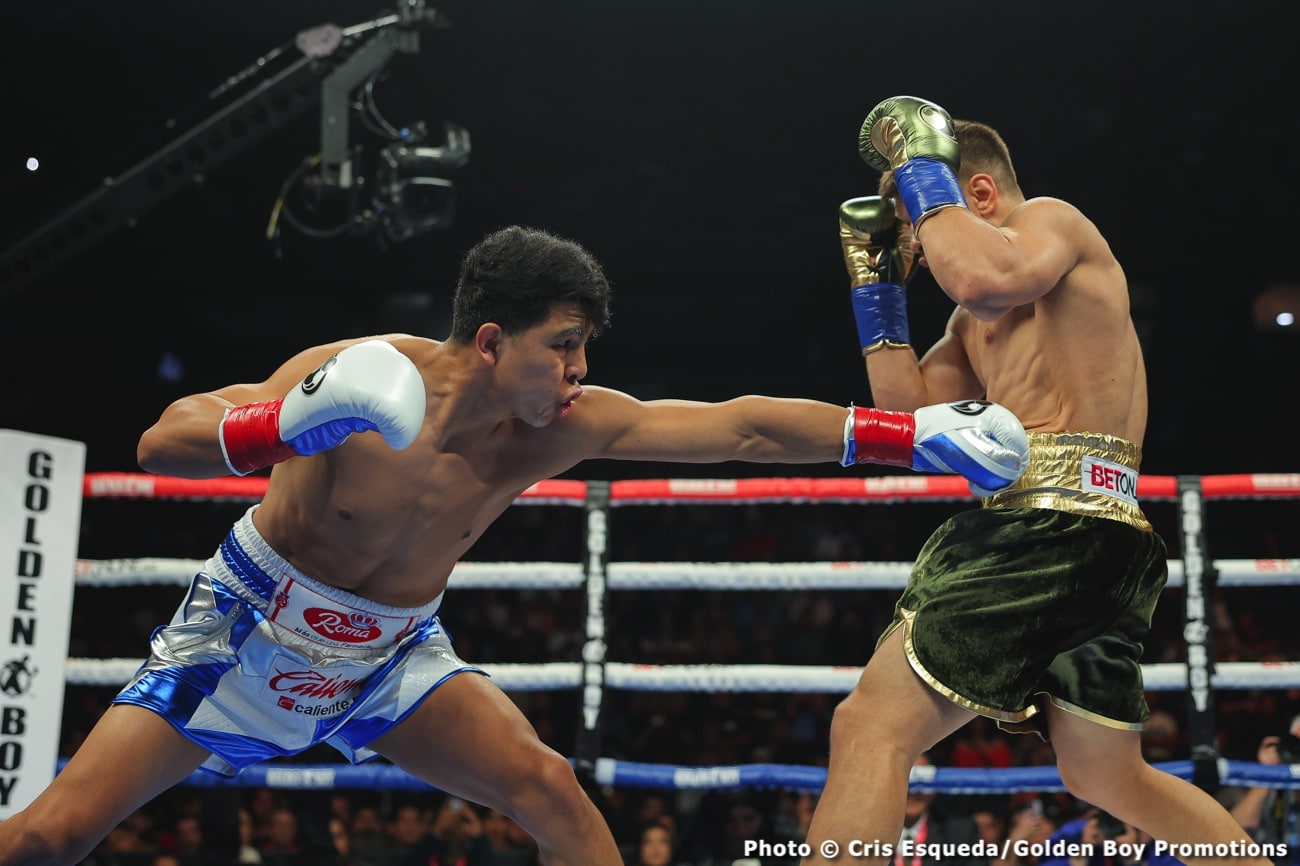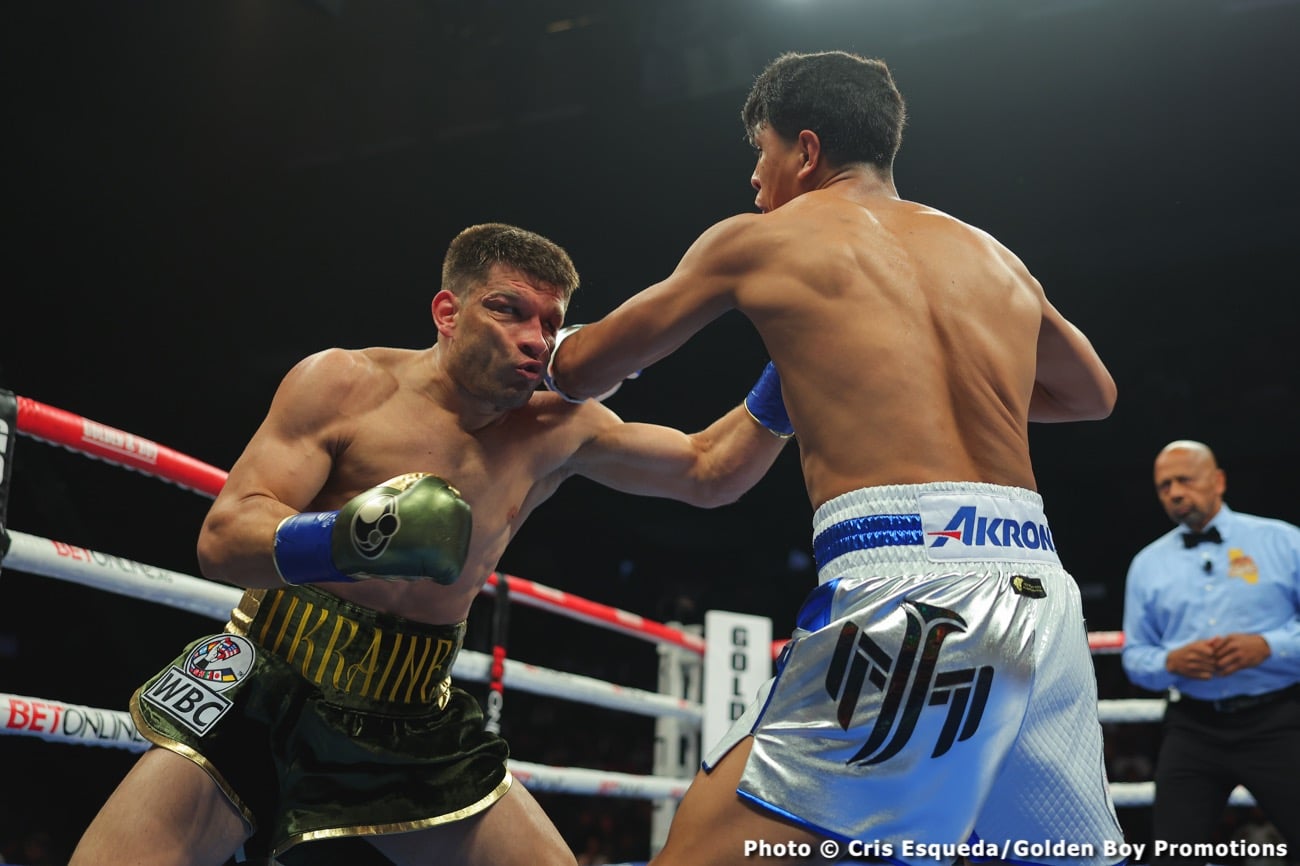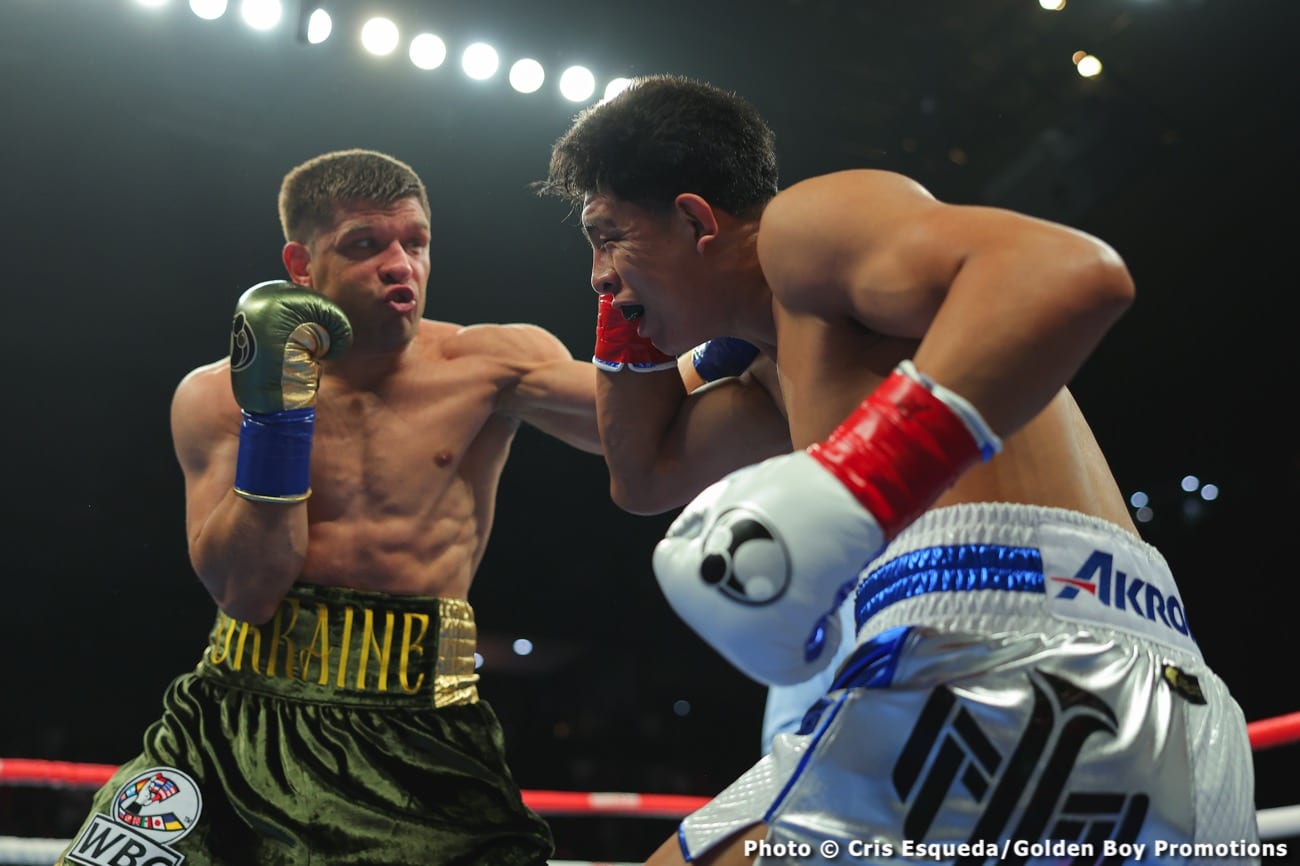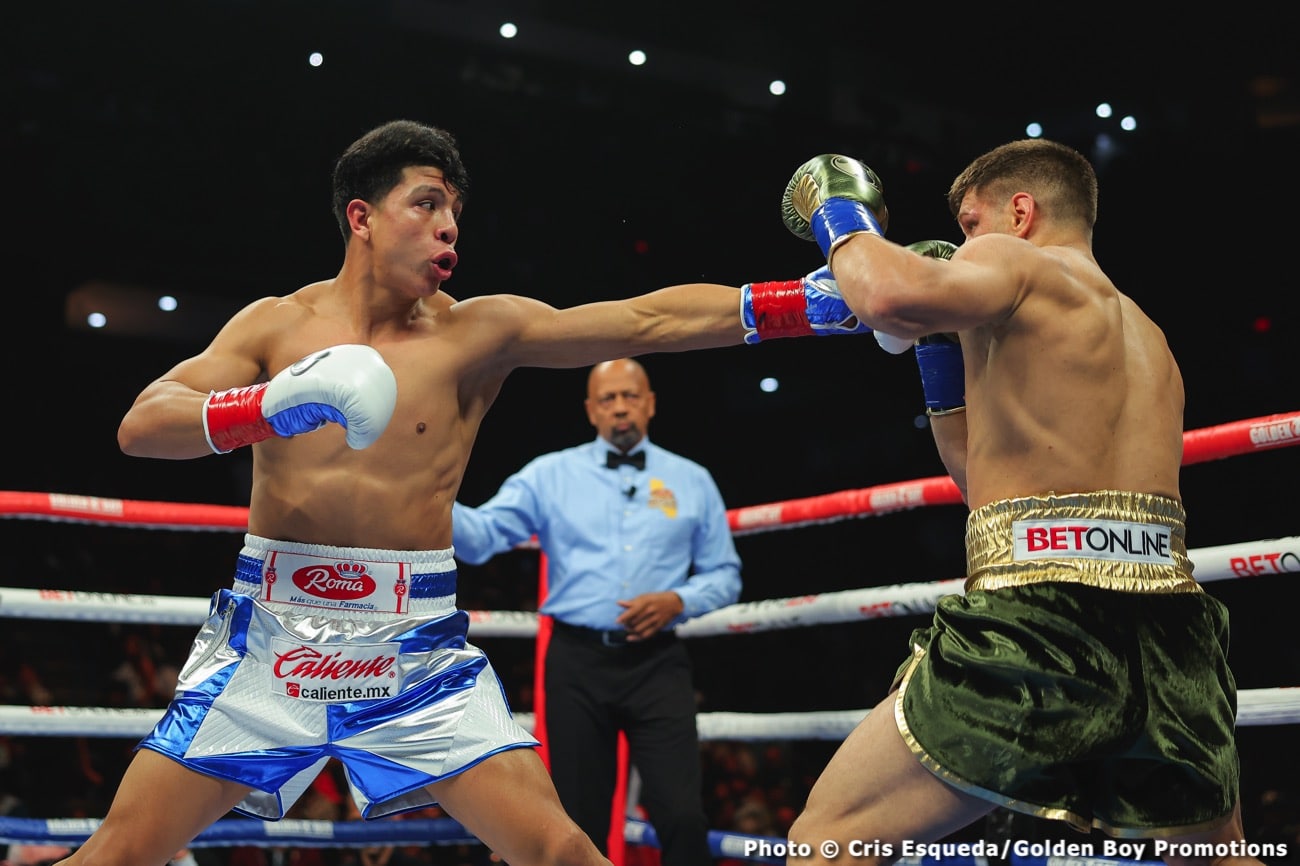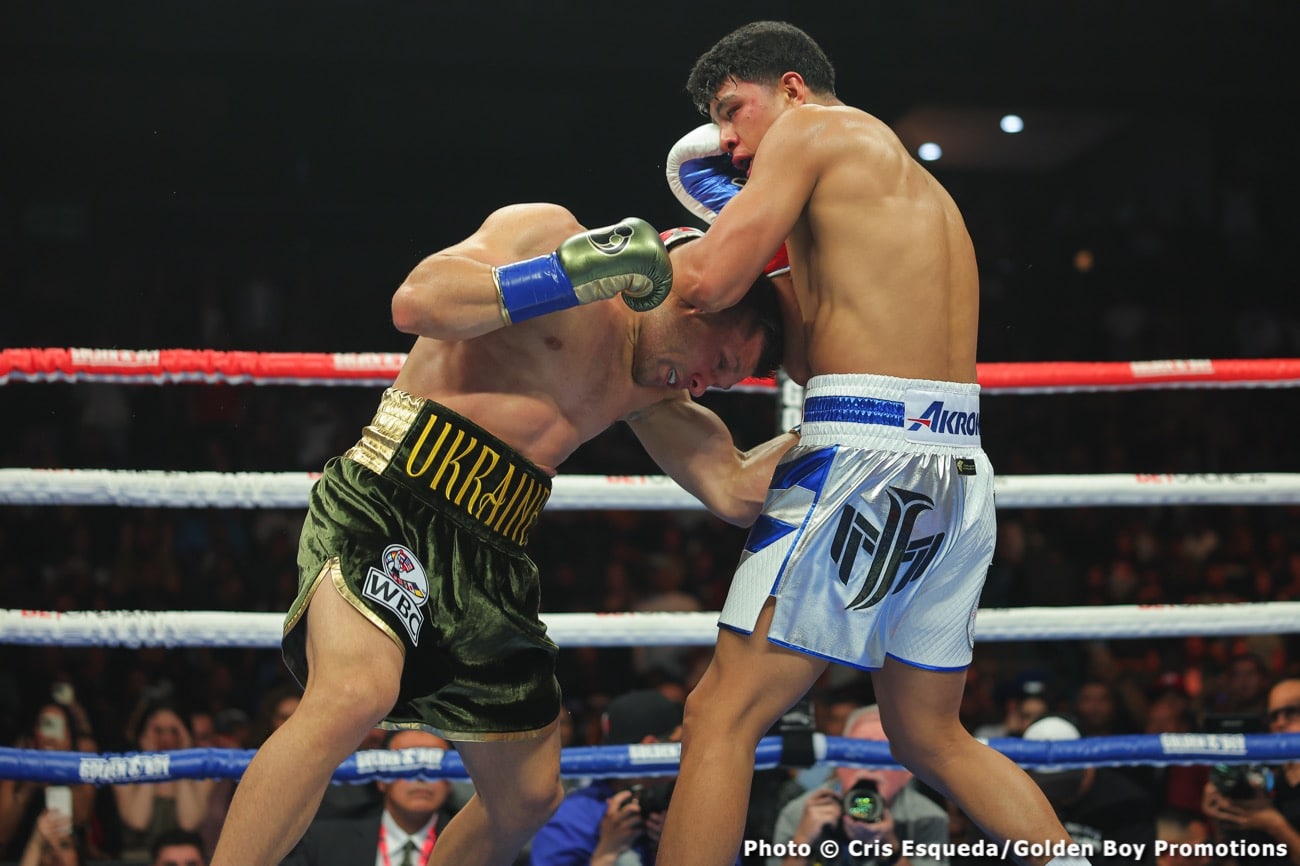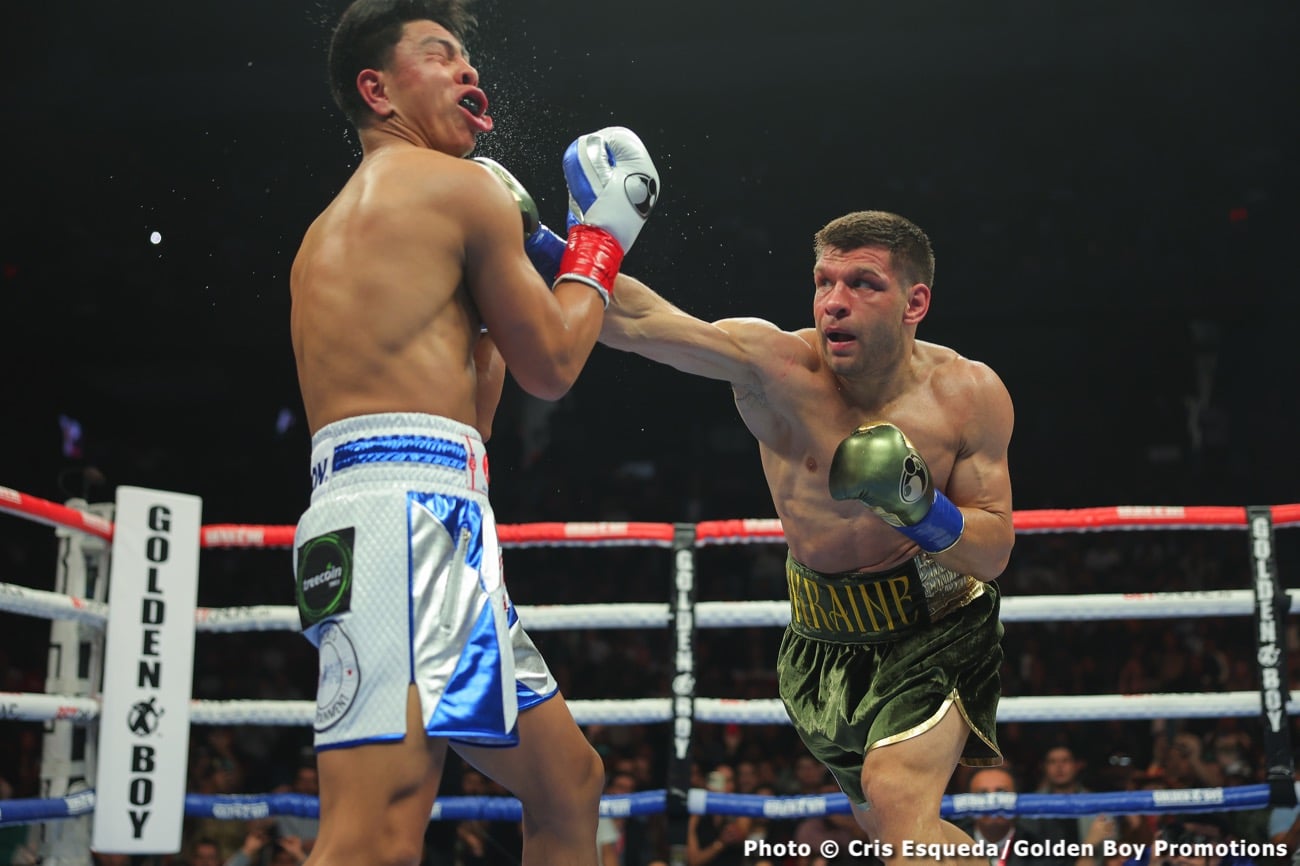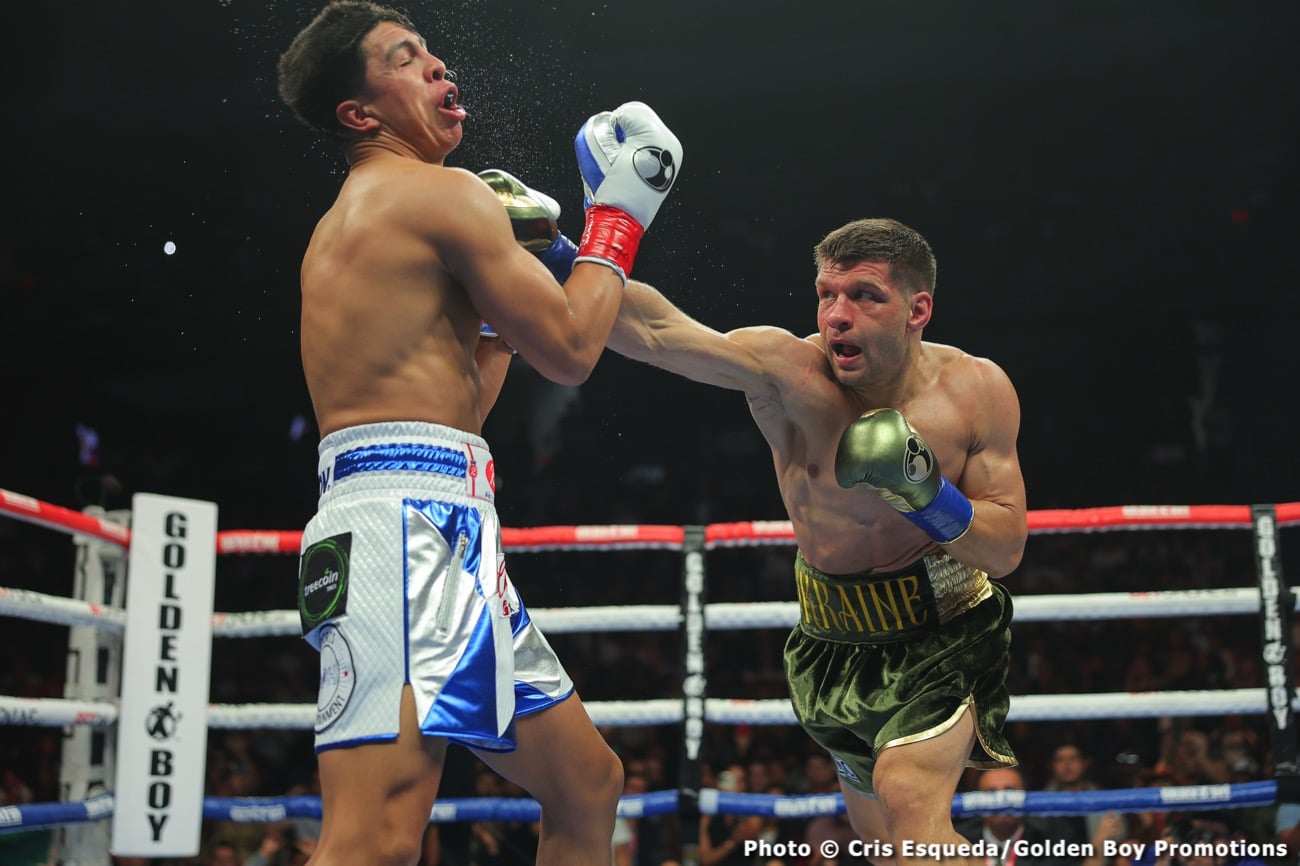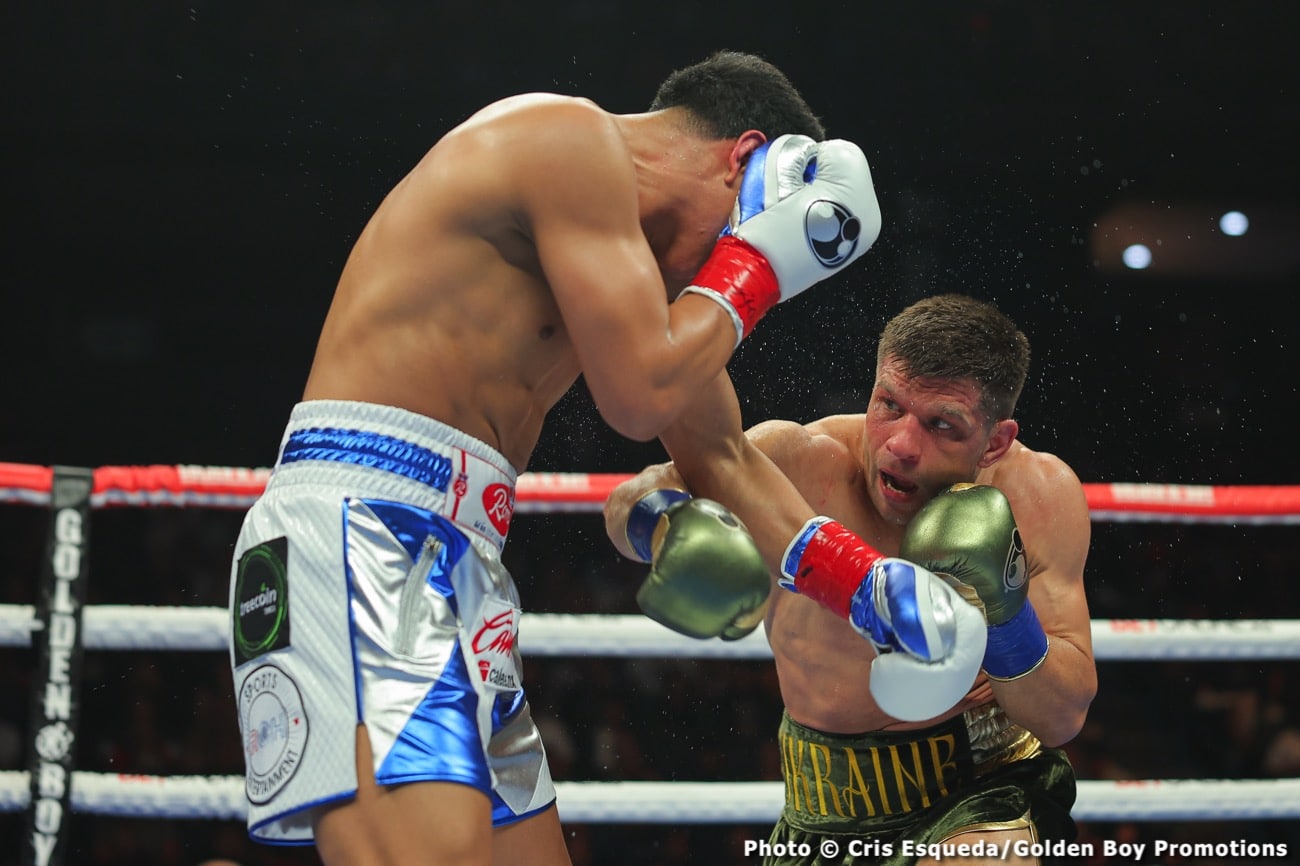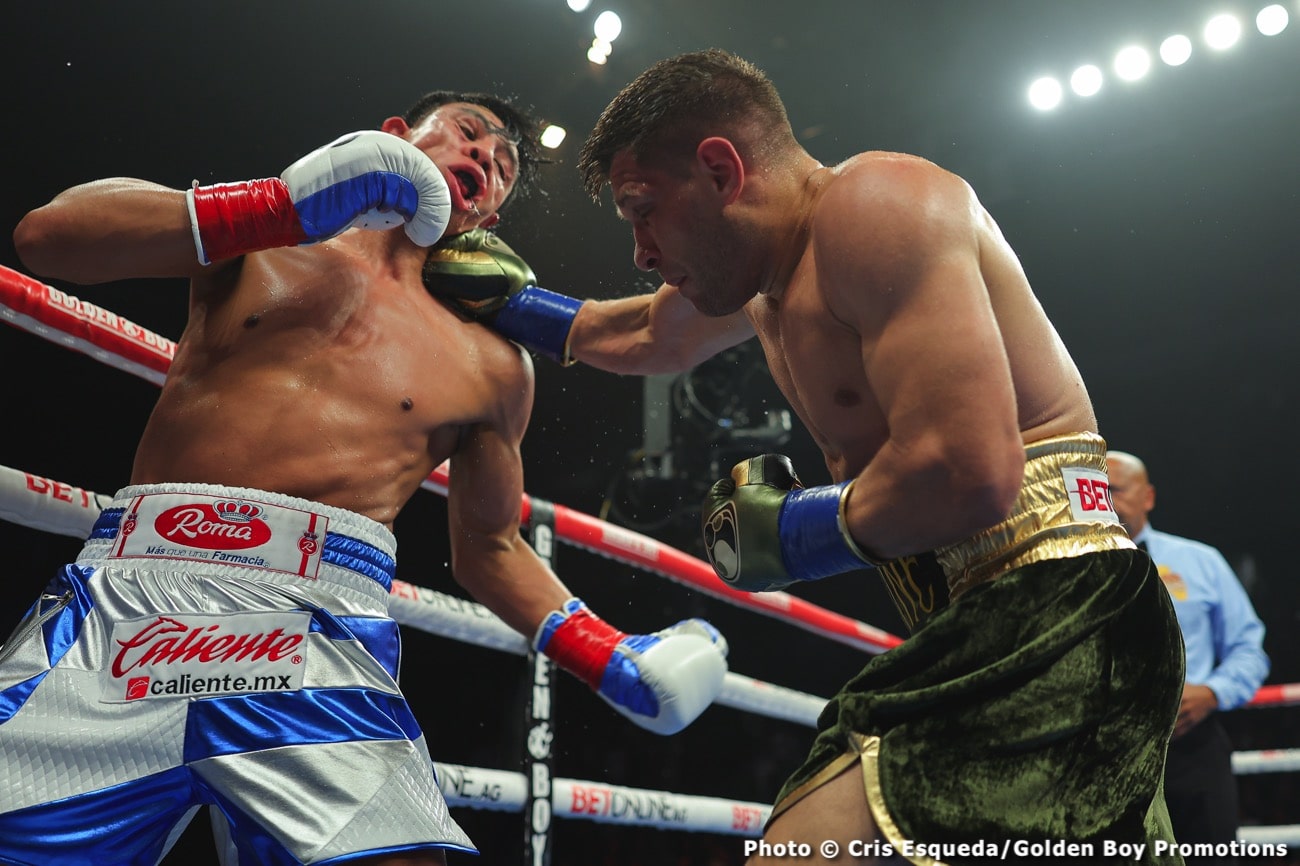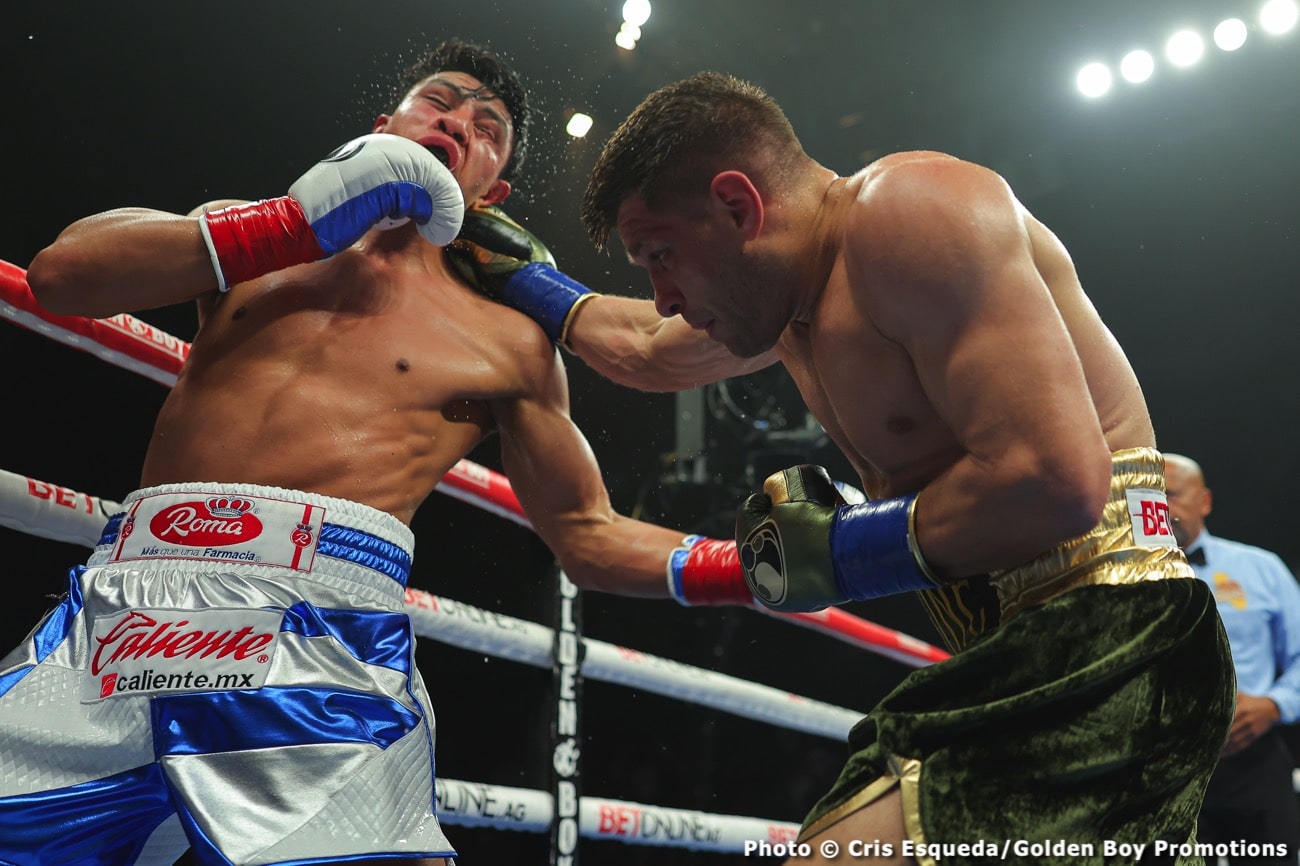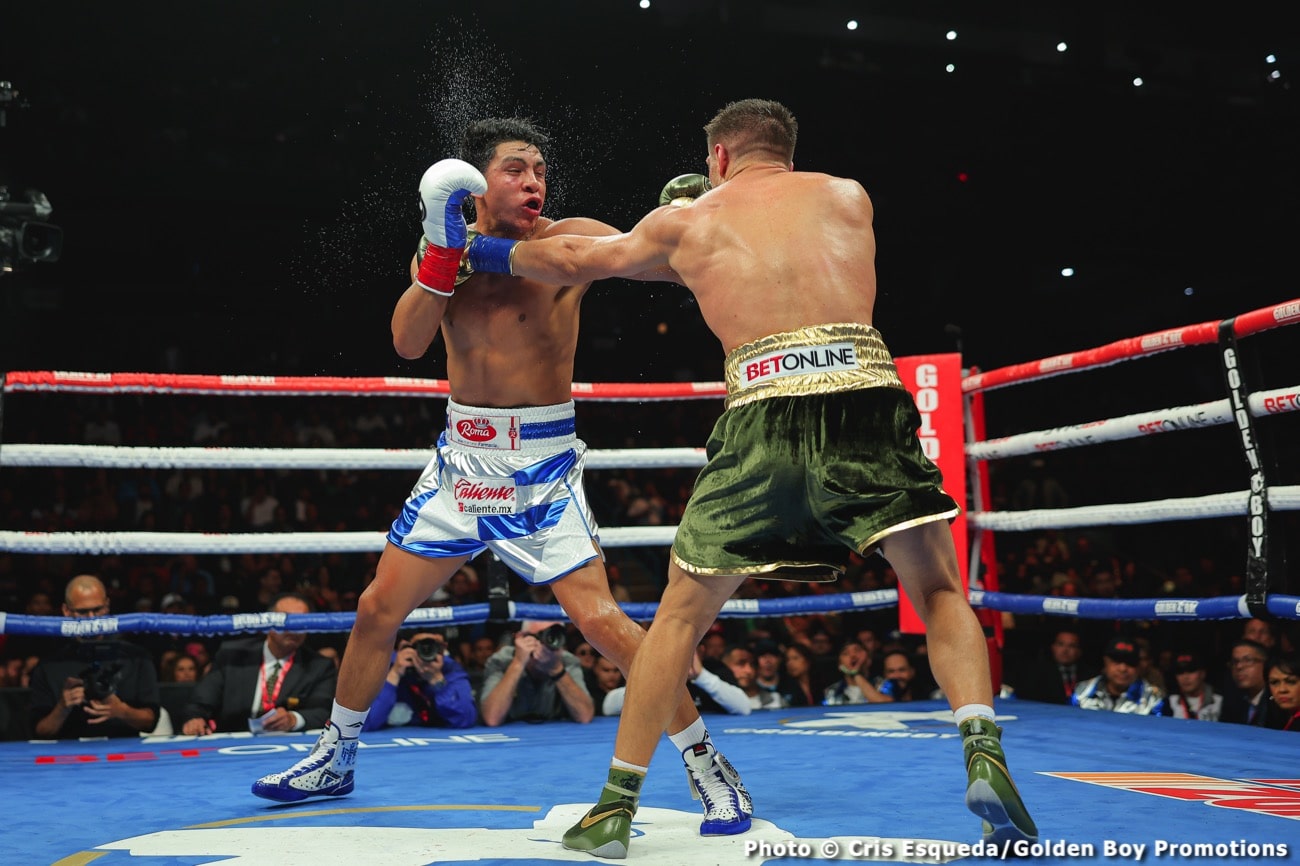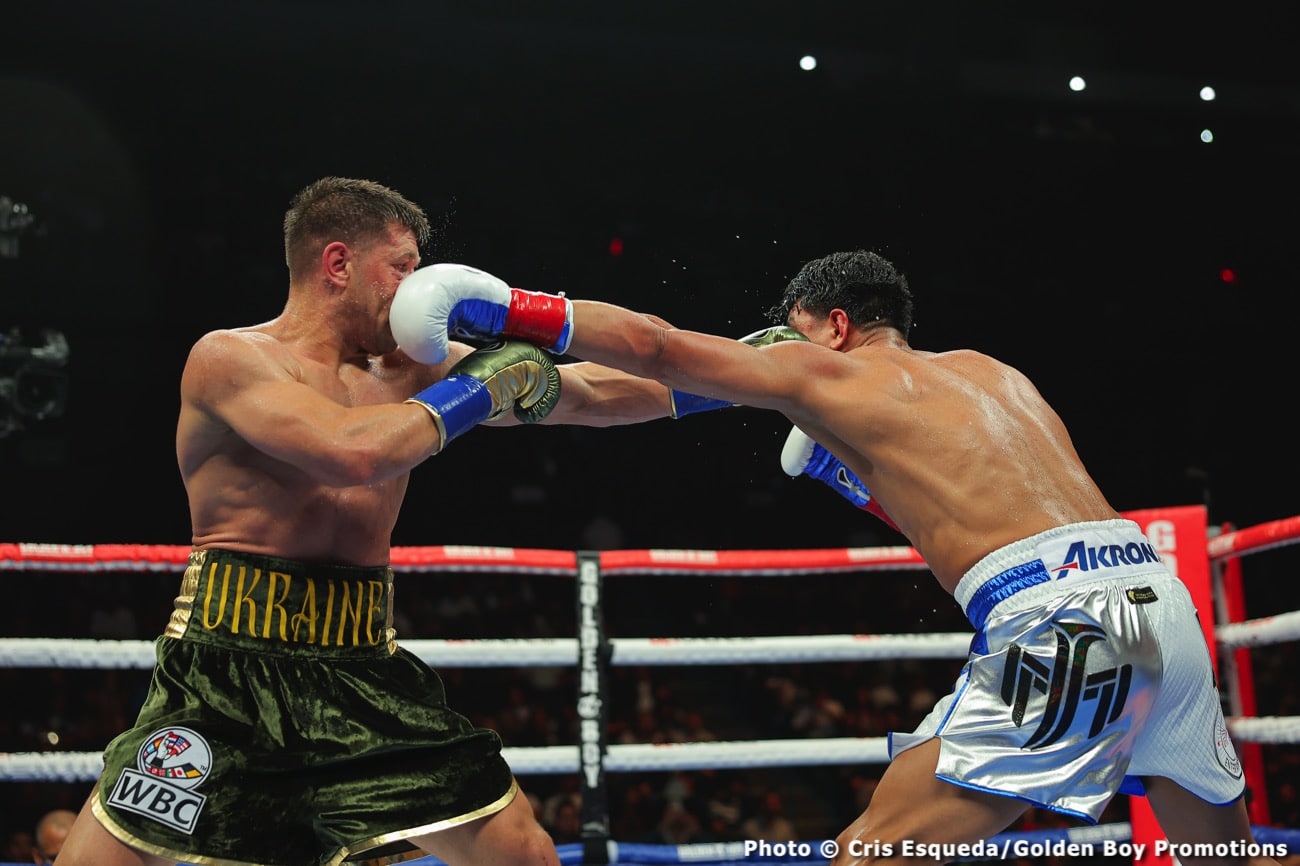 Preview: Former WBO junior middleweight champion Jaime Munguia (41-0, 33 KOs) faces veteran Sergiy Derevyanchenko (14-4, 10 KOs) tonight at the Toyota Arena in Ontario, California, live on DAZN. Munguia wants to use a victory over the highly experienced Derevyanchenko as a contest that will open doors for him.
Derevyanchenko, 37, has a huge advantage in experience against quality opposition than Munguia. That's not because he's a more popular fighter, but rather because he was willing to take the tough fights.
Munguia or his promoters haven't been eager in the same way to take the risky contests. Pretty soon, Munguia will need to start because he's wasted so much of his career fighting fodder-level competition.
"My issue with Derevyanchenko going to this fight is that it's going to be contested 168 pounds. When Derevyanchenko lost to Carlos Adames, my initial thought was that maybe he should drop down in weight. You look at him. He's a smallish guy," said Chris Mannix to JABS on DAZN.
"Maybe he [Derevyanchenko] could have competed better at 154 pounds. Instead, he's going up in weight class that Munguia is going to be very comfortable with and he's going up against an opponent that is very active.
"If you watch Derevyanchenko's previous fights, he's a bit of a slow starter when he's in them. If he gets off to a slow start against Jaime Munguia, I think he's going to be in a lot of trouble in this fight. So weirdly the answer is, yes. It is a step up, but it's not the kind of step up that everyone has been clamoring for.
"Those types of fights are Jermall Charlo and Gennady Golovkin. Top-level guys at 160 or 168. Derevyanchenko is just not that. So you're saying he's a step up."
"Yes, like I said myself," said Sergio Mora. "On paper, the name is a good name on your resume. Derevyanchenko has never been stopped. So if Munguia can be the first man to stop him, something that GGG couldn't do, yes.
"It's going to be a good look on the resume of Munguia and technically, 'The Technician' will be a step up but you know you can't fool the public, Mannix. You can't fool the people who know. You can't fool the fighters and the writers.
"We know Sergey Derevyanchenko already, and at 37 years old, he's not going to be the same guy that he was a couple of years ago when he was giving these guys that you're talking about, like Jacobs, everything they can handle. It just doesn't work that way.
"I think Munguia should have his hands full and should have a difficult fight early but then his size will be a factor and he should take care of Derevyanchenko and maybe be the first to stop him.
"One of my concerns, too is that we're going to see Shane Mosley Jr on the undercard, and Shane was a junior [middleweight] and is a very good fighter," said Mannix. "I'd like to see more of him on undercards in the next couple of years, but I kind of feel like we're getting set up for Mosley vs. Munguia at some point if Mosley wins this fight.
"Again, that would be maybe something of a step up but Jaime Munguia is ready for a matchup with Jamal Charlo at middleweight. He is ready for a matchup with David Benavidez at super middleweight. He is ready for Gennady Golovkin if Golovkin decides he wants to keep his career going.
"I just feel like we're kind of getting put on a path where we're going to see Jaime Munguia go through 2023 without getting one of those significant fights. So you kind of see that as well?"