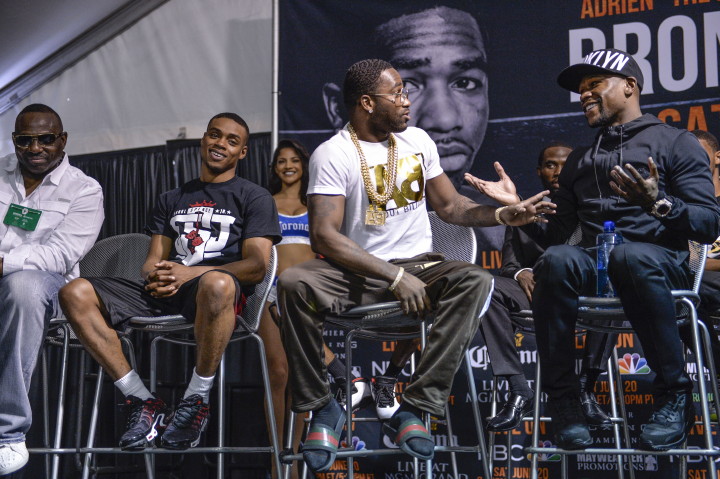 Share the post "Tim Bradley Breaks Down Porter v Broner / Backs "The Problem""
(Photo credit: Idris Erba/Mayweather Promotions) He fights on June 27th against Jessie Vargas in Carson, California in a fight that may or may not be for the WBO 147 lb title dependent on what Floyd Mayweather chooses to do with it, yet ahead of this weekend's Porter v Broner clash from The MGM Grand, Las Vegas, "Desert Storm" Tim Bradley has spoke to fighthype.com to break down the clash, offering that he thinks "The Problem" is going to be the man with the edge on the night.
He said of the 144 lb catch-weight contest;
"That's a good fight. And seeing as you gonna ask me my opinion, I'm a give you my opinion right now. Shawn Porter is a great fighter. He's a tough fighter, tough for anybody in the ring – he kinda reminds me of myself a little bit but Adrien Broner is an unbelievable talent."
"He (Porter) knows he's in a fight, he knows he can't be relaxed – and when you got a top-notch Adrien Broner? Man, I'm telling you – it's hard to beat that guy when he top-notch, fully focused and ready."
On his pick, he said;
"I gotta go with Adrien Broner. I know a lotta people, everybody going with Porter and I understand why. I get it, I totally get it. The pressure, he can get inside and rough 'em up – I understand that – but when it comes down to the sweet science, I have to go with my man Broner because (of) skills. The kid has skills, man – and when he 110%, he a problem for everybody."
Twitter @Undilutedpoison
Share the post "Tim Bradley Breaks Down Porter v Broner / Backs "The Problem""