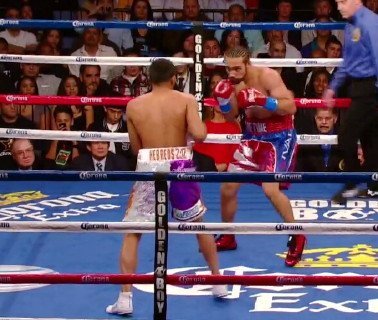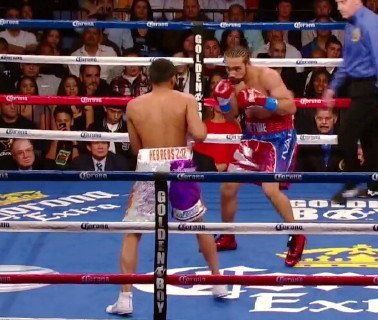 In a couple of interesting fights that are being put together for late July, former IBF/WBC welterweight champion Andre Berto (28-2, 22 KO's) will be getting a chance to redeem himself in a fight against Jesus Soto-Karass (27-8-3, 17 KO's), and unbeaten welterweight Keith Thurman (20-0, 18 KO's) will face interim WBA welterweight champ Diego Chaves (22-0, 18 KO's) in a fight that will be televised on Showtime. The date of the fight hasn't been set but they're looking at either July 20th or July 27th as of now.
Berto, 29, could find himself in deep, deep trouble if he gets outworked like he was in his last fight against Robert "The Ghost" Guerrero last November in a 12 round unanimous decision loss. Guerrero didn't do anything special to beat Berto other than pressuring him and throwing a lot of shots.
Berto did the rest by letting Guerrero fight him against the ropes instead of in the center of the ring and using the shoulder roll without really knowing how to use it.
Berto fought poorly and deserved to lose as bad as he did. It's interesting that he could be back in the ring with Soto-Karass because this is a bigger version of Guerrero, and it's not a good match-up for Berto unless he can fight a lot smarter than he did last time.
Soto-Karass can be stopped as we saw in his 8th round TKO loss to Marcos Maidana last year in September, but that was a fight that was going Soto-Karass' way up until the 7th round. If Soto-Karass is able to punish Berto the same way that he was Maidana it's hard to picture Berto being able to come back and win the fight the way that Maidana did. These fighters seem to be going in different directions at this point in their careers.
Thurman defeated former IBF welterweight champion Jan Zaveck recently and looked really good in doing so. Thurman wants a big named opponent but he's not having a lot of luck getting any of them to fight him. He's the mandatory challenger for WBO welterweight champion Tim Bradley, but if he can beat WBA interim welterweight champion Diego Chaves then he'll be in the running for a shot against the winner of Adrien Broner and WBA welterweight champion Paulie Malignaggi on June 22nd.
Chaves, 26, has faced weak opposition his entire five-year pro career. His best opponent was Ismael El Massoudi, who he stopped in the 2nd round last July. Chaves' resume is inflated and it's hard to see him as being worthy of holding the WBA interim title. Thurman should be able to really punish him and get a stoppage.