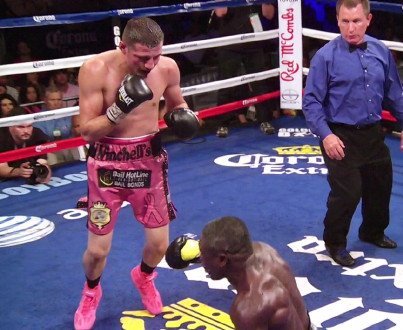 Andre Berto (28-3, 22 KO's) complains that he may have torn his right shoulder out of the socket early in his fight against Jesus Soto Karass (28-8-3, 18 KO's) last night at the AT&T Center in San Antonio, Texas. Berto was knocked out in the 12th round after getting hit with a left hook at the same time he was throwing a punch of his own.
The shot deposited Berto on the canvas. He was able to get up by referee Jon Schorle stopped it immediately at 0:48 of the round. Berto didn't like the quick stoppage and felt that he should have been given standing 8 count rather than having the fight halted without him having the chance to collect himself.
The fight was a draw at the time of the stoppage with one judge scoring it 105-103 for Berto, another 105-103 for Soto Karass and the third judge scoring it 114-114 even.
In speaking to Showtime's Jim Gray, Berto said "I think I tore it out of the socket early in the 4th, my right shoulder. That's why I kept using my left. I think I tore it out of the socket. I couldn't use it at all, but I'm a warrior at the end of the day. I should have at least deserved an 8 count, but I'm going out on my shield regardless."
Berto actually was using his right hand in every round even after the 4th round. He was clearly using his left hand more, but he definitely used his right hand a lot to land shots from rounds 5 through 11 before being stopped in the 12th.
The injury doesn't explain the fact that Soto Karass was giving Berto all kinds of problems in the first three rounds and had him hurt in the 1st. Soto Karass also hurt Berto in the 4th round with a big shot.
I don't know that you can contribute Soto Karass' good work to Berto being hurt. That just comes across as making excuses if you want to blame Berto's loss on his shoulder problem. He looked like he was going to be in trouble no matter what happened.