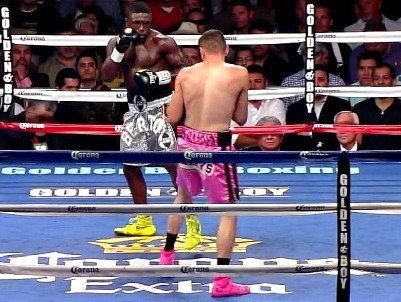 Andre Berto's career could be pretty much over tonight after he was stopped in the 12th round by Jesus Soto Karass (28-8-3, 18 KO's) AT&T Center, in San Antonio, Texas, USA. Soto Karass hit Berto with a left hand to the head that put him down on the canvas in the 12th.
Although Berto got back to his feet quickly, the fight was immediately stopped by the referee after he saw how Berto was on rubber legs with a ton of time still left in the round.It's a good thing that Soto Karass stopped Berto, because he might have been on the receiving end of a controversial decision loss.
At the time of the stoppage, the judges had it 105-103 for Berto, 114-114 even and 105-103 for Soto Karass. I don't know how you could watch this fight and see Berto ahead.
Berto never did look good in the fight, as his workrate was low and he was constantly getting nailed by shots from Soto Karass. The Mexican fighters' shots may not have been the powerful variety in comparison to Berto's, the fact that Soto Karass was throwing and landing so many meant that he was able to control almost the entire fight.
Berto's eyes swelled up again, but not to the extent that they did in his last fight against Robert Guerrero last November.
Soto Karass hurt Berto in rounds 1 and 4th. Berto seemed to hurt his shoulder in the 4th round after throwing a wild left hook that missed by a mile but sent him down on the canvas. Berto got back to his feet moving his right shoulder like he'd injured it. He was still able to throw right hands after the slip, but he looked like his shoulder was giving him problems.
Soto Karass just kept throwing punches round after round and was able to dominate Berto just on workrate alone. Berto had his best moments when Soto Karass would stop throwing punches and fight cautiously. When Soto Karass was cautious and not throwing a lot of punches, Berto would land some nice punches. But when Soto Karass was busy like Robert Guerrero had been in his win over Berto, he would dominate Berto.
This loss was Berto's third in his last four fights and it's impossible to see him coming back from it. He can keep fighting if he wants to, but the way he's looked in his last two fights as well as in his loss to Victor Ortiz, he looks over the hill.
—
Lightweight Omar Figueroa (22-0-1, 17 KO's) defeated Nihito Arakawa (24-3-1, 16 KO's) by a 12 round unanimous decision in what turned out to be a toe-to-toe war. With this victory, Figueroa captured the interim WBC lightweight title. The judges scores were 118-108, 118-108 and 119-107.
The 23-year-old Figueroa looked good when it was him that was doing the punching, but when getting hit back by Arakawa, he didn't look impressive at all. Figueroa's head kept getting snapped back every which way by Arakawa's shots and he retreated to the ropes in every round and took punishment. It looked as if Figueroa didn't have the stamina to stay in the center of the ring for three minutes of every round. He's a good fighter, but not in the class of Adrien Broner, Terence Crawford and probably not even Antonio DeMarco.
—
Keith Thurman (21-0, 19 KO's) was able to stop a game but overmatched Diego Chaves (22-1, 18 KO's) in the 10th round after dropping him with a right to the head. Thurman also knocked Chaves down in the 9th round with a left to the body. Chaves never recovered from that knockdown, and was snowed under by hard shots from Thurman at the start of the 10th. With this win, Thurman captured the interim WBA welterweight title. The belt isn't that important, but it does put Thurman on cruise course to get a title shot against the WBA welterweight champion, in this case Adrien Broner.
—
Undefeated super middleweight Anthony Dirrell (26-0, 22 KO's) annihilated Anthony Hanshaw (23-4-2, 14 KO's) in the 3rd round after dropping him with a right hand.
—
Other action on the card:
Andrew Cancio UD 10 Jerry Belmontes
Joseph Rodriguez UD 4 Kesse Anguiano