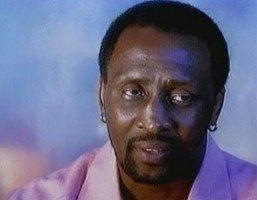 By Joseph Herron: Whenever anyone strikes up a passionate mythical debate between fighters facing off from different eras, one match-up always enters the conversation: "How would Floyd Mayweather Jr. at Welterweight fair against the 147 pound version of the six division world champion, Thomas "The Hitman" Hearns, circa 1981?"
Earlier this week on "The Pugilist KOrner" radio show, the Hall of Fame fighter shared his thoughts on the hypothetical prime for prime pairing.
"You know how I fought. And if a man couldn't deal with that, then I would just have to say goodnight to him," professed the legendary "Hitman" Tommy Hearns. "That was my thing; to put everybody to sleep. It didn't matter who I faced, it was almost a guarantee that I would put them to sleep."

"If I hit you, you were going to sleep. That's just the way it was."
Although the question seemed very intriguing to the boxing legend, Tommy was doubtful that a fight would have ever taken place even if both men had fought in the same era.
"I don't know if that fight would have ever happened. Because you have to remember, Floyd is a lot smaller than I am. If we ever did fight, my size would have created major problems for him; I have a long reach and a good jab. And if I touched you with the jab, that meant the right hand was coming."
"I have a long reach, and I'm going to reach you. If I could touch him with the end of my jab, then that meant the right hand was coming. That's the truth. If I kept any man at the end of my jab, that right hand would find you. Because the right hand was always right behind that left."
The 2012 International Boxing Hall of Fame inductee had a thunderbolt in his right glove and was a stone-cold killer in the ring. Although Hearns believes that his talents in the ring were God given, he admits that it took a lot of hard work and dedication to develop that talent.
"Yes, God gave me this talent. But it was entirely up to me what I did with it. You have to develop that talent. You have to work hard to showcase that talent. It wasn't easy. My trainer Emanuel Steward always insisted that everything had to be perfect."
While Tommy's days in the ring are a fond memory now, the legendary fighter is currently trying his hand as a promoter and is staging a fight card in Taylor, Michigan on October 12th.
"If you want to see a great fight card, come out to the Taylor Sportsplex on Friday, October 12th. My son Ronald is going to be fighting in the main event, and there will be eight fights total on the bout sheet. Every fight is going to be very exciting."
"If there's a fighter in boxing right now who has the ability to fight like me, it's my son Ronald Hearns. The apple doesn't fall far from the tree. Come out and see him in action. Ringside tickets are as low as $70, so there's no excuse not to be ringside for this great fight card."
Tickets for "Hearns Returns" on October 12th at the Taylor Sportsplex in Taylor, Michigan are on sale now at HitmanTickets.com, and start at $25. Exclusive $70 Ringside VIP and $50 Floor VIP seats are limited in number so act now and purchase your tickets for what should prove to be a very memorable event!
For additional information, please call 313-262-6381