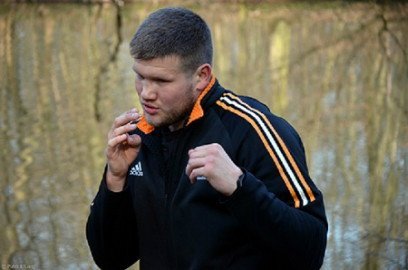 By Pavel Yakolov: October 6, 2012) Alexander Dimitrenko is still in the heavyweight title chase, and there are reasons why his best performances may occur in the future. Just 29 years old, the Ukrainian is still young, especially for a heavyweight. At 6'7", 245 lbs., he towers over his opposition, has superb offensive skills, speed, and athleticism. Dimitrenko packs power in both hands, possesses a whiplash jab, and is one of the division's best combination punchers.
Currently 32-2 (21 KO's), Dimitrenko lost his last bout, against the top-rated Kubrat Pulev. However, the fight was closely contested for most of the match, which Dimitrenko entered under unfavorable personal and athletic circumstances. Considering that Pulev may be the world's leading heavyweight outside of the Klitschko brothers and David Haye, the loss should not be considered career-breaking.
Now a free agent after a decade fighting for Universum Box Promotions, Dimitrenko is exploring new promotional opportunities. Noteworthy is that he hopes to campaign in American rings in the future. In this exclusive ESB interview, Dimitrenko discusses his career and plans.

ESB: What is your career situation at present?
DIMITRENKO: I'm still looking forward to accomplishing my dream of becoming heavyweight champion of the world. Some people might have lost confidence in me, but I will bounce back even stronger. That's a promise.
ESB: Will your upcoming fights be in the United States or in Europe?
DIMITRENKO: Most likely I will fight in the United States, but if a title shot comes up and that means I have to fight in Europe, I will be ready. But I would really like to fight in front of America fans, and to take the opportunity to explore the United States.
ESB: So, if it is your decision to make, you would base your career in the United States?
DIMITRENKO: Why not? It would be a great opportunity for me to prove myself in the United States. I like the country, the people, and the history. Like Frank Sinatra said, "If you can make it here, you can make it everywhere."
ESB: Let's help American fans get to know you better. Do you prefer to be called Alexander or Sasha? Also, what can you tell us about your family background?
DIMITRENKO: I like to be called Alexander in public and in appearances, but my friends and family call me "Sasha." It's a nickname for Alexander. I come from a big family, and I have four siblings. My father was also a boxer, but sadly he died of cancer when I was just 11 years old. My mother is still alive and lives in my native country, Ukraine.
ESB: I understand that you are from the Crimea.
DMITRENKO: Yes, I was born and raised in Crimea. I am from Evpatoria, a beautiful town with around 120,000 people on the coast of the Black Sea. I grew up in the downtown area.
ESB: How did you first get involved in boxing?
DIMITRENKO: Like I said before, my father was a boxer. He took me to the gym when I was nine years old. After a couple of months, I lost in boxing because I felt bored. But I went back to the gym when I was 13, and that's when I found my passion for the sport.
ESB: During those years, did you excel at any other sports besides boxing?
DIMITRENKO: Because of my height, I played basketball and was on my school's team. We had a lot of fun and won a couple of championships. But boxing turned into my favorite sport after all.
ESB: Most people who try boxing quit after a few sparring sessions. Those who persist are unique in that they often get some kind of personal satisfaction from engaging in the sport. What motivated you to continue?
DIMITRENKO: My personal goal has always been to be better than my competition. Boxing is the sport to be in if you want to prove yourself as the best out there.
ESB: Some reports indicate that you competed as a kick boxer during the 1990s.
DIMITRENKO: Yes, I participated in kick boxing for a short time, and had a couple of fights in 1998. But I didn't like it.
ESB: What was your first major achievement as an amateur boxer?
DIMITRENKO: It's hard to tell, because it has been a while. My first big challenge was winning the Ukraine Youth Championship in 1998. I finished all my opponents early in this tournament and won the championship.
ESB: You won the Junior World Championship in 2000, at Budapest. What can you tell us about your experience there?
DIMITRENKO: That was a very tough time for me, in my career. I had to fight really hard to get a spot on the Ukrainian national team, but nobody really paid attention to me in my home country at the time. That's why I moved to Russia, even though the competition in Russia was much tougher. There, I fought my way through the competition and got sent to the youth world championships in Budapest. At the tournament I ended all my fights early and won the world championship. The funny thing is, I had to fight a Ukrainian opponent in my first fight in Budapest. But I beat him.
ESB: In 2001, you won the Russian national championship at super heavyweight. Any comments?
DIMITRENKO: That was my first championship as a senior. I prepared by training with the Russian senior national team, which was getting ready for the world cup in Belfast at the time. Belfast was a victorious tournament for me, too.
ESB: In 2001 you turned professional and signed with Universum Promotions in Germany. What led you to sign with Universum?
DIMITRENKO: The scout from Universum spotted me at the youth world championships. After that, they contacted me, and I decided to become a professional fighter. I then moved to Hamburg, Germany, to fight for Universum.
ESB: How did it feel to transition from the amateurs to the pros?
DIMITRENKO: In the beginning, it was hard to live, train, and fight in a different country. But my life has always been hard in some kind of way, so I was able to make the best out of it.
ESB: Throughout your years with Universum, you trained under Fritz Sdunek. Any comments?
DIMITRENKO: Fritz is a world class trainer, no doubt about it. Our relationship came to an end after the first problems appeared between him and Universum. I think I could have done better in past fights if he had remained in my corner. But Fritz and I never had any personal issues and we are still in contact.
ESB: You won your first 29 pro fights, and established yourself as a top contender. Then, in 2009, you suffered your first loss, a decision to Eddie Chambers.
DIMITRENKO: The Chambers chapter is a long story. I won't say much about it because I don't want to sound like I'm making excuses. But I will say that my training camp for the fight went longer than it should have, longer than that it was worth. That's because the fight was postponed twice. I lost my rhythm. That wasn't the only problem that I experienced. Either way, the fight's over, and I have moved on.
ESB: Your only other loss occurred this year, against Kubrat Pulev. What can you tell us about that match.
DIMITRENKO: I followed my strategy and was ahead on points until the eighth round, but then I suffered two bad, deep cuts. The blood streamed into my eyes and I couldn't see his punches after that. My corner tried to keep me in the fight, but the referee decided to stop it. It was a bad day for me, but life and my career will go on.
ESB: You have definitely won some big fights. I thought your best performance was against world-rated Luan Krasniqi. You stopped him with a single body punch in the third round.
DIMITRENKO: It was a good fight. My corner and I took a lot of time to analyze Krasniqi, and we found out that he didn't defend himself properly with both hands. We noticed that he defended by stepping back a little, then ducking. We realized that he was open to a body shot at those moments, and that we could take him out with a perfect body shot. It worked. We practiced the liver punch a thousand times in training, and it paid off.
ESB: Other noteworthy heavyweights you defeated are Derrick Rossy, Timo Hoffman, Vaughn Bean, Michael Sprott, and Alexander Sosnowski.
DIMITRENKO: They were all different fighters with different styles. All of them were good, tough fighters. I learned a lot from these fights.
ESB: Finally, is there anything you would like to communicate to the fans?
DIMITRENKO: I am impressed that, in the United States, boxing has such a loyal and enthusiastic fan base. I am under the impression that boxing is still something original and noble there. I hope to fight in the United States very soon. My goal is to become world champion, and with a little patience and your support, I will reach that goal.