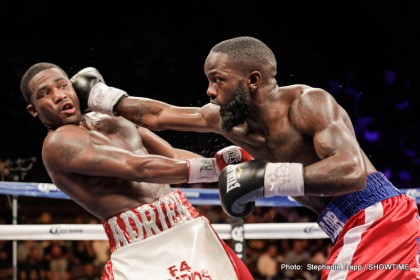 There are a number of interesting matchups occurring in the 140lb division in the next few months, most notably a showdown between the IBF Champion Lamont Peterson and the lineal Champion Danny Garcia. Garcia had a terrible year in 2014 despite actually winning both of his bouts. This must be seen as the best opponent he has faced since his showdown with Argentinean slugger Lucas Matthysse in 2013.
Also former three weight world Champ Adrien Broner will take on pressure fighter John Molina Jr. Whilst I personally wouldn't rate Molina as a top 15 fighter in this division, it is interesting seeing Broner in with someone who can punch after his disastrous performance against Marcos Maidana when they fought.
Since that fight Broner has had two points wins over little known fighters and has not looked impressive. A win here could put his name back to the top of the division. I would rather have seen him in with some like a Provodnikov or a Matthysse, or even someone like Dulorme, but this is certainly a more interesting matchup that his previous two and I am happy with it.
These are the type of fights the weight class needs, as throughout 2014 there was very little in the way of competitive matchups with the divisions best fighters being matched against lesser opponents. Also sharing the 140 division you have fighters such as Lucas Matthysse, Ruslan Provodnikov, Jessie Vargas, Thomas Dulorme, Khabib Allahkverdiev, Viktor Postol, Humberto Soto, Amir Imam, Antonio DeMarco and guys like Mauricio Herrera and Jose Benavidez. Some better known than others, but all good fighters and many of which do not have bouts yet scheduled for this year. There could be some fantastic matchups to be made amongst this group of talent and the WBO title previously held by Chris Algieri will likely be fought over by a pair from this group.
Chris Algeiri would also be well advised to move back down to 140. He made the best payday of his life fighting pound for pound superstar Manny Pacquiao, but was dominated and in hindsight clearly had no place in the ring with him to start with. It would be a waste of time for him to fight either Kell Brook or Floyd Mayweather Jr as each would easily outbox him which means he will not be able to win a title at this weight, yet could hold his own at 140 against some of the bigger names, as displayed by his unlikely win over Provodnikov.
A final potential twist to this division is the potential moves up from some of the huge talents currently in the mix at 135. Guys like Terence Crawford and Mikey Garcia could easily be fighting for 140lb titles in 2015 and its likely that other guys will follow them up for the larger paydays and bigger fights.
This is another division, which should have several shining moments over the next year, and any fan should keep an eye on the rankings. One or two potential pound for pound stars could be born this year at 140lbs.