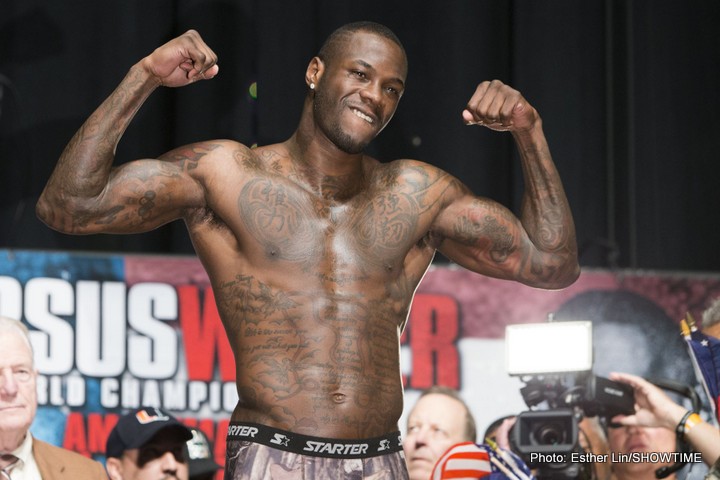 Now the dust has settled on Deontay Wilders impressive and dominant twelve round unanimous decision over Bermane Stiverne to capture the WBC heavyweight title last month, many questions about him have been answered. Can he work for a full twelve round fight? Yes. Can he take a punch? Yes. Can he use fundimental techniques such as a strong jab and lateral movement. Yes. What this means however is that the division has a lot more questions to answer now. Who are the best heavyweights in the world? Are there other heavyweights who will be able to stand up to Wilders punches for a full twelve rounds? And who will be the fighter to finally end the Wladimir Klitschko express and dethrone him as the dominant face of the division (if anyone can do it!)
I for one did not imagine that Wilder would or could win this fight. Yes on paper he was the easy pick. He was taller, younger, had a better reach and had the more impressive record numbers wise. What made me doubt him however was his distinct lack of credible competition. When the best-known fighter on your resume is Audley Harrison after thirty plus fights then something is very wrong. When a promotional team brings their fighter along at such a slow pace it is usually because they know about a particular flaw or problem which is likely to be exposed if they are put in with big names to quickly and seeing as Deontay was a bronze medallist before turning pro, it is odd that his competition for the first 6 years as a fighter was so flawed and limited. However much of the stigma surrounding Wilder because of these issues must be gone after his most recent performance in becoming the first American heavyweight champion since 2006.
The things we have to consider now is, would the result have been the same if it was Wladimir Klitschko vs Bermane Stiverne? Would Stiverne have survived to reach the final bell with Wladimirs big bombs detonating on his head for twelve rounds? Personally I doubt it. Wilder controlled the majority of the fight with a stiff jab and a piercing right hand and those are the two punches that Klitschko has perfected during his career. But, that is just a hypothetical situation. A very realistic situation that we may see in the next 18 months is a unification match between Wilder and Klitschko to determine the one true champion in the division. Who would win the battle of the jabs? Which fighter would be able to take the others power if a straight right would piece the guard and land clean? Which champion would be able to come through that fight victorious? At this point Klitschko has to be seen as the favourite, but when was the last time Klitschko faced someone tall, rangy, athletic and so dominant in their victories?
Aside from the new champ Wilder there are several other names in the heavyweight division who are making pushes to enter the title picture. Tyson Fury being the first and foremost due to his final eliminator win over countryman Derrick Chisora in November. He is expected to win against top fifteen fighter Christian Hammer at the end of February and this will give him good momentum to enter a fight against any top fighter in the division, although at this point he has really earned his spot to take on Wladimir Klitschko for the set of titles he possesses.
There is also Bryant Jennings. Another undefeated American heavyweight who pushed his name to the forefront of the division after outworking the then undefeated Mike Perez. Klitschko is going to be fighting Jennings next in America before he fights either Fury or Wilder and whilst Jennings is a heavy underdog, anything can happen in the sport of boxing. After all who would have expected Tyson to lose to 'Buster' Douglas or for George Foreman to come back and win the heavyweight title at the age of 45? I would say very few. It is likely that Jennings is going to end up in a situation like Pulev and Povetken are in though, still highly rated but with a 1 rather than a 0 in the loss column.
Aside from these obvious choices there are many up and coming undefeated heavyweights who have bright futures ahead of them and will likely be in the position to begin challenging for titles themselves in the 2015-2018 time frame. Names like Anthony Joshua, Andy Ruiz Jr, Vyachesalv Glaskov, Erkan Teper, Lucas Browse, Joseph Parker and Hugie Fury can be included in this list. Each without a defeat and each stepping up their level of competition at a good pace so as to become eligible for a title shot in the next few years. Once Klitscko, Fury, Jennings, Povetkin, and Wilder battle it out to determine an undisputed champion, there should be a number of undefeated talents at the ready to challenge for the title and this could make for a number of interesting fights. This is what is needed to keep interest in the heavyweight division.
On top of this there are a number of recently beaten fighters who could easily fight their way back into contention. Pulev and Povetkin are most notable, however you could also include Antonio Tarver, Steve Cunningham, Amir Mansour, Odlanier Solis, Bermane Stiverne, Carlos Takam, Mike Perez, Artur Szpilka, Derrick Chisora, Chris Arreola, Ruslan Chagaev and Malik Scott on this list. Any of these men could be seen fighting for a title in the next few years if they can beat a few credible opponents in order to change their image from a beaten fighter back to a contender status fighter. On top of this a return from former two weight world champion David Haye could throw a spanner in the works for somelike like Fury or Wilder. If he can maintain the speed and athleticism which led him to win the title and KO guys like Audley Harrison and Derrick Chisora in dominant fashion, he could pose problems for anyone not named Klitschko in the divison.
What the next few years hold, I do not know, however it is good to see so many good fighters developing in this division, and so many good fights happening along the way.