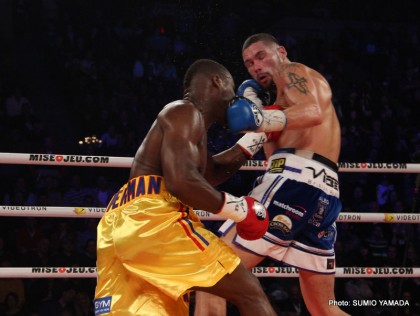 (Photo credit: Sumio Yamada) It's what fight fans the world over always want but seem to get only on occasion: the best fighting the best. Today, with some serious talent spread out among the weight classes, there are some superb-looking match-ups that could and should be made.
Getting right to it, I now list, in no particular order, the hottest, most intriguing and potentially explosive fights that can be made right now!
Sergey Kovalev-Adonis Stevenson.
An obvious choice to kick off this list, this battle of punchers would absolutely captivate. Both men are capable of throwing dynamite, the seriously scary Kovalev especially, and a devastating conclusion would be reached if these two light-heavyweights tangled.
My pick: Kovalev by mid-rounds KO.
Floyd Mayweather-Gennady Golovkin.
Mayweather's ultimate risk? Golovkin's chance to really show his worth and shine? This fight, at light-middleweight, would have so much going for it in the excitement and intrigue stakes. Mayweather is the ultimate boxer, Golovkin is a pure puncher who can also box. Who wins this one!
My pick: Mayweather by close, debatable decision.
Deontay Wilder-Tyson Fury.
No, neither guy is close to being called the best in the heavyweight division, but this clash of big, powerful young heavyweights would grab everyone's attention. Whether you're a fan of Fury's rough and tumble approach or of Wilder's sickening punching power, you would tune in to see this sure explosion.
My pick: Fury gets off the floor to KO Wilder inside four-rounds.
Floyd Mayweather-Manny Pacquiao.
Yes, this fight STILL fascinates. In terms of both men's legacy, this welterweight showdown simply has to happen and still can happen.
My pick: Pacquiao on points.
Carl Froch-George Groves II.
Another obvious choice. Fans everywhere are still arguing about what would have happened had the first, brutal, fight been allowed to reach a definitive, controversy-free conclusion. Fans, most of them anyway, are also demanding Froch gives Groves another shot at his super-middleweight belts.
My pick: Froch by late rounds stoppage.
Gennady Golovkin-Sergio Gabriel Martinez.
Who is the real middleweight champion of the world? Has Martinez got one last great fight left in him? Would this fight possibly go the distance? These questions and more would be answered if the two best 160-pounders on the planet got it on.
My pick: Golovkin by 8th-round TKO.
Lucas Martin Matthysse-Marcos Maidana.
This all-Argentine shootout between two always-exciting, gutsy sluggers, whether fought at 140 or 147-pounds, would have fight fans holding fight parties at home, meeting up in bars and, most importantly, looking ahead to receiving some serious value for the money they parted with for a ringside ticket. No way could this one disappoint.
My pick: Matthysse by mid-rounds stoppage.
Manny Pacquiao-Ruslan Provodnikov.
These two are friends, yet business is business. And all business both warriors would be in what would absolutely definitely be a can't miss welterweight thriller. Both guys throw plenty of leather and both guys have a tendency to mark up and bleed. This one would appeal the blood and guts crowd.
My pick: Pacquiao by late-rounds TKO.
Roy Jones Junior-James Toney II
(just kidding!)