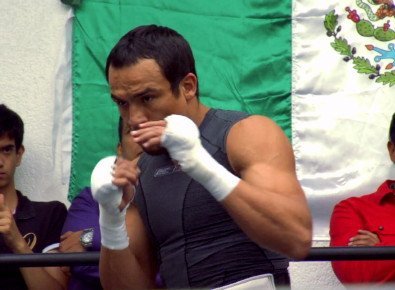 By James Slater – All in all, though 2012 saw a startling and quite unacceptable number of top names from our beloved sport failing drugs tests, the past 12-months were pretty good for boxing (sure, we saw our fair share of debatable, even plain bad decisions). We were treated to a number of truly great fights involving marquee names, we witnessed a number of unforgettable KO's and we saw some quality match-making.
Indeed, as we approach the very end of 2012, it's a tough job picking award winners for Fighter Of The Year. KO of The Year? That's an easy one this year – the stunner that occurred in the 6th-round of a fourth meeting between two all-time greats; one from Mexico, the other hailing from The Philippines. But just who was 2012's Fighter of The Year?
Here, for what it's worth, take it or leave it, I list my choices:
Fighter Of The Year:
1: Juan Manuel Marquez.
This amazing Mexican legend, despite being just eight months shy of his fortieth birthday (an advanced age for a lower weight fighter, especially one who has been boxing as a pro for almost twenty years!) enjoyed a stellar year. "Dinamita" may have had only two bouts in 2012, one of them being against a somewhat largely unknown Ukrainian (who nevertheless is a fine fighter, who at the time of his points loss to Marquez sported an unstopped, 31-1 ledger) – but, boy, did Marquez make the most of his second appearance of the year.
Hungry, no, desperate, to get revenge over archrival and superstar Manny Pacquiao, Marquez got what he wanted in utterly breathtaking fashion. Entering the ring with Pac-Man for a fourth time, having gone 0-2-1 in previous meetings, the thing Marquez feared the most was another bad night courtesy of the three scoring judges. Convinced he'd deserved the decision in all three previous fights, Marquez left absolutely no doubt in fight-four. Levelling Pacquiao with a perfect right hand that landed flush in Pac-Man's face in the closing seconds of the 6th-round, Marquez left his former nemesis flat on his face for a number of alarming seconds.
Marquez may now deserve to be ranked as one of the top-three greatest Mexican fighters in history. He certainly deserves to pick up this year's FOTY award!
Runners up:
Nonito Donaire. The 30-year-old fought a busy four times, each time against excellent opposition. The "Filipino Flash" scored points wins over Wilfredo Vazquez Junior (to win the vacant WBO bantamweight belt), Jeffrey Mathebula (to add the IBF 122-pound title to his WBO), while Donaire stopped both Toshiaka Nishioka (TKO9) and Jorge Arce. Donaire's brutal and wholly conclusive KO over Arce will likely be picked by some as this year's KO of The Year award.
Donaire may well take over from Pac-Man as The Philippines' biggest boxing star. Donaire also deserves credit for propagating and practicing random drug testing.
Danny Garcia. Unbeaten Garcia fought three times in 2012, scoring two big stoppage victories after the vacant title winning points effort he put forth in his first bout of the year. "Swift" dominated living legend Erik Morales in March, winning by wide scores on all three cards, but the remainder of his year was far more impressive. Stunning Amir Khan in July, Garcia also took care of Morales in the 4th-round in a return match that was wholly unnecessary.
24-year-old Garcia might today be the very best in a talent-rich 140-pound division.
Interestingly, all three of my picks for Fighters of The Year also scored mega-KO's of the year. Marquez iced Pacquiao (most people's pick for KOTY), while Donaire crushed Arce and Garcia blew away Morales. All in all, all three guys listed above enjoyed a sensational, sizzling year!